Lila Chana ane Lila Lasan nu Hummus ( fresh chickpeas and green garlic hummus) intriguing, right? However, to me it is a dip I ground up to relish the fresh winter produce of my land. To me it celebrates winter, the season of plenty and my own journey as a food blogger, I am so glad I embarked upon.
"Theroute2roots' was initiated almost 3 years ago, with an idea to talk about the fading foods, crafts and farming practices. The two significant other on this pursuit found it difficult to manage blogging along with their day jobs and hence are on a sabbatical ( I want them to be here soon)… and I decided to continue given the nature of my work of a freelance. While significance is on documenting the fading food practices and traditions of Gujarat, I also like to talk about the joy of cooking and cooking from scratch with seasonal and local produce. I feel that our food not just needs to be cooked with love but also grown with love and therefore share my concerns over farmer well-being.  Cooking to me is an extension of myself. It signifies who I am, it has evolved with age and exposure. The teenaged me just liked baking over cooking, to the me of 20s who cooked just for parties and get-togethers and the Sheetal in her 30s who frequented kitchen more often because she wanted to cook and bake for her twins and the current me on the other side of mid 40s who just loves to cook and bake anything and everything for everyone, who scouts for traditional recipes, meets the elder and older women of varied backgrounds to talk about their style of cooking, heirloom recipes  and cooks those foods back in her kitchen. Quite a journey it has been  enriching, enterprising, endearing,  ever evolving…. The world of food blogging has helped me strike very meaningful interactions with women and men from all walks of life. I love the way we connect over food, a thread that ties us all together. The interactions can be over anything a random ingredient to a recipe!!  Food-Blogging has now given me a new identity and I am glad I have managed  to marry my two distinct  backgrounds i.e of a development profession and a food-blogger well.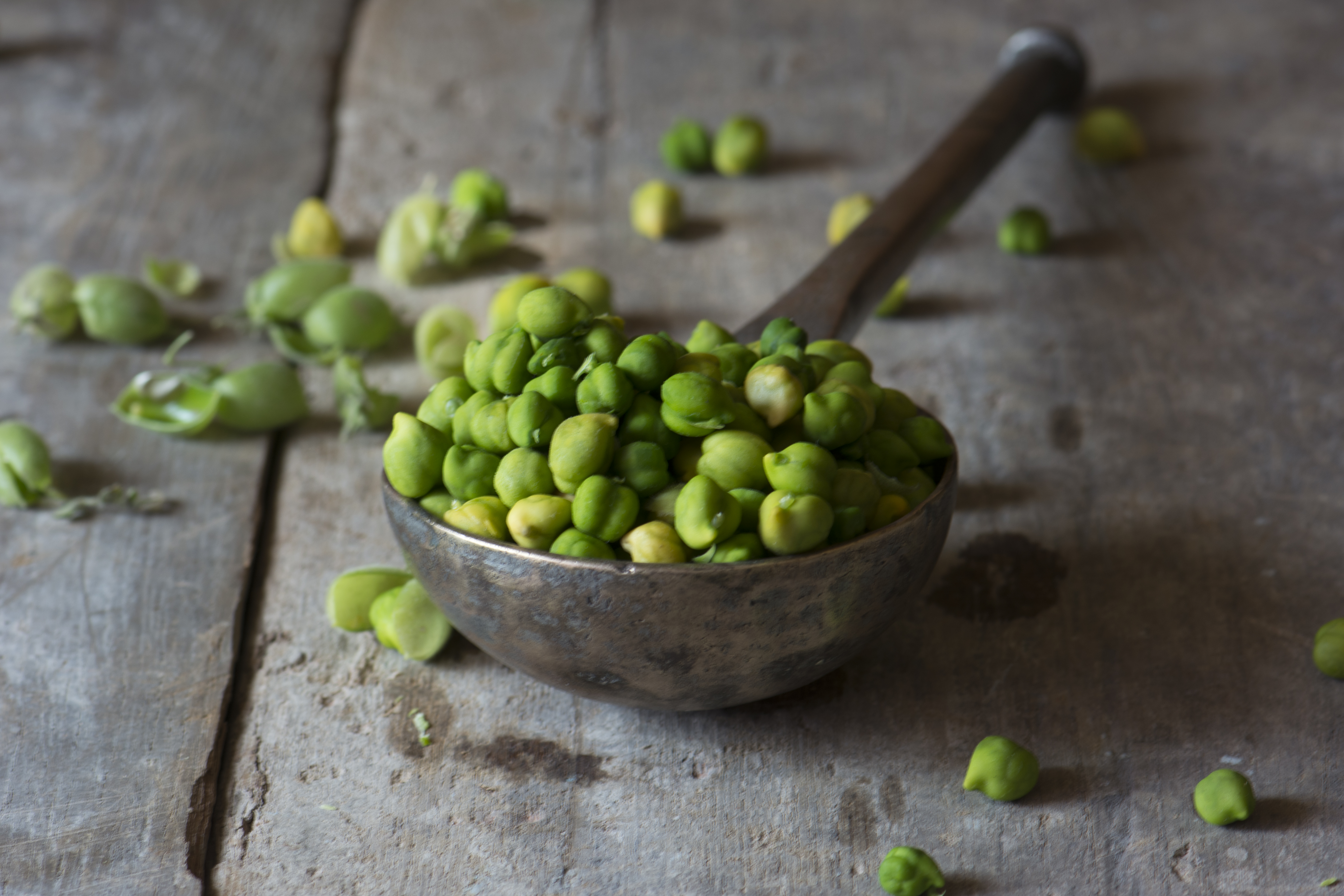 Winters, as I have mentioned here numerous  times  is the best season to enjoy Gujarat and Gujarati food. It is the season of plenty and the fresh produce markets is flooded with some of the best varieties of greens, beans and roots making the kitchens go into a cooking  frenzy. The fresh green chana or popta/fresh chickpeas make an appearance for a very short period during the winters. While other veggies stay for a while the popta are quick to vanish and when they are available we like to use them in all our veggies or just roast and munch them. The other star attraction of winters is the lilu lasan/green garlic. It is a green that literally transforms the food scene. Even the die hard garlic critiques do not mind eating the green garlic in their flat breads, chutneys and veggies 😇. I had been toying with creating a hummus using these two unique and flavorsome ingredients when I started planning my cooks for the blog feed.  I made it twice and improvised the second time. The idea is to allow the chickpeas to retain its color so never cook them in pressure cooker. Just boil them in enough water without covering and refresh them in chilled water as soon as you drain them. Once you have made it pour enough oil and consume at the earliest as it tends oxidize over time. Otherwise it is a very simple recipe to make. I chose to serve them with the handmade Khakhra we enjoy everyday. The winter flavors are quite unique with fresh methi and moth-dal!!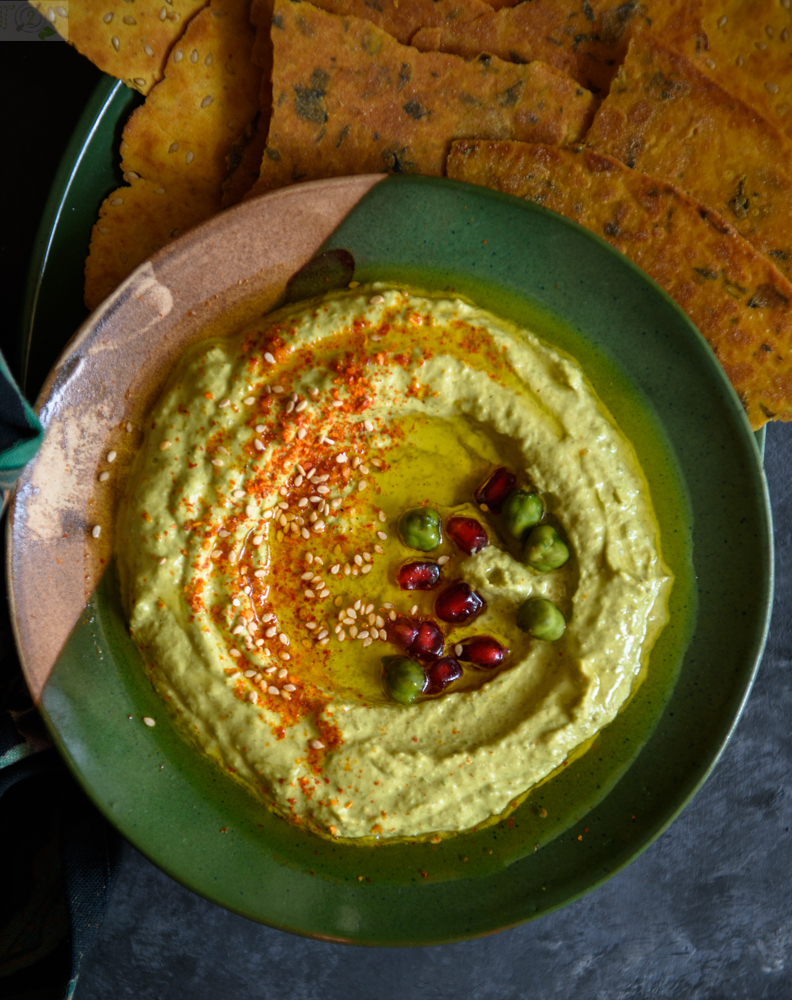 Ingredients
1 cup Lila chana/hara chana/fresh green chickpeas, shelled and boiled (as mentioned in the story)

1/4 cup lilu lasan/green garlic, finely chopped

2 tablespoons tahini

4 tablespoons extra virgin olive oil

1 teaspoon lemon juice, more if required

1/4 teaspoon roasted cumin powder

salt to taste

couple of tablespoons cold water

red chili powder and sesame seeds to sprinkle over top
Instructions
1
Boil the chana as instructed in the story above i.e. not in the pressure cooker but in a pan without covering it.
2
Once the fresh chickpeas have cooled well proceed with grinding them.
3
In a mixer jar add the green garlic, chickpeas, tahini, 2 tablespoons olive oil, lemon juice, cumin powder and salt.
4
Grind to a very smooth paste.
5
If you require to loosen it up a little add cold water. Never add the leftover water of cooked chana.
6
Remove the Lila Chana-Lilu lasan Hummus in a deep plate and well it in center using the back of a spoon.
7
Pour some olive oil on top and in the well.
8
Sprinkle chili powder and sesame seeds.
9
Serve with crackers of you choice