All my school life I lived with the belief that kothu (wood apple), chani bor (wild jujube) , katra (tamarind), aambodiya (dried masala mango slices) should not be eaten.  The primary reason was all these were hawker foods that were sold outside the school campus. The hygiene standards in those days weren't so high and the hawker cart foods were ill kept or flies infested.  Our school never allowed hawkers near its campus and foods sold on these  carts were strictly not to be consumed. Anyone found with any of these foods (that came wrapped in a newspaper bags) was punished. As a result, all through my growing years  I  got very few opportunities  to have a taste of these fabulous spread on those carts.  While we got our chance I indulged on ambodiya and chani bor, two of my absolute favorite zingy stuff.  Remember, they come with the usual sprinkle of chatpata masala mix!! The Kothu or Wood  Apple gets its name from its tough,  wood like exterior or shell. Kothu was something I never found appealing.  I did not like its scrappy interiors hence kept myself away from it. It was only when I tasted Kotha ni Chutney  as an accompaniment to Matla Undhiyoo, did I start liking it. It was also because of Sarika that I became partial to Kothu and the recipe here is the one shared by her. Infact, Sarika loves to eat Kothu just like that with some masala sprinkled over the Kotha  flesh !!:)
Kothu as such is a very under-rated food in Gujarati cuisine. Apart from this chutney there aren't many preparations made using Kothu. I wonder why it is not used as a substitute to tamarind since it tastes so much like it!!
It is also know as Monkey Apple and is often confused with Bael/Billi fruit. Kothu has tons of medicinal values. For more on Wood Apple refer here
GO ahead and make this easy peasy chutney as you are not  required to do much except mixing it twice. Allow it to sit in refrigerator and do its own thing!!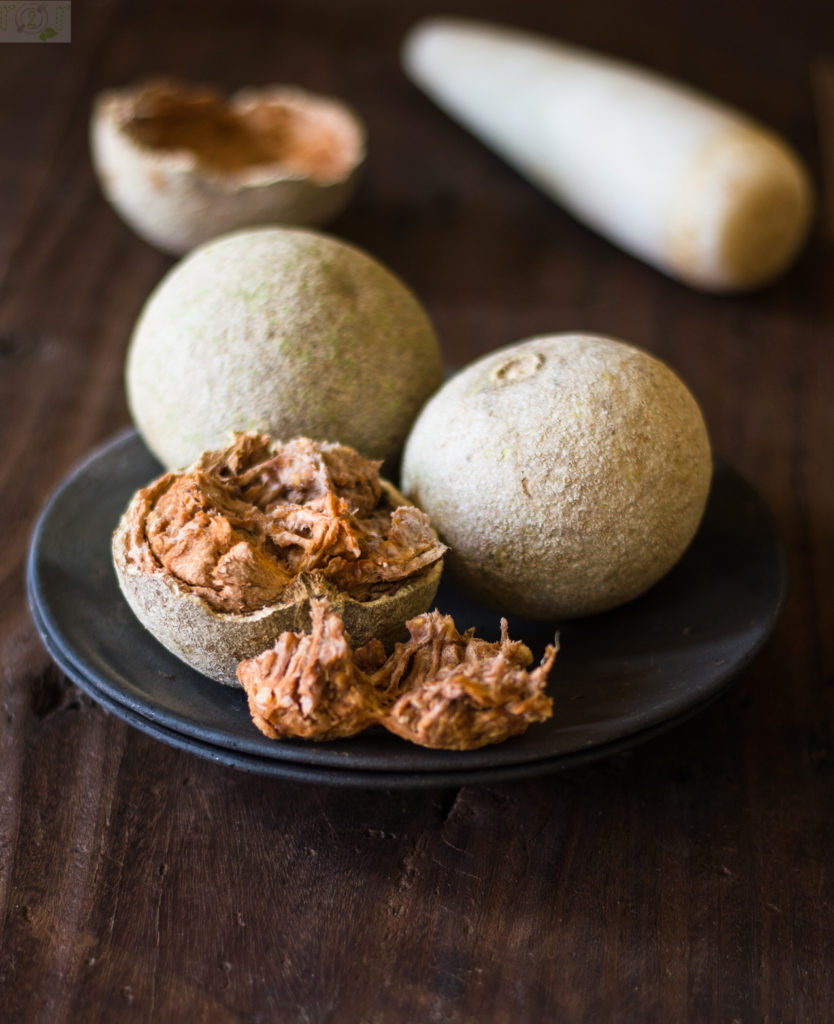 Ingredients
2 Wood Apples / Kotha

1/4 to 1/3 cup jaggery, grated or powdered

1 teaspoon mirchi/red chili powder

1/2 teaspoon roasted cumin powder

salt to taste

couple of tablespoons water to loosen the chutney
Instructions
1
Break the wood apples and scoop out its pulp.
2
Transfer the pulp to a bowl, add rest of the. ingredients to the bowl, give it a good mix and add the allow the chutney to sit in refrigerator or kitchen top for couple of hours.
3
After a couple of hours, give it a stir to check if the jaggery has dissolved well.
4
If you want you can give the chutney a quick pulse in a chutney jar.
5
Transfer the Kotha Chutney into a glass jar and refrigerate.
6
Serve it as condiment to Undhiya, thepla and likes or as spread on bread or crackers...
Notes
There are no exact measures, you may adjust the measures of spices and jaggery to your taste and tartness of the wood apple. If you desire add more water and adjust the spices accordingly. The jaggery should be just enough to balance the tartness and not overpower it.