Katlu is traditional food preparation  to nourish women during their post natal period and induce lactation.
India has very rich and diverse food traditions, the women of generations before us have designed some ingenious food traditions for both our regular as well as special needs. I am sure each region has a traditional way of caring and looking after the women in their postpartum period. Katlu is the Gujarati way of nourishing the nursing mothers as well as the infant. This rich preparation made with an exhaustive list of ingredients is a true labour of love. Ghee, kopra (dry coconut), gond, almonds, khus khus and a mix called Batrisu (Batris means 32 in Gujarati)  that includes 32 herbs and spices are used liberally in this body warming preparation. Desi Gunder or resin from Babul tree has tremendous healing properties. Believed to warm the body as well as cure postpartum back ache, gunder  is added in Raab, Sukhdi, Halwa and Milk prepared for nursing mothers. Sooth and Piprimul have body warming properties, while dill seeds, khus khus and dry coconut promote lactation. Ghee raves up metabolism and strengthens bones. All  these super and wonder foods come together in Katlu.
Utmost care is taken in preparing these ladoos which are usually made in kilos by mothers and grandmothers for their daughters. Containers full of Katlu arrive on special day after birth. The family takes care not to send back the containers empty. One or two ladoos always remain in these dabba/container.  Last month I was on a short and sudden trip to Ahmedabad and decided to ask my taiji/kaki/ paternal aunt to share her katlu and Aatho (coming up next) recipes for the blog. She is the one who made numerous kilos of Katlu and Aatho for me when I was nursing my twin daughters. These are some classic traditions and recipes. I am fortunate to have enjoyed these foods. It brings so much joy to document and  share these recipes with you all.
❤️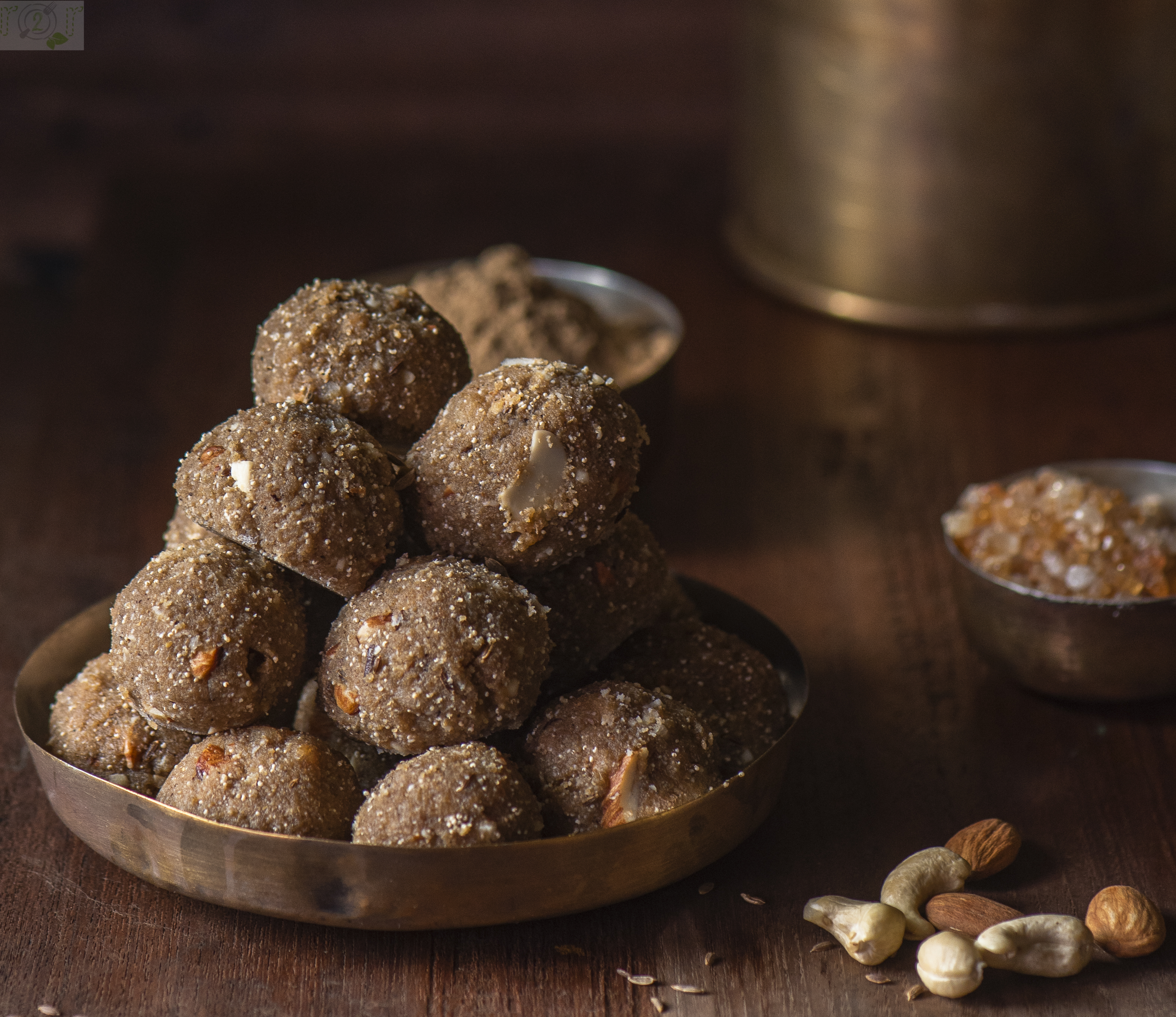 Ingredients
1 kilo Jaggery, grated

1+1/4 kilos ghee/clarified butter

1 Kilo whole wheat flour, coarsely ground

2 shells of dry coconut/suka copra ni kachli

100 grams suva dana/dried dill seeds

250 grams edible gum granules/gond/kani walo deshi gunder

250 grams almonds, roughly chopped/sliced

100 grams Katlu powder/ batrisu powder

100 grams peepramul powder/ganthoda powder

100 grams dried ginger powder/sooth

100 grams poppy seeds/khus khus

1 nutmeg, freshly grated
Instructions
1
To begin with make sure you have all your ingredients in place.
2
Prepare the dry coconut by grating one shell and finely chopping the other.
3
Take a large heavy bottom kadai/wok and place it on medium flame.
4
Add all the ghee to the Kadai.
5
Once the ghee melts add the edible gum and fry till it pops up.
6
Remove the fried gum and roughly crush it using back of a flat bowl or pastel.
7
If you like you can fry the roughly chopped almonds in the same ghee. Be careful not to burn it.
8
Now add all the flour to the ghee and fry/roast it until light brown in colour.
9
Keep stirring continuously.
10
You will notice that the ghee-flour mixture has turned light and emits a very pleasant aroma when done.
11
Remove from flame, stirring continuously add the grated jaggery, mix well till the jaggery has completely dissolved.
12
Now add rest of the ingredients including the fried gond one at a time. Mix well after each addition.
13
Begin shaping the mixture in lime or ping-pong ball sized ladoo.
14
Arrange them on a thali and once they cool store in air tight containers.
15
Nursing mothers may eat 2-3 ladoo in a day.
Notes
If you do not have time on hand and don't wish to make ladoos, spread the mix in greased thalis/pan like you would spread fudge mix. Once the mix begins to set cut them in squares and store in air tight container.