Kanda Keri Nu Kachumber is a classic raw mango and onion relish made the Gujarati way….sweet and sour, it also happens to be one the most favoured summer condiment.  Kachumber in Gujarati means salsa or relish. In most regions of Gujarat a simple green salad is also termed as kachumber.
The presence of Kanda Keri Nu Kachumber on the lunch menu marks the arrival of the annual mango season in most Gujarati households, as its the raw mangoes that make an early  appearance,   the ripe mangoes tend to arrive a tad bit later.
Raw mangoes are store-house of  curative properties and natural benefits and should be included as much as possible while the season lasts. The ability of raw mangoes to protect from heat strokes makes it an essential summer food.  The Gujarati kitchens churn out a lot of dishes that incorporate raw mangoes as its star ingredient. These are simple foods that have no fixed recipes, each family having adjusting the flavours to their palate,  most of the times such recipes are passed from mothers to daughters; with just instructions on the care to be taken while making the dish,  otherwise all they would say is "start making it and you'll know when it is right!!" We had to make mistakes and  figure out the exact proportions of ingredients ourselves..that is perhaps the best way of learning. Our wise  mothers adopted  heuristic approach when it came to passing such skills to the next generation… and thats the reason why these are learnings that last a lifetime…..
 That is why this recipe does not have any elaborate list of ingredients however, try using best ingredients. The recipes shared here is the way my Mummy made it. Normally sugar and coriander-cumin powder are used and I have replaced it with jaggery and roasted cumin powder, because thats how my Mum made it. Jaggery over sugar gives the kachumber a good depth of flavour, organic jaggery gives it that molten taste and roasted cumin powder is a prerequisite to this Kachumber. Make the Kuchumber ahead of time to allow the flavours  mature for a couple of hours. As it is in most  Gujarati dishes what is important here is to  nail the correct  balance of sweet and sour flavours…..
And yes  we Gujaratis love to generously pour the juice that is released in the Kachumber over our Daal-Bhaat….The Kanda Keri Kuchumber is good to go with Handva, Thepla, Puda, Dosa, Idli or virtually  anything!!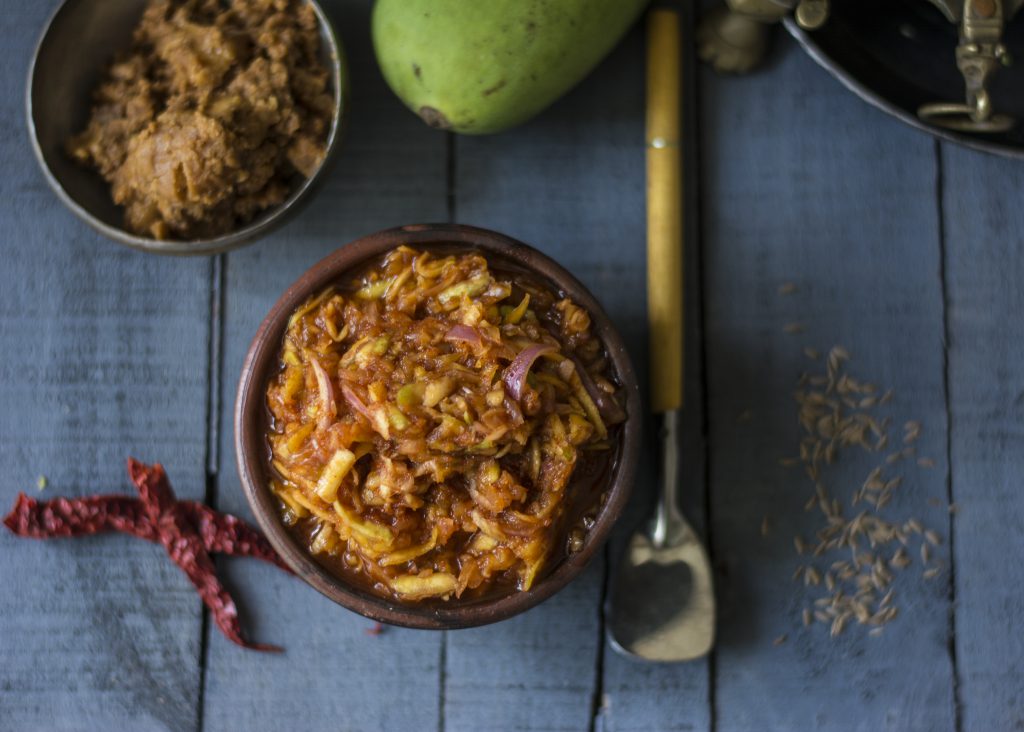 Kanda Keri Nu Kachumber
Ingredients
1+1/2 cups raw mangoes,  peeled and grated
1 cup onions, grated
1/3 cup grated jaggery
2 teaspoon red chilli powder
1 teaspoon  roasted cumin powder
salt to taste
Method
 Bring all the the ingredients together in a large bowl.
Using hands massage the mixture well so that the jaggery disintegrates.
Once mixture turns homogenous  transfer the Kachumber in a glass serving bowl.
Chill well before serving .
Me to you…
The measure of jaggery will depend on how tart the raw mangoes are. Adjust accordingly.
Freshly roasted cumin lends more earthy flavour.
Colour of the Kachumber will depend on the type of jaggery used. I have used organic jaggery hence it is darker in colour.