Kakdi Vadi or Stir Fried Heirloom Cucumber with sun-dried lentil dumplings is the Jain way to fast food. Literally!! Kakdi or the thin cucumber is always an important part or the kachumber that accompanies our everyday meals. It also makes a perfect snack in summers when the appetite keeps asking from something fresh and refreshing. But seldom do we eat it cooked in form of vegetable. The Jains, however always eat cooked Kakdi because their faith prohibits consumption of raw/uncooked foods other than fruits. So technically Jains do not eat salads. Hence to enjoy Kakdi they are required to cook it. Having grown up with lot of Jain friends I always wondered why would they cook things that are so good if eaten raw but when Avani shared these such curious questions were laid to rest. Another popular sweet sour curry they make is with gauva and it tastes best when teamed with fenugreek and bajri flatbread or the Bajri-Methi Thepla. The sweet and sour taste of the guava curry compliments well with the  bitterness of fenugreek in the flatbread. Jains have very interesting take on food and their food needs to be cooked. The common flavour enhancers or vegetable that camouflage  the like onion, garlic and ginger are not to be used and still the food  to has to be made flavourful and enticing. This also requires the home maker to spend more time in the kitchen cooking fresh slow cooked meals from scratch. Cooking it pressure cooker also does not work for them because it tends to kill flavours and make the vegetables looks lumpy and unappetising. The key remains in hand choosing fresh tender vegetables and cooking them the same day or next but no further.
Kakdi Vadi is Avani's way of making a Roti-Subzi-Dal meal in 10 minutes. The Vadi or sun-dried lentil dumplings are a pantry staple in any Gujarati household. Avani says it is a quick way of making a vegetable when some unannounced guests drop in  or there is a need to substantiate a meal and one is not looking for another elaborate preparation. The Vadi they/Jains  eat is extremely tender and almost crumbles in mouth even when you eat it raw. When added to the Kakdi at the end of the cook it barely takes 2-3 minutes to cook. The skill  is to make Kakdi tender but let it retain its  crunch and cook the Vadi jut so much that it does not break and get mushy. I must tell you that the Jain Vadi (the extremely traditional ones) are very very tender, I have not eaten any store bought  Vadi that was this tender. If you are using any store bought made you will require to cook it a little more until the  Vadi cooks or you can add tenderised Vadi too. Infact all the time Avani was explaining me the recipe on phone before she decided to make it for me in her kitchen I couldn't understand how can Vadi cook in just 3 minutes. The Vadi we buy are too hard to cook so soon but the Vadi she uses are a different genre!! After enjoying the Vadi she shared it is hard to go back to the regular ones and hence I plan to do a feature on the art of making such tender Vadi soon!!!
The Kakdi Vadi stir-fry does not take long to cook hence, do not move  your attention to other things whilst cooking it.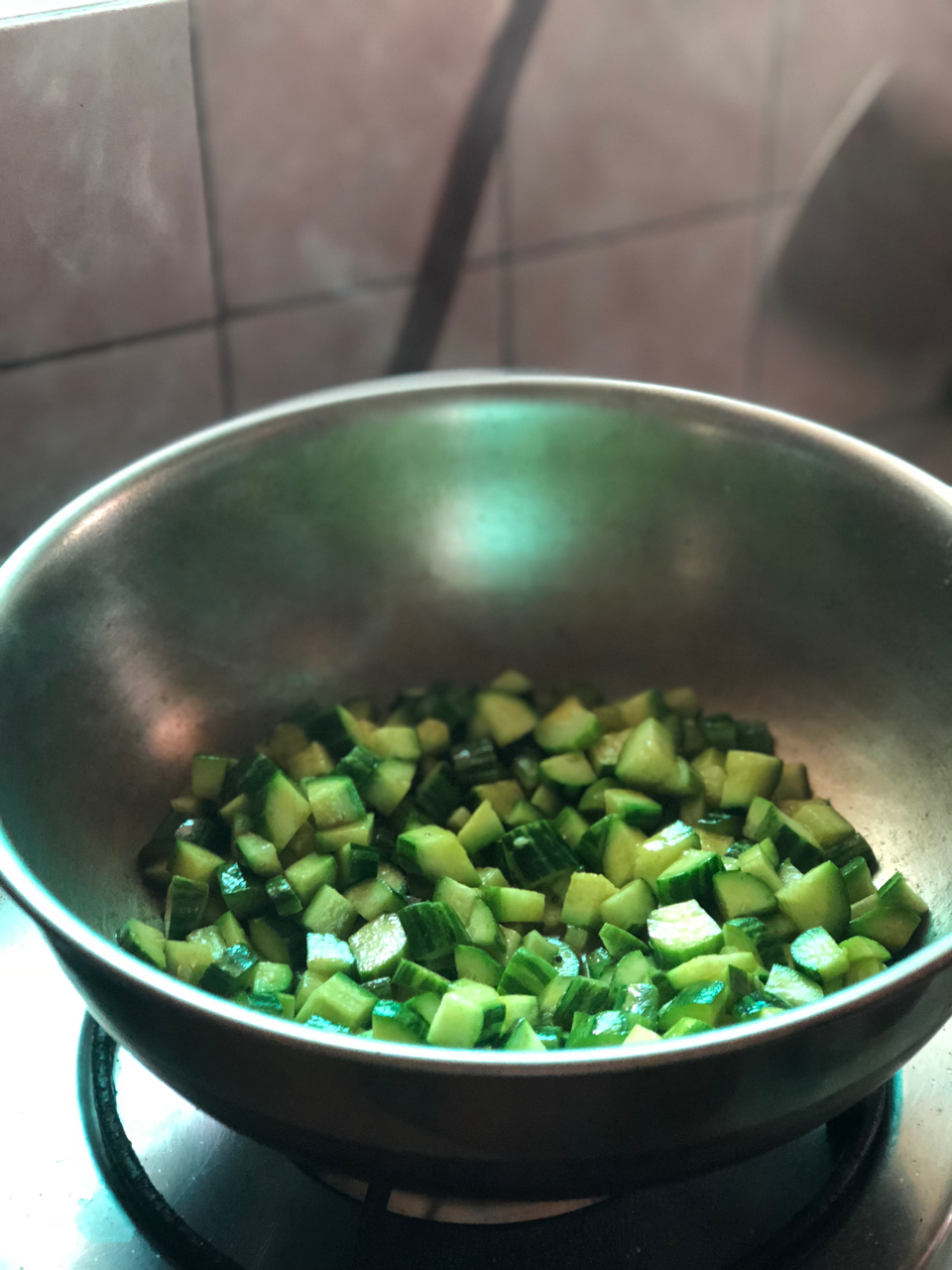 The unpeeled cucumber is diced to the same size as  of the  Vadi and tempered with mustard and asafoetida, the khira or any other plump cucumbers will not work here nor will the cucumbers that have bigger seeds. Select extremely tender and green cucumbers for this stir fry.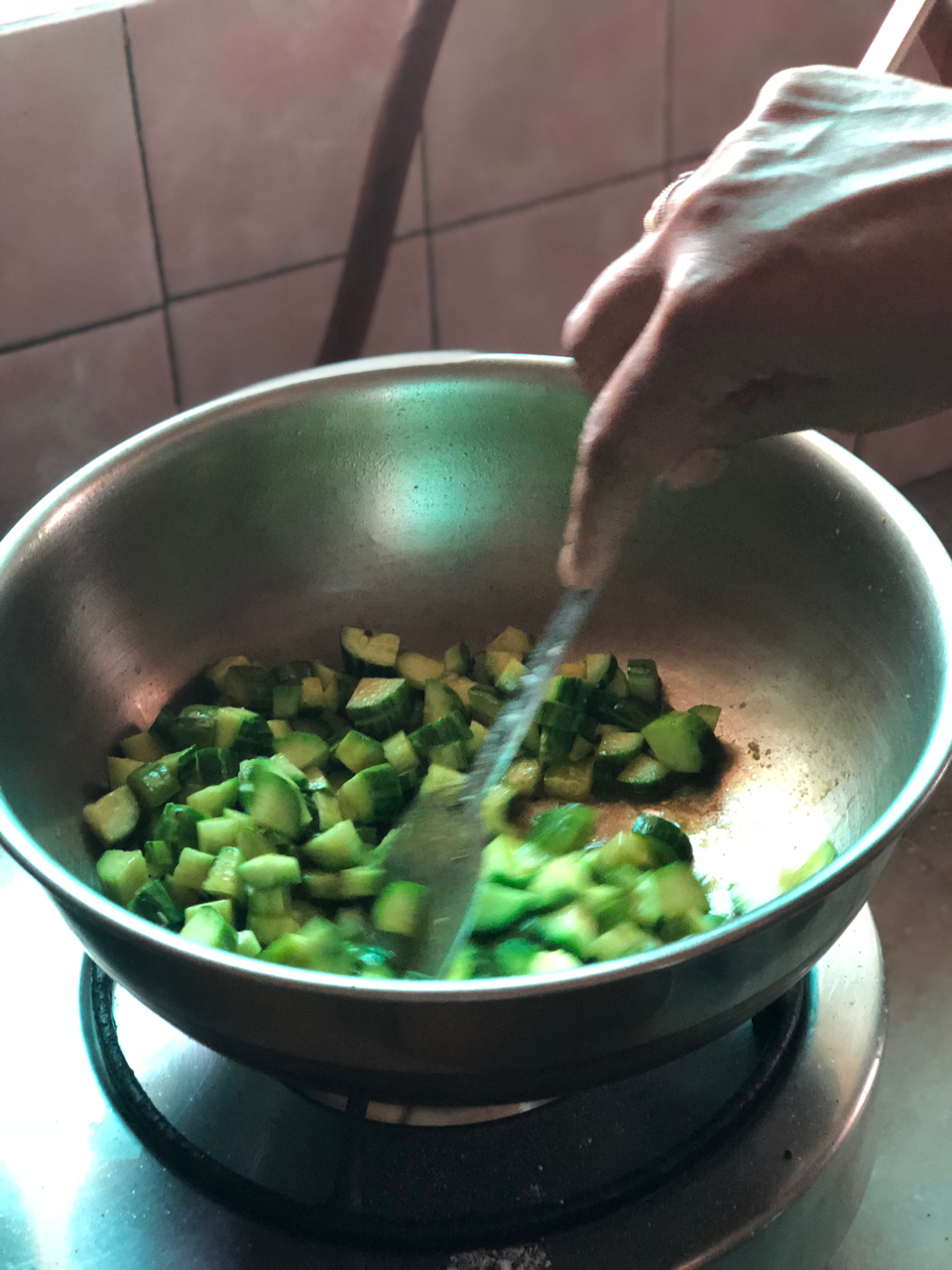 After the tempering the veggie is sautéd for couple of minutes after which it cooks in its own water for some more time.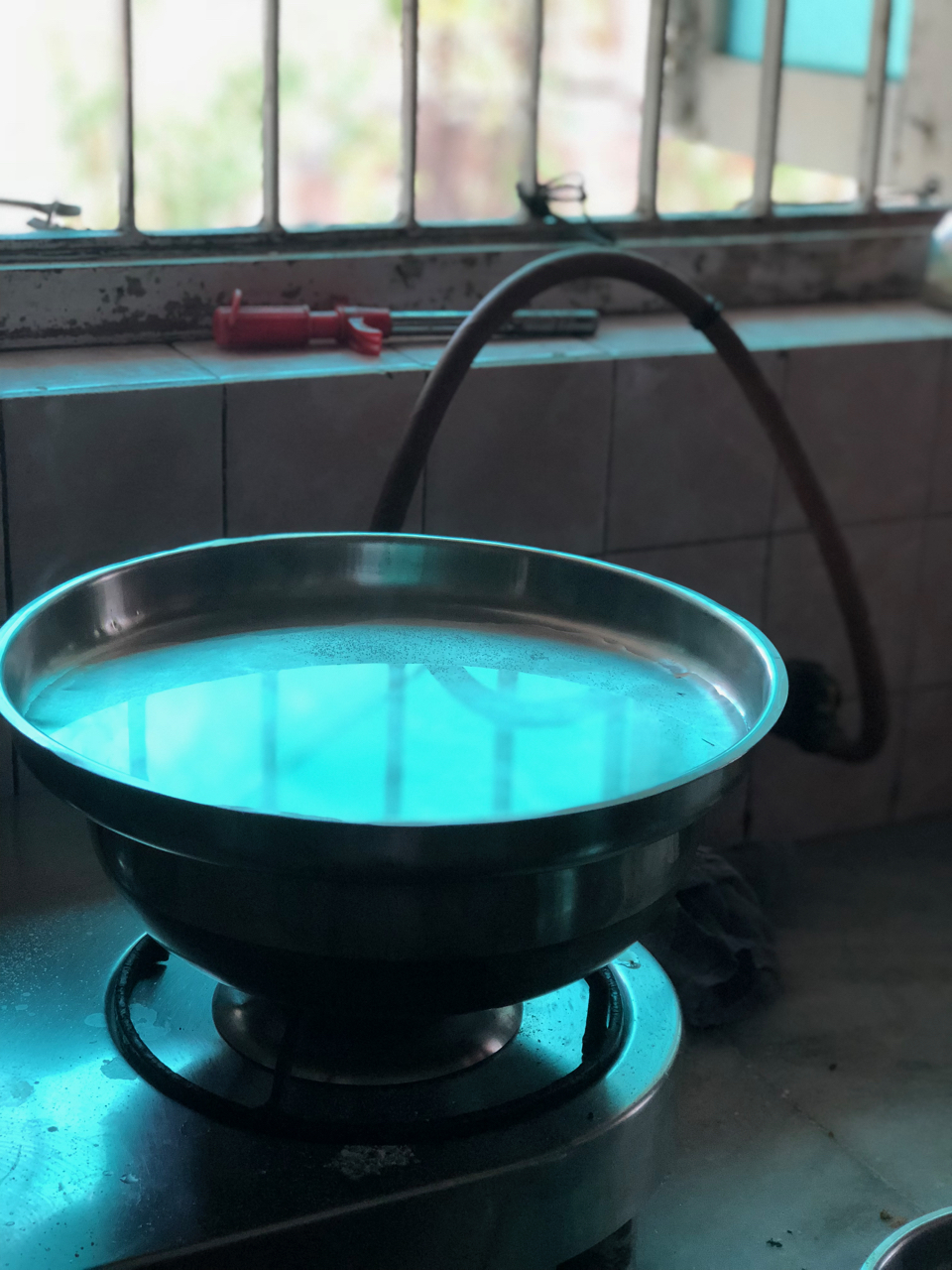 It is not necessary to cover and cook, you may cook the kakdi without covering but if does need to be covered just in case it is taking time cover like so with a thali with little water in it. This means you are not adding water to the subzi but the condensation underneath will cook the vegetable well. This is done before adding the Vadi after the addition of Vadi we do not cover the shaak.
Ingredients
1 cup diced Kakdi

1/2 cup chora dal Vadi/black eyed lentil Vadi

2 tablespoons Oil

1/4 teaspoon haldi/turmeric

1 teaspoon lal mirchi powder/red chilli powder

1 teaspoon dhana jeeru/coriander and cumin seed powder

1/2 teaspoon rai/ mustard seeds

a pinch of hing/asafoetida

salt to taste
Instructions
1
Place a a heavy bottom Kadhai on medium flame.
2
Once the kadhai heats up add the oil and as the oil heats up add the rai and hing.
3
When the rai splutters add the turmeric and the diced Kakdi.
4
Stir well, add salt and let it sweat a little in the oil.
5
In just about 5-7 minutes the Kakdi will turn tender.
6
Add the red chilli powder and coriander and cumin seeds powder.
7
Sprinkle very little (1-2 teaspoons) water so that the masala do not burn or stick but coat the kakdi well.
9
Add the Vadi, mix well and cook for 2-3 minutes more.
10
The Vadi should not break or crumble down in the process.
11
Turn off the flame and serve immediately with crisp fluka roti.
Notes
The kakdi to Vadi ration is 1:1/2 meaning if you have 1 cup diced Kakdi take 1/2 cup Vadi.