Peda, Laddoo, Kaju Katli are some of the most favored sweets not just because they taste divine but also because they can be easily made at home. Since last decade Kaju Katli has come to replace the humble peda as prashad and for gifting during festivals. Personally, the need to keep a steady supply of  Kaju Katli emerged once my twins began relishing this cashewfudge. Nonetheless, I always remain skeptical of feeding my twins these highly adulterated store bought katlis since, I had no option I kept buying the best available Kaju Katli in town. And why I could not make this extremely easy to make sweet at home?? That question requires a rather honest confession. The fact is,  I am chashni challenged, meaning I can never get the string consistency of the sugar syrup right. I have made numerous attempts to making Indian sweets but have never been able to nail the skill of making chashni. A couple of years I gave up on my efforts of creating Indian mithai at home. Hence, I was also required to give up the motherly desire  😉  of feeding my babies some pure home made Kaju Katli. During festivities I  began looking for options where one could completely opt out of making a mithai that required chashni or look for alternate to the need of making a chashni to create certain  mithai.
So when my eyes fell on this recipe of Kaju Katli scribbled by my Masiba in her vintage notebook I had to give it a try. Why?? Because it did not require making any sugar syrup💃🏽💃🏽 and also the ingredients it required were easily available in my storeroom. My Masiba ( maternal aunt) or my senior mother as I call her has been a  medical practitioner, she is  on verge  of turning octogenarian, a classic home cook and a treasure trove of  traditional and modern cooking. Last year I borrowed a from her the diary with her hand written recipes and notes. Its a 1962 diary containing her mother-in-law's recipes, those she has noted from some cookery  classes or  magazines. She does not remember  the origins of this recipe and was delighted to know that it turned out really well.
The recipe uses equal measure of  milk powder, icing sugar and cashew powder. I have added cardamom powder and saffron as we love kesar kaju katli. The three powders are cooked over double boiler for 20-25 minutes. The texture or form does not change when the mix is warming up on double boiler. But it comes together in a dough with just 3-4 tablespoons of water.  It is fudge and melt in mouth. The experiment was very well received by the katli fans. What a great relief,  my girls are eating best quality Kaju Katli and I  am saved from making chashni .. win win  😇
The only note of caution I have is to add a tablespoon of water at a time. My first trial yielded gooey results because I became generous with water. The recipe I was following had not mentioned the amount of water required. Since the gooey mess was quite tasty so I ended up rolling them in laddoos.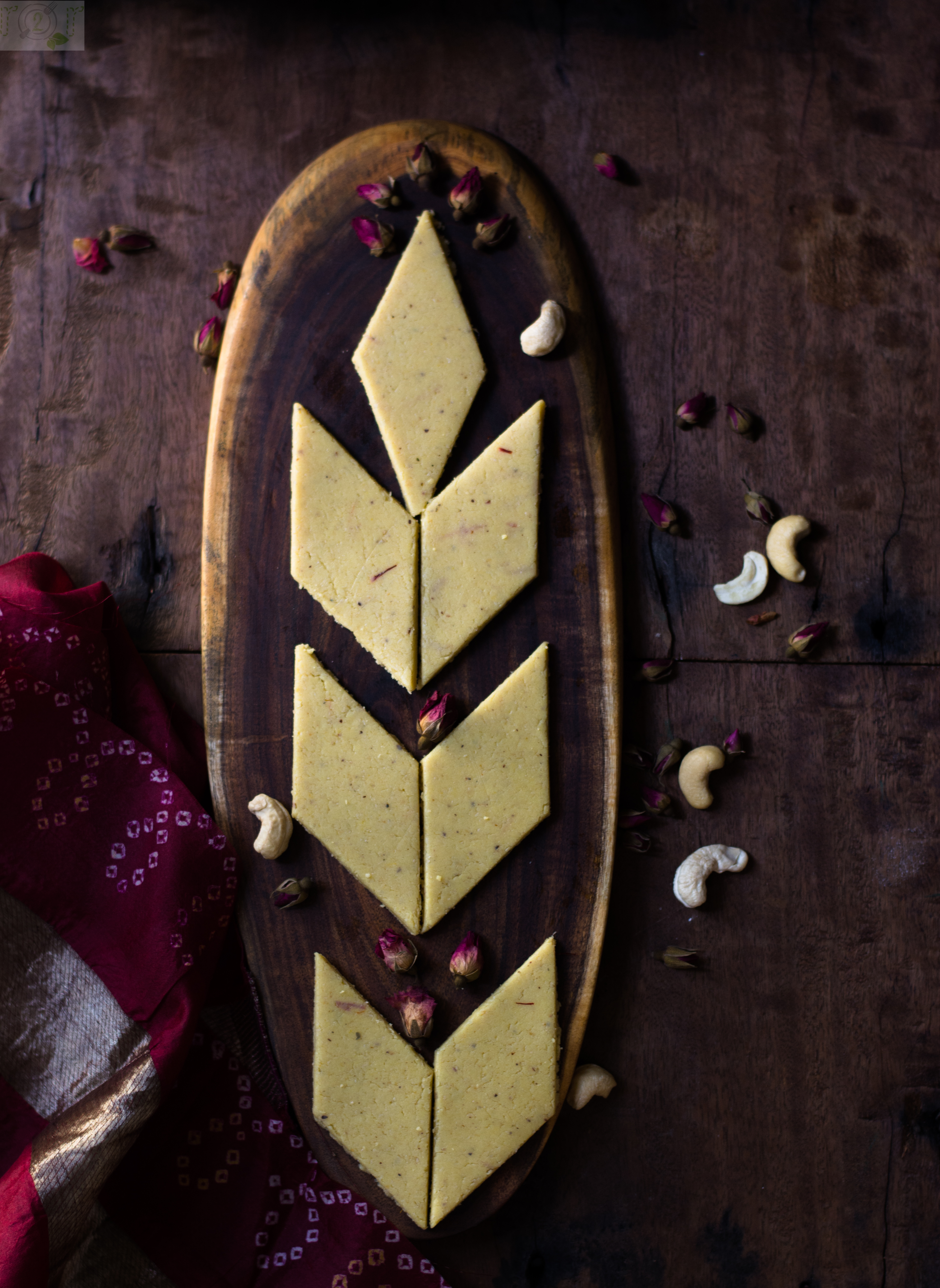 Ingredients
1 cup milk powder

1 cup icing sugar

1 cup cashew nut powder

a pinch of saffron

a pinch of cardamom powder

2-3 tablespoons of water
Instructions
1
In a bowl mix together the milk powder, icing sugar and cashew powder.
2
Soak the saffron in 1 tablespoon of warm water.
3
Place a patili/saucepan half filled with water on medium flame. Bring the water to a gentle simmer.
4
Now place a bowl still or glass on the patili. The bottom of the bowl should not touch the water in the saucepan.
5
Add the cashew mixture in the pan.
6
Stirring at regular intervals, cook the mixture for 20-25 minutes.
7
Don't expect any change in the consistency of this powdered mixture.
8
After 25 minutes, turn off the flame and transfer the mixture to a parat or bowl fit to knead dough.
9
Add the cardamom powder, soaked saffron and 2 tablespoons of water.
10
Knead the dough (careful as the mix will be hot) if required add 1 tablespoon of water at a time.
11
You will need only 3-4 tablespoons of water so be very cautious.
12
Once the mixture comes tougher in a soft pliable dough, begin to roll it.
13
Spread the mixture on a silicone mat/butter paper/ plastic sheet. Place another sheet on the top of the dough and roll it to desired thickness, 1/4 to 1/2 mm.
14
Using a pizza cutter or a sharp knife cut in diamonds or squares.
Notes
The saucepan for the double boiler has to be deep and bowl big enough to sit on the saucepan and not sink in it. The water simmering in the saucepan should not touch the base of the upper bowl. The vapor from the simmering water will warm up the mix.