Khajoor Magaz (Dates Magaz) is my take on the traditional and much adored Gujarati mithai, Magaz. A staple during festivities and winters,  Magaz is a Gujarati equivalent of besan burfi. Soft, fudgy and melt-in-mouth Magaz has never failed to appeal. This winter I tried giving  Magaz  a twist, making it even more healthy and interesting by adding some Dates/khajoor to it. The result was even more soft, chewy and delicious Magaz.
If you have been following my Instagram stories, you must be aware of my month long trip to my home town, Ahmedabad. It is during these long stays in Ahmedabad that I choose to cook for the blog as much as possible as I have family and friends who eagerly await to taste, critique and enjoy the food that is cooked and will eventually become a blog post. This trip I managed to cook and shoot almost  10 dishes along with  documenting some food traditions and foods and conducting my annual baking workshops and curating a food event for an urban farmer (more about it later).
Winters in Gujarat are pleasant and beautiful. The food scene gets really vibrant with the availability of wide variety of greens and vegetables. We love to gather and party over foods like Undhiyu, Khichro, Thotha, Ponk….. and so much more while basking under the tender winter sun. As much as we enjoy our greens and veggies we also love having a healthy dose of ghee and ghee laden vasana/traditional winter warming foods and Magaz also features quite frequently on the table. I tweaked the traditional recipe with an intent  to give it some texture and make it even more winter friendly hence,  went ahead to include some Dates to it. Also, I had some homemade mawa that was asking to be used,  since  I  have come across many Besan-burfi recipes made using mawa the leftover mawa also got included in this recipe. The result was moist and caramely  Khajoor Magaz that was too good to be limited to   just one helping 😉.
Don't believe? Go try it…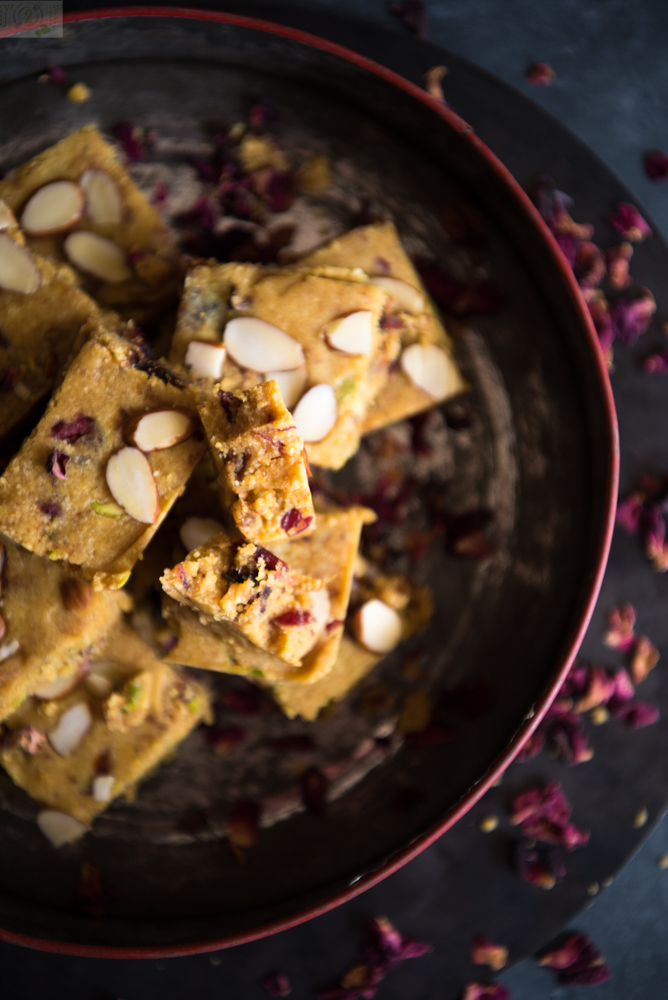 Ingredients
1/2 to 3/4 cup ghee (more if needed)

1 + 1/2 cups besan/ chickpea flour

1/2 to 3/4 cup sugar, finely ground

1/2 cup mawa

3/4 cup khajoor/Dates, chopped

1/2 teaspoon cardamom powder

a pinch of nutmeg

chopped and sliced almonds to garnish
Instructions
1
To prepare for the cook, begin with Dates.
2
Wash the Dates well, dry them and remove the seeds before chopping them in equal sized chunks.
3
Take good quality mawa or like I did use some homemade mawa.
4
Crumble or grate the mawa.
5
To cook the Magaz, you will require a heavy bottom karahi/pan. Take a pan that has not been used to fry masala or curries.
6
Place the Karahi on a medium to low flame.
8
Once the ghee warms up a little, add the flour and roast till it emits pleasant aroma and turn a shade darker.
9
Once the flour has turned light and aromatic add the sugar. Cook for a couple of minutes.
10
Add the mawa and continue to cook until the mawa has disintegrated in the flour-sugar mixture.
11
Now, add the chopped Dates and cook for few minutes more.
12
Turn off the flame, add the cardamom and nutmeg powders.
13
Transfer the mix to prepared tray.
14
Level and smoothen the surface.
15
Garnish with almond slices.
16
Once the Magaz is 3/4 firm, cut in squares or diamonds.
17
Enjoy a slice of Khajoor Magaz every morning.
Notes
The amount ghee will depend on the quality of the flour. If the besan absorbs more ghee add little ghee at a time. Similarly if you like the Magaz on the sweeter side increase from 1/2 cup to your preference. Keep the flame to medium or low during the entire cook. While you are in process of roasting the flour, prepare the tray/pan for the Magaz to cool and shape. Grease the tray with ghee. Remember to stir the mixture during the entire cook. Even after you have turned off the flame.