Kachariyu, is a quintessential winter food  of Gujarat. Tasty, earthy, nourishing, humble and frugal all at the same time!!
You can read more about this delicacy here from a post I did last year  on this traditional food that is native to Gujarat.  These days you can find recipes having a very elaborate list of ingredients to make Kachariyu,  in  my opinion however, the less you do to such classic preparations  the better it is!!  The most appealing aspect of Kachariyu  is its simplicity and the fact that it requires just two ingredients. Over the years I have come to believe that the longer the list of ingredients the more intimidating the recipe becomes,  discouraging people from trying it. Hence, I have kept the recipe here very basic. But, if you want and have on hand throw in some slivered  almonds, poppy seeds, fried edible gum/bavaliyo gundar after you have crushed the sesame seeds and jaggery.  The sesame seeds take some time to ooze out the oil hence I have added some water (just like I learnt from the ghaniwala) but if you have sesame oil on hand replace it with water. Organic jaggery gives this dish very molten taste  hence,  I strongly recommend using deshi gor/unbleached jaggery.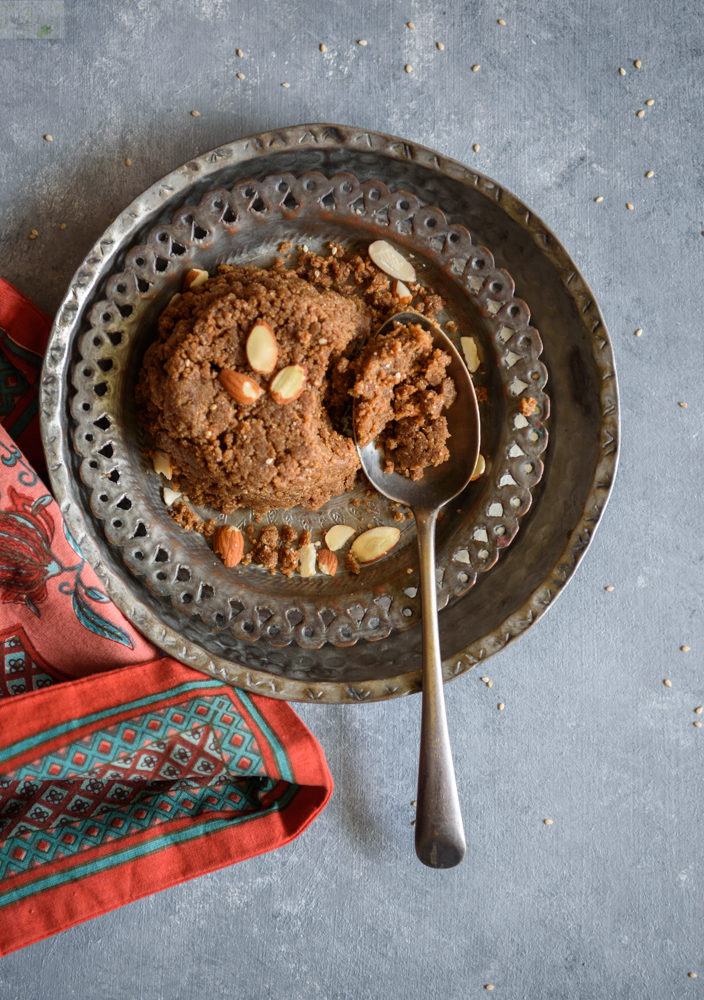 Ingredients
1 cup sesame seeds, lightly roasted

1/2 cup jaggery, grated

2 tablespoons water or sesame oil

1 teaspoon dried ginger powder/sooth
Instructions
1
Add 1 cup of sesame seeds to the mixer-grinder jar.
2
Grind the sesame seeds till they resemble bread crumbs.
3
Add water/oil to help the sesame seeds grind to a fine powder till it starts coming together.
4
Now add the grated jaggery and grind again till the mix comes together like a soft dough.
5
As the last add the ginger powder. Mix all well with you hands.
6
You will have moist mix of Kachariyu ready to be filled in a container.
7
Fill the Kachariyu in am airtight container.
8
Kachriyu is always filled in a dabba/container and eaten spoonfuls in the morning.