Winters are the best time of year in Gujarat when the  weather is just right, neither very cold or hot. It gives respite from the scorching temperatures that the region experiences for the better part of the year.  The arrival of winter also witnesses the flooding of food scene markets with a gamut of Vasaana –  warming foods to be consumed during winters.
A traditional food practice that continues to be followed as a ritual in lot of  Gujarati households is consuming various warming foods during winters. These foods are called 'Vasaana,' getting their name from vasaana meaning 'herbs and spices' used in making these extremely traditional winter delights. The onset of winter also marks the beginning of the Vasaana making marathon in most households, stirring up 4-5 different types of these warmers, each different from the other and each having an endless list of ingredients. The reasons behind consuming these foods in winter are they give that energy needed in winters, keep the body warm from inside, boosts up immunity, lubricates joints, prevents body aches etc.
Kachariyu is the simplest of these delicacies; it is made using sesame seeds, shredded coconut and jaggery along with add-ons like dates, dried ginger powder, almonds etc. In Gujarati 'kacharvu' means to grind and since we grind the sesame seeds in this recipe the name derived is Kachariyu. Normally all the ingredients are ground together and spread as a fudge but I have made laddus and filled them with sautéed dates and figs mixture.
These laddus can be considered  a desi version of energy bars.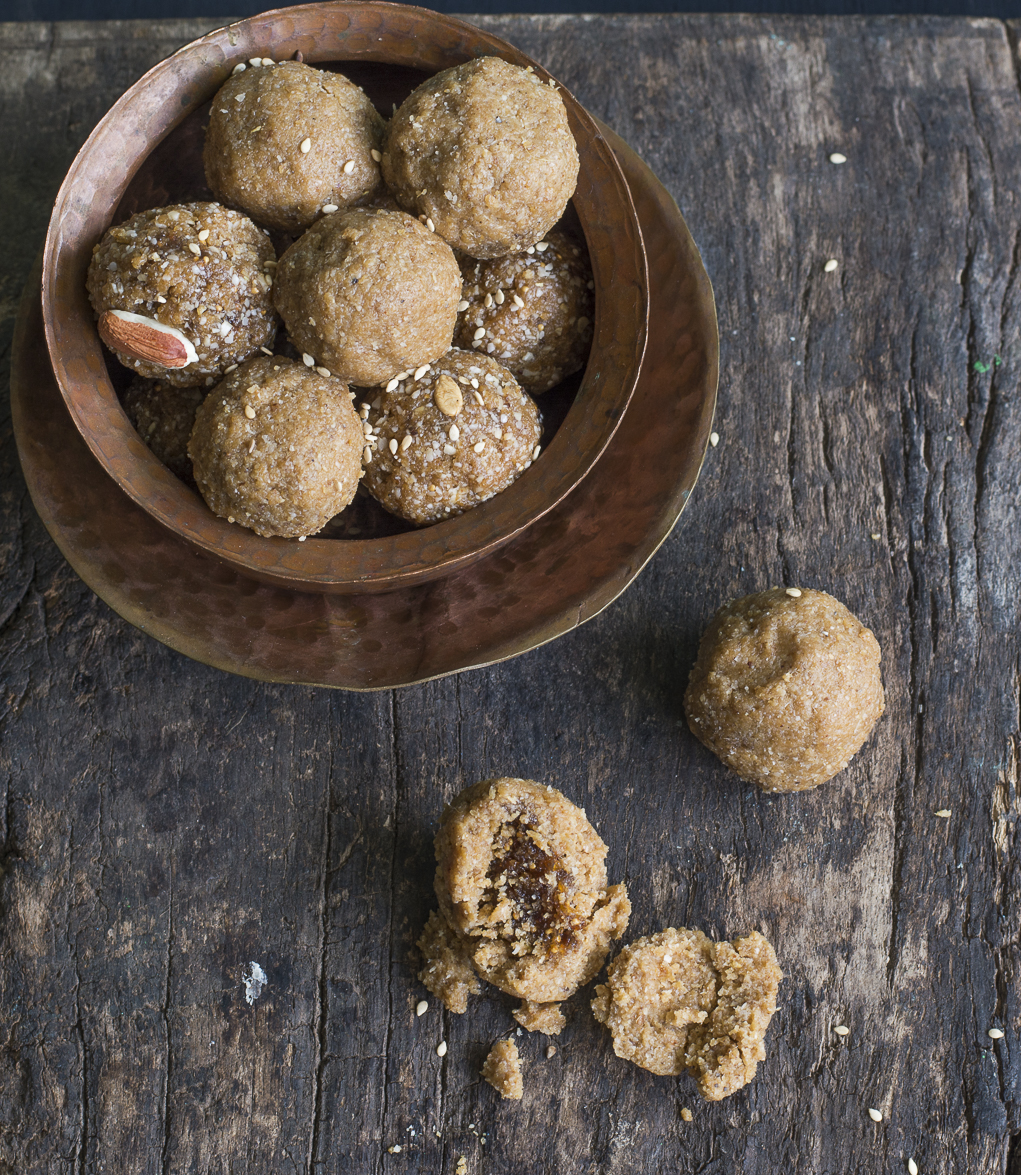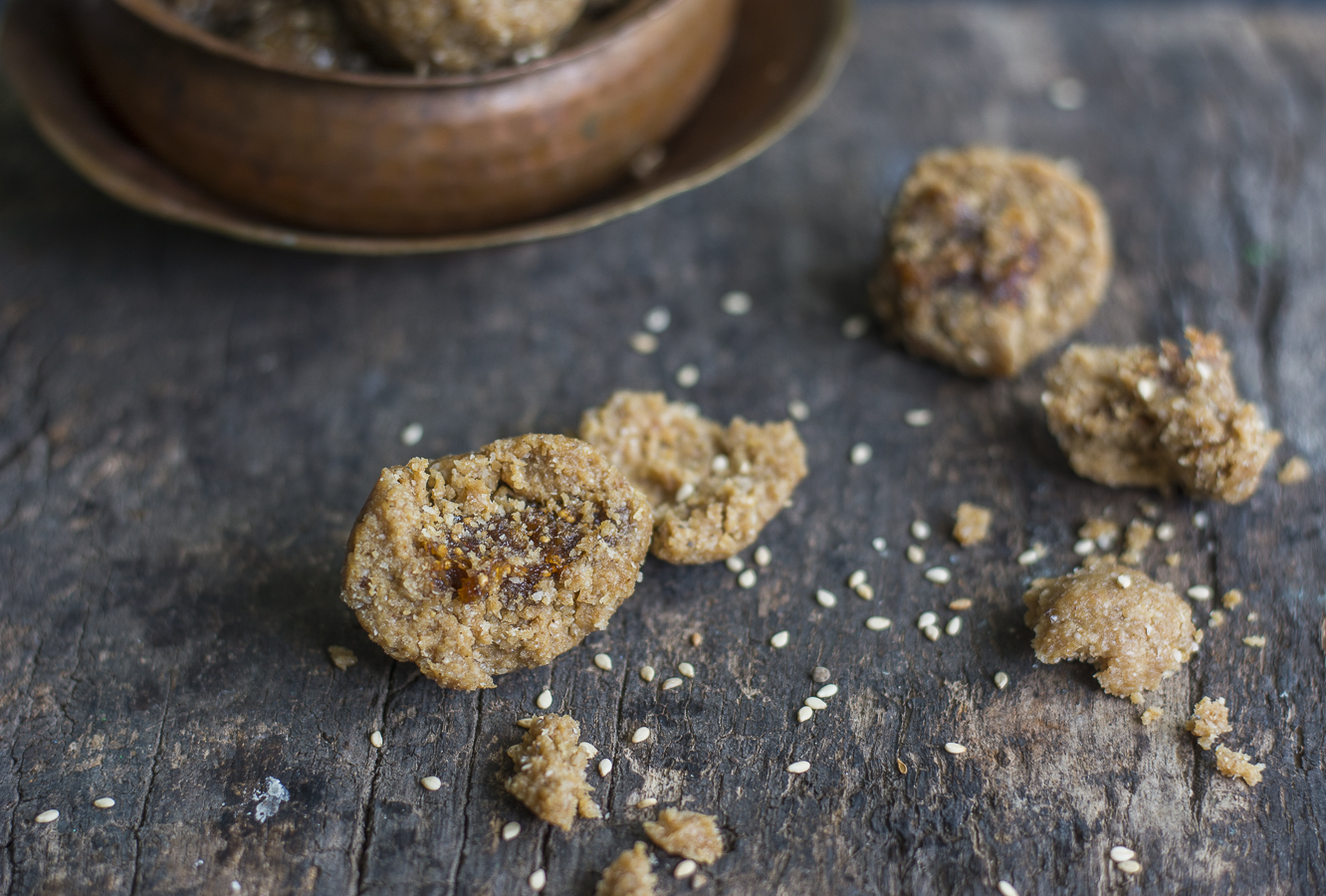 Kachariyu Laddus with Figs and Dates filling
Makes around 15 laddus
Ingredients
1 cup sesame seeds
¾ cup desiccated coconut
¼ cup chopped almonds
¼ cup melon/char magaz seeds
½ cup organic jaggery
1 teaspoon dried ginger powder
½ teaspoon green cardamom powder
A generous pinch of nutmeg
1-tablespoon ghee
10 -12 large black dates, pitted, chopped
5-6 dried figs, chopped
Method
For the Filling
Heat a skillet or kadhai on medium heat. Add ghee, once hot and add chopped dates and figs. Cook them till they turn mushy and start leaving sides of pan to come together as a ball.
Once cool make small marble sized balls.
For the Kachariyu
In the same or another pan or kadhai lightly toast sesame seeds, coconut, almonds and melon seeds.
While it is still warm transfer the mixture to a grinder add jaggery and grind until finely ground.
Add the dried ginger powder, cardamom powder and nutmeg powder. Pulse it again for a while.
You shall notice that the mixture has released its oil, if held in a fist it comes together. If this does not happen pulse it a few more times.
Put a spoonful of Kachariyu mixture in the well of your palm, lightly press it and place the filling in the center and bring the Kachariyu together to form a small laddoo. Repeat till you have formed all the laddoos.
These laddoos can be enjoyed as a quick bite, can go in kid's lunch box or have it with a glass of milk during breakfast. Treat them as energy bars.
If you desire you can roll them in desiccated coconut or finely chopped almonds for garnish.