Karela or Bitter Gourd. The mere mention  of this vegetable evokes strong reactions; people either love it or hate it. Period. Personally, the bitter taste  of Karela has never been overpowering, it usually  depends on the way these gourds  are cooked. However, since they are perceived  as an inherently bitter vegetable by most of us, we approach to it with this prejudice rather than admiring its honesty. Infact, these days traits like honesty rarely get appreciated 😔
This recipe of Jaman walu Karela-Kela nu Shaak is the last in series of Jain recipes that my very dear friend, Avani, cooked for me in June of 2018.  The other three recipes could be found here, here and here. The Karela that were peeled to make Karela ni Chaal na Muthiya were used to make this side dish that teams up very well with Aam Ras/mango puree.
Karela are made in quite a few ways and the one with jaggery is the most popular version across Gujarat. The traditional ways to get rid of the bitterness is massaging the slices of Karela with salt and squeezing off the released juices. This method hugely mellows down the bitterness of these gourds. Later, at the end of the cook adding a sweetener such as  jaggery or sugar, eliminates whatever little  bitterness is left.
The recipe I share here is how Avani's mother makes it on special occasions one of which is when she invites Avani and her husband for the annual Keri nu Jaman. The season of mangoes is called Keri Galo/gado ( period) and during every Keri Gado the family hosts daughters and son-in-laws for a special meal. This is a tradition still practice in most Jain families I know. Since karela cooked this way are a favourite with Avani's husband this shaak is always on the menu. I have seen deep fried karela shaak at many community feasts in the past but now that these gatherings have become rare occasions so have the opportunities to relish such slow cooked delicacies. Avani recalls  During Jain community gatherings this shaak always accompanies doodh-paak/gujarati version of kheer  and  poori.
Like all home cooked recipes these too has a very relaxed approach to it. There are no hard and fast rules on how to cook it  however,  some care is required  to ensure the  right texture and taste. Use of jaggery is forbidden in this preparation as hugely alters the  texture and look of the final dish. Poppy seeds or khus-khus is added at the end of the cook to enhance the appearance. In the past, the use of dried fruits and nuts was always reserved for special occasions hence,  addition of deep fried cashews and raisins makes this shaak fit for an extravagant meal.
I will list down the ingredients that go in this recipe and just walk you through the  instructions. I am sure you are going to  💖 this shaak as much as we did!!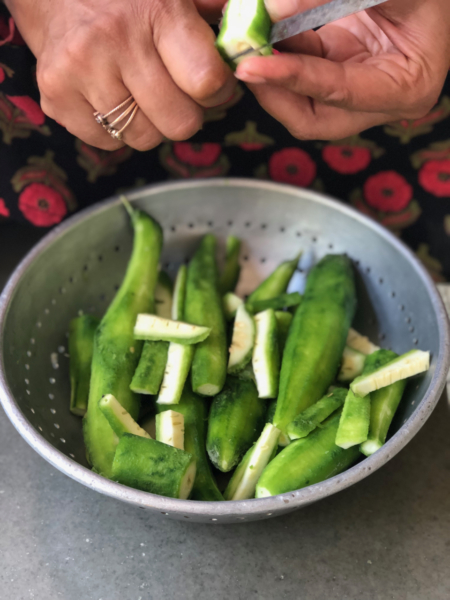 It is crucial to select tender bitter gourds. In Gujarat we are partial towards vegetables that are tender and young, because they taste better and cook fast.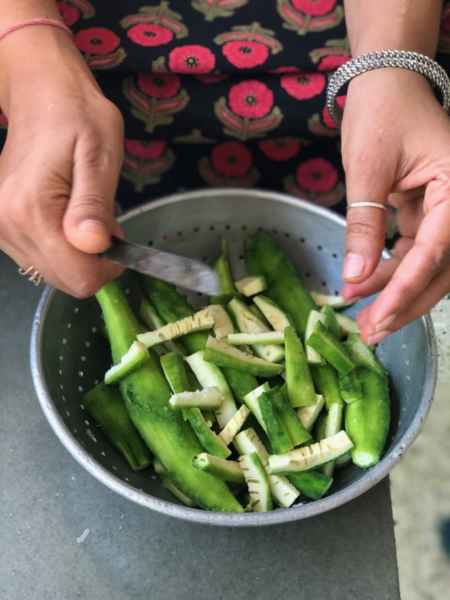 Once the bitter gourds are washed and peeled half them and slice them like so. Ensure that the slices are uniform because it aids even cooking.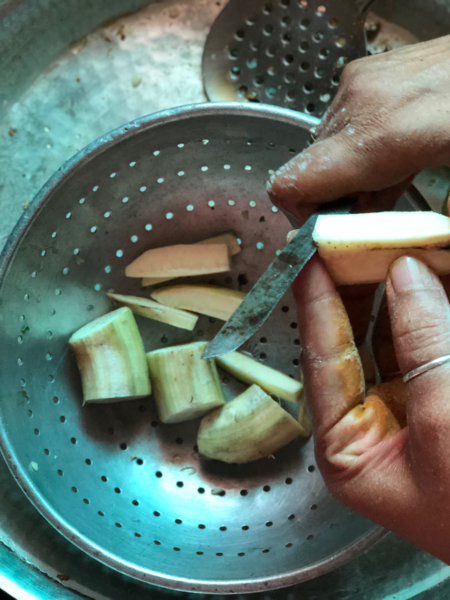 Since this is a Jain recipe potatoes have been replaced with plantain or raw banana. Plantain are as versatile as potatoes plus they are rich in some more minerals and vitamins and poor in fat and proteins. Sounds like win -win situation, right!! Hence,  I would not mind going ahead with using plantain in this and many other foods that call for potatoes.  Remember to keep them soaked in water or else they oxidise/turn dark. Slice them as thin as the bitter-gourd slices.
Ingredients
5-6 bitter gourd/Karela, peeled and sliced in one inch long slices

1-2 plantain/raw banana, peeled and sliced in one inch long slices

3-4 tablespoons cashews

2-3 tablespoons raisins

1 teaspoon rai/mustard seeds

1/4 teaspoon asafoetida/hing

1/2 teaspoon turmeric/haldi powder

1 teaspoon red chilli powder/lal mirch powder ( or to taste)

2 teaspoon coriander and cumin seed powder/dhana jeeru

1 tablespoon sugar

1 tablespoon poppy seeds/khus khus

oil for deep frying

salt to taste
Instructions
1
Put enough oil in the Kadai to deep fry the bitter gourd and plantain.
2
Add the sliced bitter gourd once the oil is very hot.
3
The oil should be so hot that it makes that angry hissing sound when you add the slices.
4
Fry till the slices crisp up.
5
Take cashews and raisins in a perforated bowl and deep fry as you see in the video. That way we will not over fry the raisins.
6
Once we are through with all the deep frying, remove the oil.
7
Place the same kadai on medium flame and add mustard and asafoetida to whatever 1-2 teaspoons of oil remains at the bottom of the kadai.
8
Add the turmeric powder and fried slices of Karela-kela, stir well.
9
Now add chili powder, dhana-jeeru, salt, sugar stir well.
10
Add the cashews, raisins and khus-khus.