Much before India achieved Independence, the various regions of Gujarat were known either by their geographical characteristics or the heritage of their rulers. Hence, the erstwhile Gujarat had regions like Paanchaal, Sorath, Laat, Rewa Katho, Nal Katho, Vagad, Bhal, Charotar, Halar, Vakad, Zalawad, Gohilwad, Kathiyawar, … to name a few. Each of these regions has it's own special cultural and social features. The blogpost on Jadariyu would be incomplete without the focus on one such region called Bhal, the region this delicacy hails from!!!
Bhal is a flat region tucked between the current political boundaries of Ahmedabad, Bhavnagar and Anand districts. Bhal gets its name from the Sanskrit word Bhal meaning forehead, indicating the fact that this region is as flat as our forehead. These flat plains have no stones, pebbles or gravel, simply put or as to comprehend better my Dada explained it so to my father, "just like no hair grows on our forehead not trees or bushes grow over these flat plains of Bhal." However, this peculiar geographical characteristic is conducive for the cultivation of a particular species of wheat popularly known as Bhalia Ghau/ Bhal Wheat. The Bhalia Ghau also known as Dodh-kani (1.5 times) gahu/long grained wheat are unique because they do not need irrigation or rain water to grow rather thrive on the moisture conserved in the soil and that from the winter dew! They are the best quality wheat in Gujarat and are known to be hardy, flavorful, tough, high in protein and pest resistant. They are known to absorb less oil and water!! The Bhalia Ghau also received Geographic Indication-GI tag in 2011. During the times when the grains were stored for yearlong consumption, our household stored a whopping 1000 kgs of this wheat variety (we were a joint family of 19+dogs🤪).
Jadariyu originates from this wheat growing  belt of Gujarat and is  found only in this region.  Gujarati Shabdkosh/dictionary defines Jadariyu as "Laddoo made from ponk/ tender wheat or bajra berries." We have a practice of enjoying ponk of some of the grains we cultivate in Gujarat. To enjoy the ponk, the wheat is harvested after 70 days of sowing just when the wheat berries are soft and tender. These berries are enjoyed on their own and later fire roasted in their husk. Once roasted they are kept through the year with their husk on (so that they do not spoil). When the need of making Jadariyu emerges, the grains are separated and ground to a coarse flour. Jadariyu is believed to be God's favorite food hence it always makes an appearance during festivities or major offerings. Particularly in Bhal, Jadariyu is a very popular delicacy as even the small and marginal farmers grew wheat, but if you move further towards Saurashtra this dish wasn't really a common man's food because not all had access not everyone had access to tender wheat berries thus limiting the spread of this delicacy. Also, ghee and sugar were considered to be priced products in the frugal days of the past.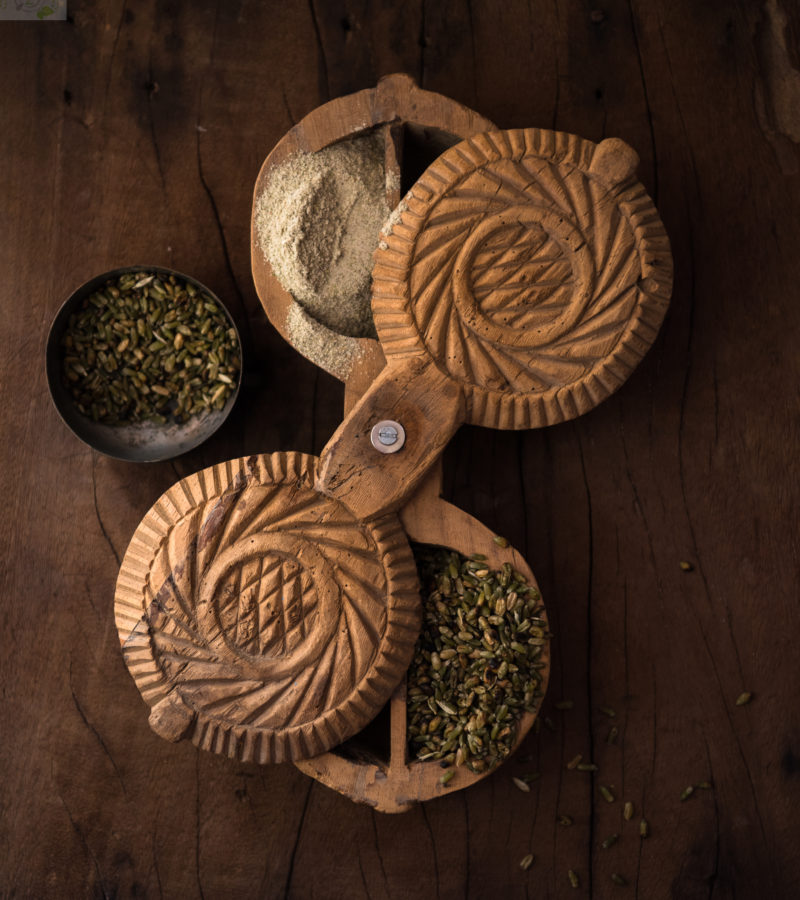 My father always talks very fondly about this winter delicacy that he grew up eating. His native village Vallabhipur falls in Bhal, and relatives travelling from here would always bring along Jadariyu to Ahmedabad.  One interesting anecdote my father shared is about the time my Fojiba/Bua got married in 1947 just before India became independent. The country was reeling with the aftermath of WWII and there were severe restrictions on movement of grains and there was guest control too! People were forbidden from carrying more than prescribed amount of grains!! The wedding party or the barat for my freedom fighter khadi clad Fojiba ( she married the love of her life and went on to become first Rajput woman to shun ghoonghat, her wedding attire was a plain cotton Khadi saree) included 17 people all of whom carried 2.5 kgs each of the Bhalia wheat to help my Dada ease the grain shortage ❤
Ever since I started blogging, documenting this delicacy  has been on my to-do list. The documentation has been so much more than just making and writing the recipe. From  stories to sayings and the rituals everything was shared by my elders to help me write this post!!  It took me 2 years to get to the core of the delicacy and  get hold of the tender green wheat on time!!  This year my father was travelling to the region and was asked specifically to bring back some Jadariyu ready wheat.
Going to Ahmedabad in March gave me the perfect opportunity to make, eat and shoot Jadariyu. As always, my babhis played their all-important role in helping me documenting this fast fading preparation. We made a small batch first, spoke to Babubhai, the care taker who is now extended family on the nuances, and perfected the preparation on the second attempt. I got to eat it for the first time and was blown away by the smoky aroma and the nuttiness of the tender wheat. We did get worried about the dark green colour but, our apprehensions were put to rest when Babubhai told us that real Jadariyu takes dark-green color and the fake one, which is pale green, (now widely available in the region) is just wheat flour with food color added to it!!
Again, the recipe is not very intricate because it has evolved during frugal times/age. All it requires is to get the sugar syrup to the right consistency. The 2 string consistency gave us tough Jadariyu but 1.5 string consistency with a dash of water worked just as we desired.
Pappa, Babubhai, Renukabhabhiji, Sarika and Purvi.. thank you all for helping me document this piece of our collective heritage!!
Ingredients
2 cups flour of tender wheat-berries, coarsely ground

1+1/2 cups ghee/clarified butter

1+1/4 cups sugar

1-2 tablespoon milk

1/2 teaspoon cardamom powder

1/4 teaspoon nutmeg powder

1 tablespoon chopped almonds to garnish
Instructions
1
Roughly chop 5-6 almonds.Keep aside
2
Freshly grate 1/4 teaspoon nutmeg and keep aside
3
Pound seeds of 2-3 green cardamom pods and keep them aside.
4
Take a thick bottom pan or kadhai and place it on a medium to low flame.
5
Add the ghee and once it melts add the Jadariyu flour.
6
Roast/fry the flour in the ghee till it emits a pleasant aroma and the oil separates.
7
As you are roasting the flour in ghee begin to prepare the sugar syrup.
8
Take sugar in a sauce pan and add water just enough to soak the sugar.
9
Cook the sugar to 1.5 string consistency.
10
Keep stirring the flour-ghee mix and once the sugar syrup is ready add it to the well roasted flour.
11
Add 1-2 tablespoon of milk to the mixture. It helps making it soft and molten.
12
Cook for a minute and turn off the flame.
13
Add the nutmeg and cardamom powders and give it a good mix.
14
Spread the Jadariyu over a large thali or 9 inch baking pan.
15
Sprinkle the chopped almonds and press them gently.
16
Cut in diamonds or squares and allow it to cool in the pan.
17
Once the Jadariyu reaches room temperature transfer it to an airtight container.
18
It stays well for unto a week.