The Hung Yogurt  Sandwich Spread has been a boon food for me. Introduced to me more then a  decade back by my very dear Aparnaji, this spread has  been a constant companion ever since. You know how we tend to associate certain foods with  the wonderful memories we have created over it and this  Hung Yogurt  Sandwich Spread is reminiscent of the beautiful few years we spent in Kuala Lumpur. The years that were nothing but perfect, the ones where we made relations that are sure to last a lifetime, had the company of  loving friends, surrounded by lush greenery,  lazy weekends, long drives and of course food. Lots and lots of spicy and delicious Malaysian  cuisine. One thing  we absolutely loved about Malaysia (oh! there is a long list) were the long weekends. Each holiday  preceded or followed  a weekend and each such long weekend was spent exploring the beautiful country that Malaysia is…..
During these road-trips Aparnaji would usually pack sandwiches made with this Hung Yogurt Sandwich Spread which were so creamy and soft that we never missed cheese or butter in our sandwiches 😍. All of us were managing our weight and this guilt free spread  was  just what a dietician would recommend.   We were a bunch of vegetarians who needed some food back-up incase of need. The Indo-Malay and  Chinese vegetarian food is not to be missed but there are regions in this country where it was/is hard to find even a single vegetarian dish. I remember, even McDonalds  did not have a single vegetarian food except fries on its menu at that time. The vegetarian food we carried  helped us sail  under such circumstances. This spread has been our absolute favorite ever since. Both of us love to dig into this luscious  spread…
Of course,  I do not eat it with bread as much as I do it as a dip to accompany khakhras or roasted veggies I love to nibble on.  The cooling yogurt  works wonderfully well in the hot climate of my region.  It is cooling, refreshing and  guilt free. An entire bowl full of it is going to do no harm in fact it will work wonders…..It requires little preparation  to put together and is simple to make even for a novice. The only care we take is letting all the whey drain from the yogurt, we are really looking for  very thick hung yogurt or the yogurt cheese which hung yogurt is also called in some parts of the world.
Take my word, once you eat this spread you would never want to go back to the butter and cheese laden sandwiches ever…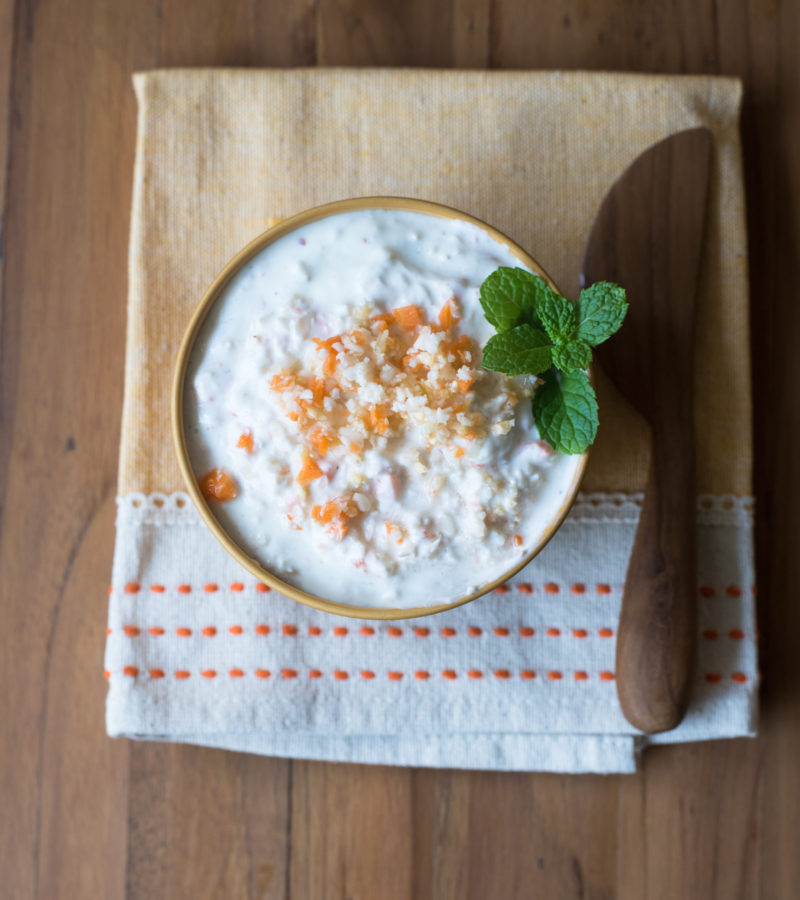 Ingredients
1 cup hung curd/labneh/dahi chakka

3/4 cup minced or finely chopped vegetables (carrots, cucumber, red or green cabbage, onion, cauliflower)

3 tablespoons fresh coriander, very finely chopped

2 tablespoons mint leaves, shopped in ribbons

Salt and Pepper to taste
Instructions
1
In a medium sized bow, whisk the hung yogurt to a smooth consistency using a ballon whisk.
3
Fold in the finely chopped/minced veggies, coriander and mint. Mix very gently.
4
Chill well and keep refrigerated.
5
Use as a sandwich spread or dip.
Notes
The yogurt has to be very thick because the vegetables will release water and that water will loosen the yogurt. If you wish you may add any other seasoning herb mix of your choice.