The Gujarati Vadi Pulao is a preparation  made using the petit, wholesome and power packed  Gujarati Vadi.
One food tradition that is  rapidly fading in Gujarat is the annual exercise  of  preparing and storing sun-dried or the sukavni food items. Urad Papad in various flavours, Khichiya Papad (rice papad), potato wafers and sticks, sago items (to be had during fasting months), potato sev,   dried vegetables (came handy when green vegetables weren't  in season), Vadi  and much much more….. Winters were the times when women  from the neighbourhood would come together on the roof-tops to help each other whizz out numerous  batches of these foods.  The task were  timed so as fresh produce arrived  in the markets and the tender sunlight of the winter months made it possible for women to work on the terrace or front yards, also the sunlight during these months is  just enough to slow dry the foods.   A makeshift kitchen came up on the roofs with children pitching in for laying and arranging the food on neatly lined sarees and long plastic sheets. These were the kind of jobs that had to be done collectively, reflecting  the  true spirit of neighbourhoods. The women gossiped, cribbed, shared their knowledge and  wisdom on life and foods (of course) during these marathon sessions. Each day  it would be a different house and different list of foods  to be prepared and dried . At the end all the prepared items were shared and exchanged. How wonderful were those traditions that inculcated and encouraged so much  camaraderie and sharing…
The Vadi and Papad enjoy  a rather privileged status compared to their  sukavni counterparts, as they are part of a bride's  trousseau. These items are included in the Mai Matla, a pot filled with patasha, mithai, Vadi, Papad, dry fruits and  few other things that  a bride carries with her after marriage,  these things came handy when the bride felt hungry in her new home,  how would she ask for food to family she hardly knew (remember there were child marriages and bride and the groom hardly knew each other in those days!!)  the foods from the Ma Matlu came to her rescue then….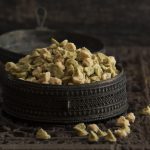 Vadi made from various lentils and dals are a great source protein for the vegetarians. They are also consumed when green vegetables become scarce and expensive. The Vadi Pulao is a slightly different take on the way the Vadi are consumed in Gujarat. Usually, they are clubbed with vegetables to make dry or semi-dry subzi. The Vadi Pulao is tempered using the southern Indian tempering staples giving  it a nice blend of flavours. If you plan to go easy with dinner and want to cut down on the time spend in the kitchen this Gujarati  Vadi Pulao is the best alternate..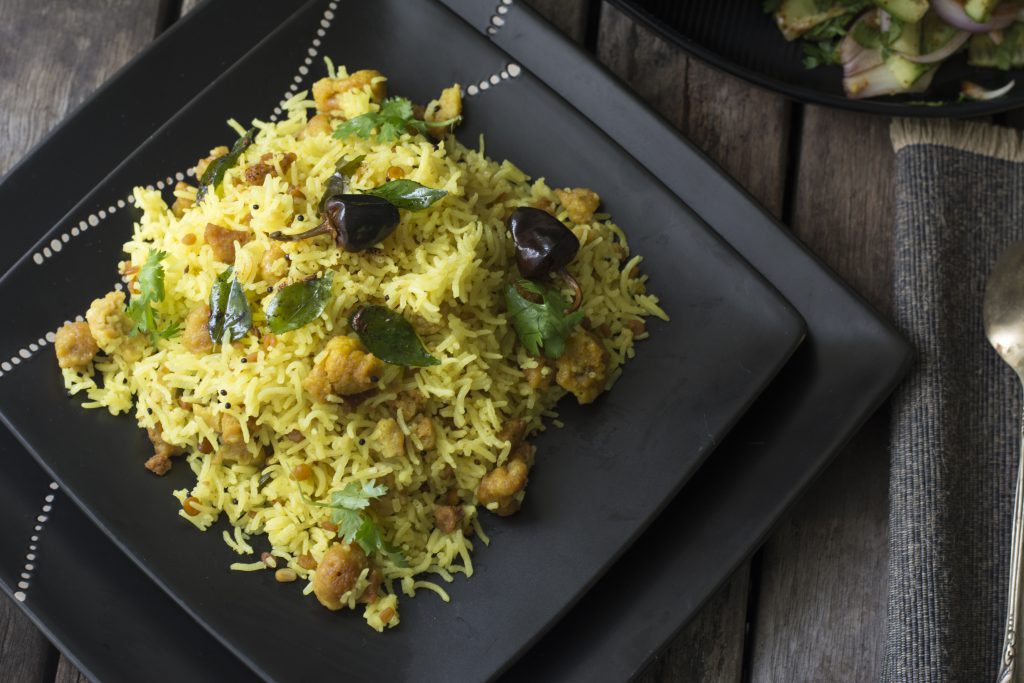 GUJARATI VADI PULAO
Ingredients
¾ cup long grained rice
½ cup Gujarati Vadi
2 + 1 tablespoons oil
2 finely chopped green chilies
1 spring curry leaves
1 tablespoon chana dal
1 tablespoon urad dal
1 teaspoon mustard seeds
½ teaspoon turmeric powder
½ teaspoon lemon juice
A generous pinch of asafetida
Salt to taste
1+1/2 cups water
Method
Wash and soak the rice for 10 to 15 minutes.
Place the kadhai on heat and add 2-tablespoons oil.
Fry the Vadi in hot oil until golden brown. Remove from the kadhai.
In the same kadhai heat the remaining 1-tablespoon oil.
Add the mustard seeds, urad dal, channa dal and fry until the dals have slightly changed color. Add adafetida, green chilies and curry leaves and fry for a few seconds.
Add the fried Vadi , soaked rice and salt. Give it a good and gentle mix.
Add water and cook till the rice is done. At the end add the lemon juice and mix it gently.
Serve hot with lightly spiced yoghurt or raita of choice.