Kadhi  or the yogurt soup enjoys a legendary status in Gujarati cuisine. Considered to be  lite and refreshing,  it is a permanent fixture on the menu during festive meals, parties and celebrations. We usually have kadhi with pulao, khichri, puri or rotla (millet bread). Kadhi is light in digestion and does not make you feel bloated, hence when we have an elaborate menu the  choice is always to have khadhi  instead of dal.   Compared to its regional counterparts, the Gujarati Kadhi is thinner (tomato soup like)  in consistency and has balance of sweet and sour flavours. Even within Gujarat the  kadhi takes numerous  forms  hence, the Kadhi cooked in the Gujarati country side is quite different from the one made in the urban households. The  Kadhi in Gujarat  is traditionally made with buttermilk (liquid left behind from churning of butter/cream) and is still made in the same manner in rural areas but in urban households it is made by thinning the yogurt. The yogurt is allowed to slightly turn sour in taste and sugar is added to balance the sourness, to thicken the Kadhi we add a small amount of chickpea flour. It is the tempering of ghee, flavourings and spices that further enhance the flavour of the otherwise mundane  kadhi. If you add the cloves and cinnamon it becomes quite festive in flavours. Cumin, fenugreek seeds, kadhi patta ( as curry leaves are often called in Gujarat), whole red chilies are a must for a good tempering.
The recipe I share with you today is almost a century old family recipe. What makes it stand apart is the addition of clotted cream (malai)  and milk to make the Kadhi rich, creamy and mellow in taste ( for those like me staying outside India and can't access clotted cream may add  equal measure of sour cream). It is how Vidyaba made her kadhi every time and it never failed to please the family and guests.   We believe during  times when there were no refrigerators the yogurt would turn sour and to do away with the sourness Vidyaba must have added malai and milk. It also required to add less amount of  sugar.  This method of making Kadhi has been adopted by  the family and the practice of adding milk and malai continues even today  in the times when  refrigerators are machines without which  we  can not imagine our being!! The flavours of malai and milk do not become very pronounced or loud but it lends the kadhi a subtle richness and mellow taste.
If I had to describe  this Kadhi in one sentence it would be 'Gujarati Kadhi – malai marke.…'  anything that is malai marke in Gujarati cuisine be it tea, lassi or chaash is considered to be rich in flavours. It offers a different experience altogether. So does this Kadhi. Just the addition of two ingredients that are otherwise never added makes it simple yet indulging  food. Since more than a decade I have also been adding mint leaves to my kadhi, this is what my cook Renukaben did and it lends a very refreshing taste to the dish.
Do give it a try, I promise you will never want to go back to the older version..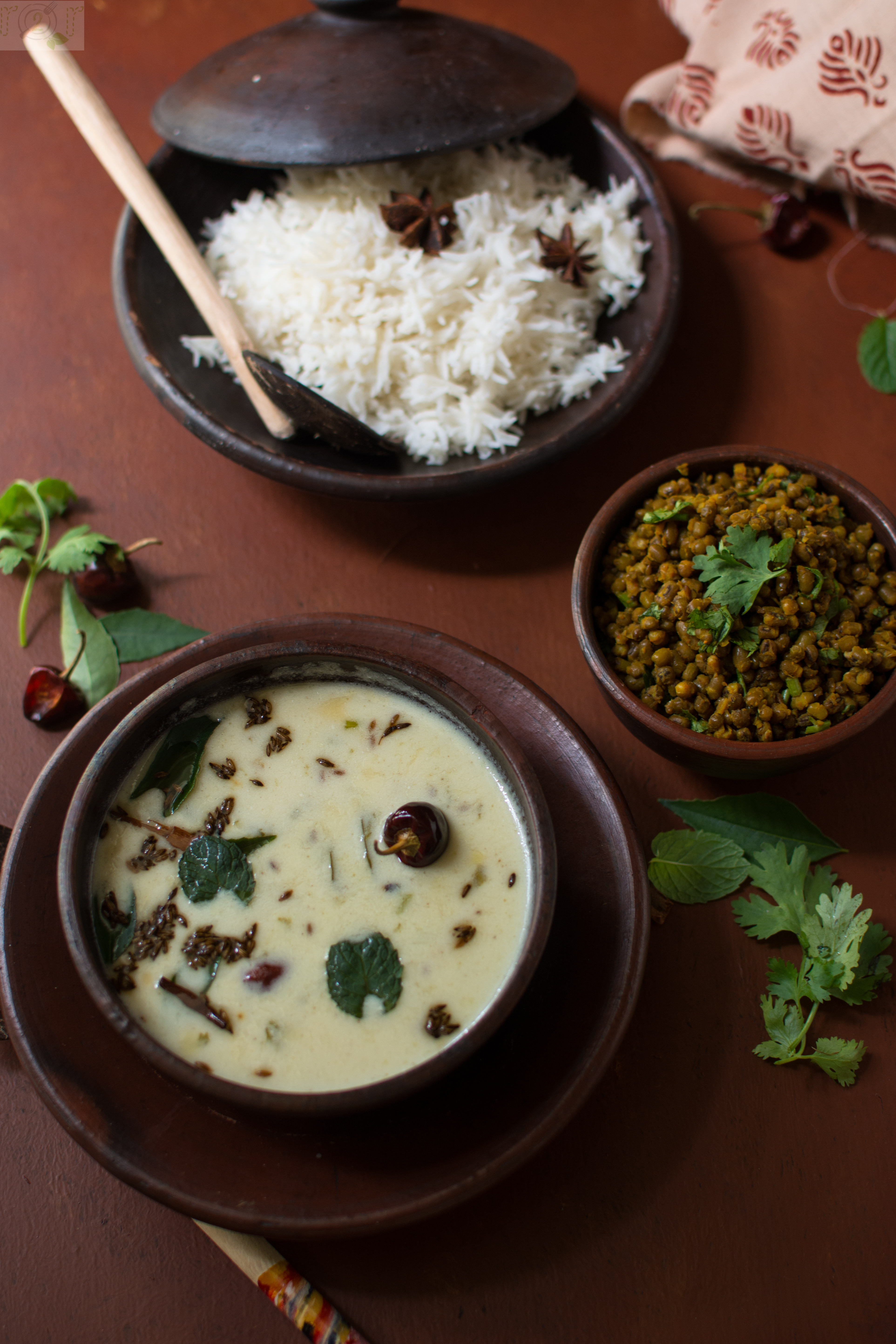 Ingredients
1 cup yogurt/dahi

2 cups water

2 tablespoons besan/ chickpea flour

1/4 cup milk

1 tablespoon malai (clotted cream) or sour cream

2-3 teaspoons green chili and ginger, minced

3 teaspoons sugar

2 teaspoons ghee/clarified butter

1/2 teaspoon methi dana/fenugreek seds

a pinch of turmeric powder (optional, I never use turmeric n kadhi)

1 teaspoon jeera/cumin seeds

2-3 boriya marcha/dry red chilies

pinch of asafetida

2 cloves

1 inch cinnamon stick

1 spring curry leaves

1 spring mint leaves

3-4 tablespoons finely chopped coriander

salt to taste
Instructions
1
In a bowl whisk together the curds/yogurt, sour cream/clotted cream and chickpea flour. Whisk until it turns into a smooth and lump free mixture. Add the water and mix well.
2
Transfer this yogurt mix to a heavy bottom saucepan.
3
Place the pan on medium flame.
4
Add sugar, salt, ginger-chili mix and bring the kadhi mix to a boil.
5
The chickpea flour has a tendency t settle at the bottom so continue to stir continuously.
6
In a small wok/kadhai prepare the tempering. Place this wok on slow flame, add ghee.
7
To the ghee, add cumin seeds, red chilies, cinnamon, cloves, asafetida and curry leaves.
8
Once the cumin seeds turn dark brown add the tempering to the boiling kadhi.
9
Add the mint leaves and continue to boil. Add the milk.
10
After 8-10 minutes of gentle boiling turn off the flame.
11
Just before serving add the chopped coriander.
12
Serve with rice, roti, puri or khichri...