The Lasan ni chutney/garlic chutney of Gujarat  is a quintessential Kathiawari chutney, ideally a must with every Kathiawari meal. There are three foods that complete a kathiawari meal one is the lasan ni chutney, second  is the god/jaggery and the third is chaash/buttermilk.  Any kathiawari meal without these accompaniments would be termed incomplete.
Kathiawar is home to varied types of  of castes,  communities as well as  settlements,   each of these groups along with the regions topography, climatic conditions and occupations have strongly  influenced regions's cuisine. Majority of Kathiwaries are farmers and hence their food comes across as deeply rooted,simple, spicy and yet immensely tasty cuisine.  What is remarkable is that the  changing times and improved standard of living haven't really changed the food habits of Kathiawaries .   The popularity of this cuisine is so huge that, while the cities of Gujarat  have presence of  'Kathiawari restaurants, the 'Kathiawari dhabas'  can be found dotted across all the state and national highways of this state.
Almost like a ritual the Lasan Ni Chutney or the Garlic chutney is  pounded fresh everyday. One can grind it in a mixer but for the best flavours it is advised you pound it in mortar-pestle.  It is so simple  that it takes five minutes to make this chutney. The initial mix is very potent (very hot), sure to sweat you out, hence it should be eaten with care. One can further dilute it with water for a less spicy version.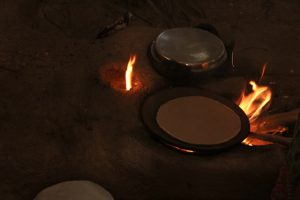 The chutney is served with the various flat breads of the region like the Bhakhri and Bajra rotlo, is eaten to spice up the evening Khichdi or temper the yoghurt to accompany the Khichdi, it teams up the best  with Baingan Bhartha.
For the urban homes, this Garlic Chutney is do versatile that it can be used as a sandwich spread, a spread for wraps, for Bhel and Pau-Bhaji or mixed with greek yoghurt for an instant dip…. the possibilities are endless……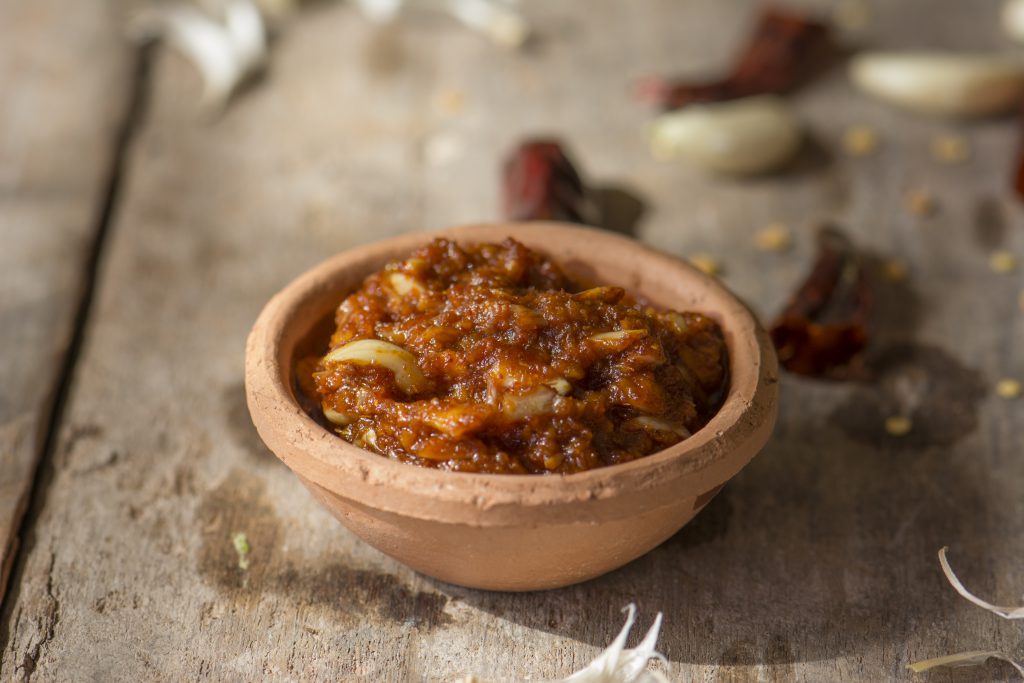 Gujarati Garlic Chutney
In a mortar-pestle pound together …..
1/2 cup garlic cloves
2 tablespoons red chilli powder
1/2 teaspoon cumin seeds
salt to taste
Pound until you have a not so finely ground mixture…
Remove the mixture in a bowl.
Heat 1 tablespoon of groundnut oil, bring it t smoking point and pour the smoking hot oil over the garlic chilli mixture.
Give it a good mix.
The Garlic Chutney is ready to be served.