"Food are memories…." said Hassan,  the lead  protagonist in the film The Hundred-Foot Journey.
For each one of us,  there are some foods that take us down memory lane, rustling up memories that are otherwise  nestled in some corner of our  overstressed mind…. 'Gathiya nu Shaak' is one such dish. It remembers me of my Ba (Dadi).
My Ba was a true-blue Kathiyawari (inhabitants of Kathiyawar, the Saurashtra region of Gujarat) sharp, honest, humble, wise, witty, charming, gracious, deeply rooted and possessed wonderful sense of humor. There was never a dull moment when she would be around. Ba was the thread that tied our large family together and in times when nuclear families are fast becoming a norm her values continue to hold our family together…
Back then growing up in a large joint family meant eating what was cooked for all, while this did instil healthy eating habits in all the kids in the family ,  there were times when we did not like the shaak/dry vegetable dish on the menu and wished to escape eating it. These were the times Ba came to our rescue.
I distinctly remember some hungry after school afternoons…. me grumbling, mummy instructing  to eat whatever had been prepared and Ba coming to  my  rescue, instructing in a soft murmur to sneak out, "get some Gathiya from the store room, I'll make you Gathiya nu Shaak/sabzi." Our Kathiyawari family always had steady supply of Bhavnagari Gathiya (considered to be the best Gathiya) so it was easy rustling up this dish..
This was way back, before 'Maggi – the 2 minutes noodle' had encroached the market and urban homes. Gathiya nu Shaak was our version of Maggi. A quick and easy dish to make I remember making it when I was a 6th  grader.   All one needs is some Gathia, regular spices and water. Sometimes Ba also added her spicy freshly  pounded Garlic chutney to the shark for adding that instant spicy kick to the dish……
Gathiya Nu Shaak is a very popular Kathiyawari dish. Kathiawar being  a dry and arid region the availability of fresh vegetables remained limited and hence food preparations using sun-dried foods and farsan/snacks is very well weaved in the Kathiyawari cuisine. To beat the extreme heat of the region, Kathiyawari consume lot of chilli, their food is extremely hot and spicy absolutely not recommended for the faint hearted.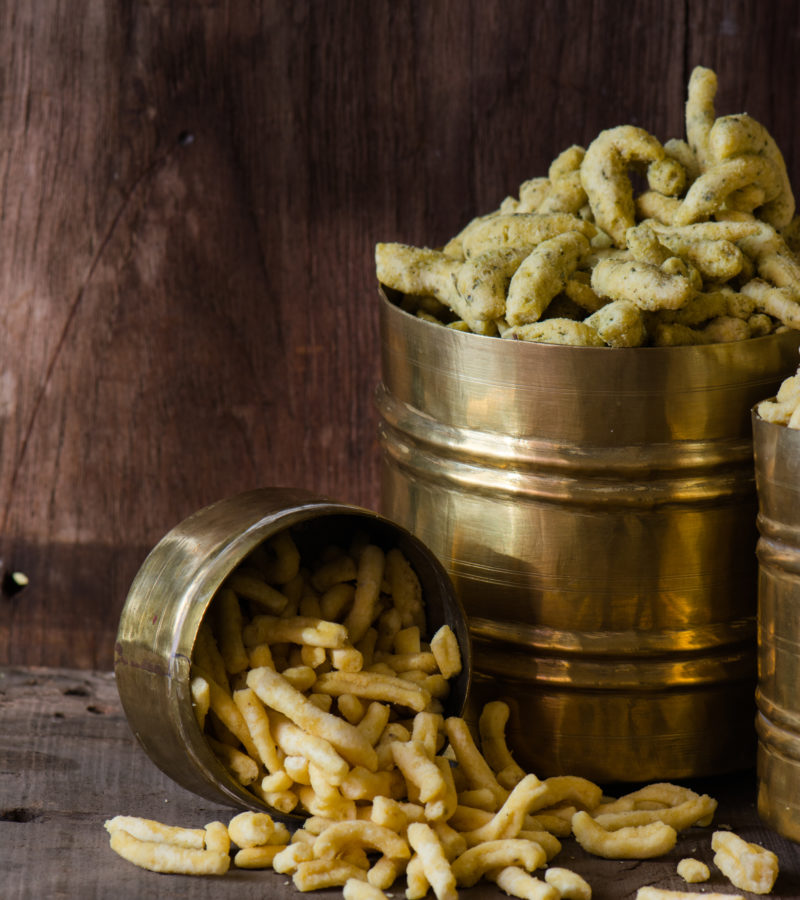 Gathiya are made from the besan flour and come in various shapes and flavours. They are a staple snack in most Gujarati households. Being soft and not overly spiced they are a favorite with children and older members of the family and are generally served as a snack to munch with the afternoon tea. When I grew up tins full of Gathiya and ladoo were made ahead of time and stored whenever there was a function or wedding in the family, these were to be served with tea,  to the guests we hosted.
How I miss  those times of never ending fun and the endless treasure of stories Ba weaved around any episode that needed to be shared…….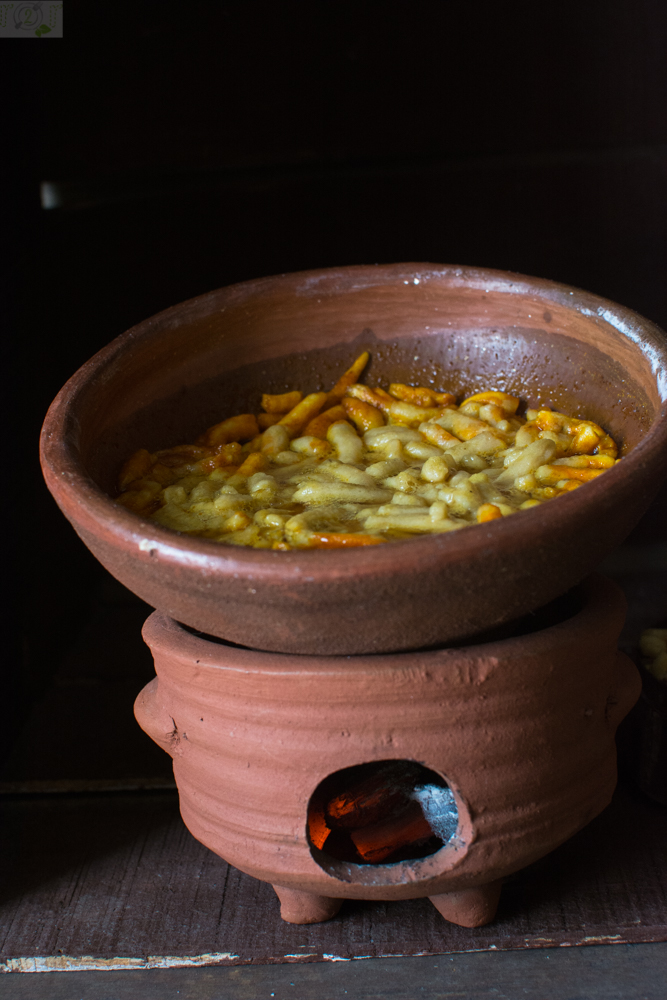 Gujarati Gathiya Nu Shaak
Time required – 5 minutes
Serves – 2
Ingredients
1 cup Gujarati Gathiya (Bhavnagari)
2 cups water
1 teaspoon oil
1 teaspoon rai/mustard seeds
1/2 teaspoon haldi/tumeric powder
1 teaspoon mirchi/red chilli powder
a pinch of asafoetida
1 chopped tomato (optional)
1 teaspoon chopped garlic (optional)
salt to taste
Method
In a pan heat the oil.
Keep the flame to medium.
Add mustard seeds, once they crackle add asafoetida
Add the chopped tomato and garlic (if adding) and cooking for a minute.
Add the haldi and mirchi powder.
Immediately add water, taking care not to burn the spices.
Once the water comes to a boil, remove the pan from the flame.
Add the Gathiya to the hot water and serve immediately.
Serve hot with phulka roti or bhakhri.
From me to you
The Gathiya will start absorbing water, hence it is important that you  add them to the water just before serving.
You  may garnish it with fresh coriander.