A traditional Gujarati meal is incomplete without its legendary khatti-mitthee Dal or Dar and for that matter a really good Gujarati Dal. 'Jeni dal bagdi teno divas bagadyo' (the day is ruined for one whose dal is ruined) existence of such a phrase indicates the emphasis given to a flavorful dal and how perennially crucial it is to cook a tasty dal every morning.   The morning aromas that linger out of a Gujarati kitchen can reveal whether the dal simmering on the stove top is up to the accepted norms or not, because a good sense of smell will allow you to tell how good the dal is!! As the dal boils, it begins to mature and develop the flavors and aromas that are pre-requisite to a perfect dal. A well-boiled dal always bursts with the right kind of flavors. Thus when it comes to a tasty Gujarati dal it literally has to boil-down to be what is expected from it. Our mothers, grandmothers and great-grandmothers put their heart and soul into making a perfect the dal, as a popular saying goes, "Aa dal nathi ukalti, Ma hu haiyu ukle che!!" transliterated as – its not the dal but a mother's heart that is boiling!!
As it is with all the everyday foods there is no specific Gujarati Dal recipe because each home makes it as per the preference and palate of its members. Perfecting a Gujarati Dal comes with experience; as for me it has happened with experience and exposure, learning- unlearning- relearning and the preparedness to try out as many versions possible. The ultimate outcome has been my much-evolved dal that has a bit of our family history, stories, wisdom, preferences and all. Believe me when I say it has taken me years to perfect this dal that is nourishing, tasty, aromatic, soothing, filling and much, much more.
My grand-mother-in-law was known for the dal she cooked. The mention of dal and our entire clan gets nostalgic talking about Nini's (as the entire family addressed her) dal. She followed no exact measures but there was this remarkable consistency in flavors, I am told the Dal made by her would taste exactly the same every day whether she made it for 4 people or 50 people (yes 50, you read it right)!!!
The recipe I share here is much of how she made (as taught to me by my ma-in-law) and keeping that as canvas to paint on I have made some additions to it. Before we proceed to the recipe here are few basics to a good dal..
Time – You need to give Dal the time it requires to develop flavours
Dal- Good quality tuvar dal/split pigeon pea dal
Balance – striking the right balance of sweetness, sourness and spiciness
Thickness – the consistency of the dal is also very important.
Garam Masala- you do not need any fancy dal-shaak masala, the everyday spices from our masala-daan works just well.
So how and when do we eat Dal-Bhaat. Well, a regular lunch which is laid on a thali  (a traditional plate) in a Gujarati household comprises of Dal-Bhaat-Rotli-Shaak along with kachumber, yogurt, pickles, roasted papad or other crispy munchies as accompaniments. A more elaborate thali would have a kathol (curry made with pulses), farsan (snack) and mithai (sweet). The rotli (paper thin phulkas), shaak (any seasonal vegetable preparation) and Dal are eaten in the beginning of the meal along with salad and yogurt followed by a portion of bhaat (steamed rice). The dal is generously poured over the rice and a teaspoon of ghee is added to the mix. It is customary to mop up the dal-bhaat with everything that is remaining in a thali. So don't be surprised if you see Gujjus adding pickle, shaak, kachumber, crumbled papad over their dal-bhaat. And yes all this is best eaten by hands with some slurping sound in the background. No fork or spoon please.
After a hearty meal of Dal-Bhaat-Rotli-Shaak all that remains to be done is hit the bed for some afternoon siesta…..
So go ahead, boil some dal.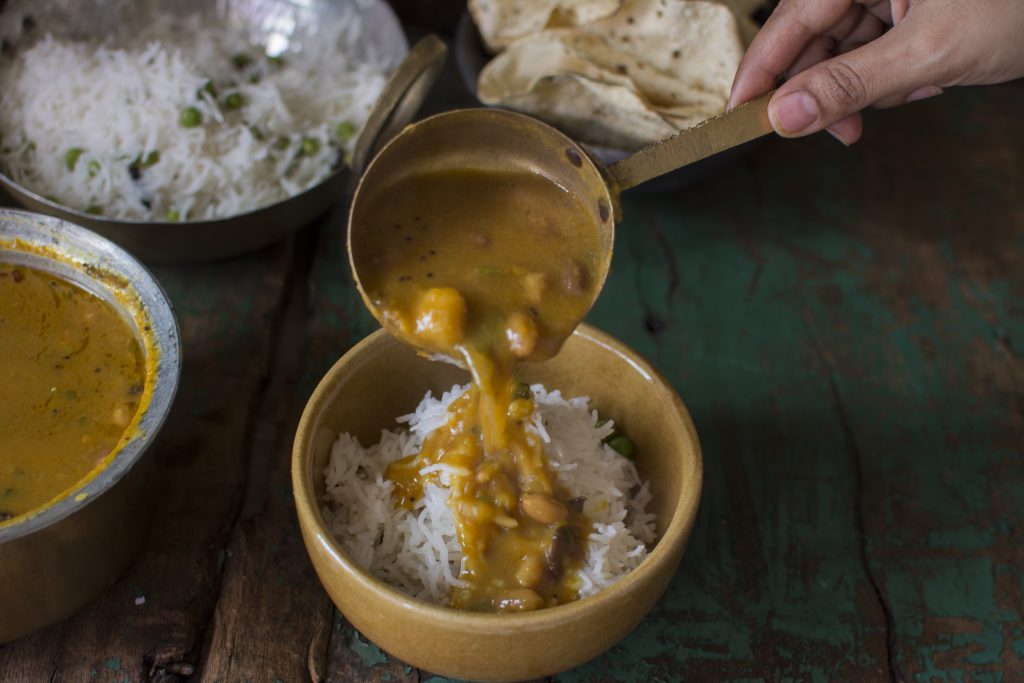 Khatti-Mithee Gujarati Dal
Serves 4
Ingredients
1/2 cup toovar dal/arahar dal/split pigeon peas ( I use organic dal)
1/2 cup suran/yam, cubed
1/2 cup yellow pumpkin, cubed (optional)
1 medium sized tomato (optional)
1 teaspoon ginger-chilli paste
fistful of peanuts
3-4 kharek/dried dates, roughly chopped(optional)
1 teaspoon sesame seeds (optional)
1/2 teaspoon turmeric powder
2 teaspoons dhana-jeeru powder/coriander-cumin seeds powder
1/2 teaspoon Gujarati Methia Masal/achar masala (optional)
3-4 tablespoon jaggery ( I use organic jaggery)
6-7  Kokum flowers or 1 tablespoon lemon juice
Salt to taste
Coriander to garnish
For Tempering
2 tablespoon oil ( we use groundnut oil)
1 teaspoon rai/mustard seeds
1/2 teaspoon methi/ fenugreek seeds
1/2 teaspoon jeera/cumin seeds
1/4 teaspoon asafoetida powder
6-7 curry leaves
1 dried red chilles
2 cloves
1 tiny cinnamon stick
1 teaspoon red chilli powder
Method
To begin with bring all the ingredients to-gether.
Wash the dal thoroughly until the water runs clear.
Soak it for 20-30 minutes
In a pressure cooker add the dal, tomato, yam, pumpkin, peanut, kharek, sesame seeds, little salt and two cups of water.
Cook for 4 whistles or until you can smell the cooked dal.
Turn off the flame and allow the pressure cooker to cool down meaning the pressure to fall naturally.
Bring out the cooked dal mix in a large heavy bottom pan.
Using the dal churner/whisk mix the dal properly. We are not using any hand blender here because we want the bite sized pieces of added vegetables and peanuts. You would be abel to break down the dal easily it it has cooked properly.
Add 2 cups of water to the mix.
Place the pan on medium flame.
Now add numeric powder, dhana-jeera powder, jaggery, kokum flowers or lemon juice, methia masala and adjust the salt to taste. Mix well.
Allow the dal to come to a boil while stirring frequently.
Take  another small kadai/wok to prepare the tempering.
Place the vadai on low flame. Add oil and once the oil is hot add mustard seeds, methi seeds, cumin seeds, dried chilies, cloves, cinnamon. Once all of these starts spluttering and popping out add asafoetida,  curry leaves and chilli powder and immediately pour the tempering in the simmering dal.
Allow the dal to come to a boil and then simmer for 10-15 minutes. Keep stirring and scrapping the sides at regular intervals.
The consistency of the dal is important it is either too thin or too thick.
As the flavours develop the dal will begin to emit very pleasant aroma. That is when you'll know the dal is ready. Add finely chopped coriander once you turn off the flame.
The dal is ready to be served.
If you are not serving the dal immediately do not forget to bring it to a boil whenever it is to be served. Remember the more it boils the more flavourful it becomes. It is said the last person to have the meal get the best tasting dal….
Me to you..
The recipe will give you a rough idea of what all goes into creating a tasty dal.
Do not get intimidated by the list of ingredients. Most of them are pantry staples in most Indian homes.
If you do not have Kokum flowers feel free to add lemon juice or kokum or dried mango (aambodia) pieces. We do not use tamarind in our dal.
Be very careful while handling the tempering. Use a medium sized kadai and be very quick as there are chances that the tempering may burn if you are slow. Choose to turn off the flame and then add the ingredients if you are unable to add everything in quick succession. In case your chilli powder burns (turns black)   do not pour it in the dal but start with another batch.
Be patient, it will take some time and effort to make perfect Gujarati Dal.
Feel free to adjust the spices according to your taste.