Hummus is an ancient food dip/spread believed to have originated from Egypt. The name derives from the Arabic word Hummus meaning chickpeas (chole for us Indians). The dip that is staple to the Middle Eastern and North African cuisines has gained immense popularity across the globe as a healthy alternate to fat laden spreads and dips.  Hummus bi Tahini meaning  chickpeas with tahini is the complete name of the spread but each region has its own preference and recipe to this food dip.
Hummus  is readily available in the markets but it comes with a price while  making the same at home comes out to be an absolutely pocket friendly alternate. The ingredients used in blending up a good Hummus are staples to an Indian pantry, with olive oil being the only exception.  Hence it wouldn't be an intimidating task to make Hummus from scratch.
The twins eating global cuisines means Hummus, Labneh, Salsa, Pesto and variety of other dips becoming regular foods to be made at home. That also requires me to try and experiment a little further. Labneh gets clubbed with host of spice blends or vegetables, blending up different kinds of Hummus etc. etc.
This Green Peas Hummus was hard to  resist when my inspiring friend and exceptionally gifted  Aparnaji shared it. This is her go to recipe that comes to rescue when she needs a spread that has to be smeared on vegetable sandwich or a chutney that needs to accompany her snacks or a refreshing dip that can brighten up a dull afternoon…. Aparnaji has grown up in Kanpur, a region where best quality  green peas flood the markets during season.  Aloo and Matar (Potato and Peas) are her staple veggies.  She gets nostalgic remembering the tender baby peas that are available there during winters, having grown in Ahmedabad this is something that I cannot relate to as tender peas are hard to find in Amdavai markets. Coming back to the recipe of the day,  Green Peas Hummus makes an excellent dip as well as a spread, the recipe comes handy when you run out of coriander or when the prices of coriander have sky rocketed but you have frozen peas in your freezer compartment. The generous use of sesame  lends it that distinct Hummus notes, make sure to grind the sesame seeds to a very fine paste.
I have served the Green Peas Hummus with Sprouts Poodla Rolls ( besan chilla rolls) as an evening tea-time snack and on  another occasion I served it as a chutney with  vegetable Handva, experiment and choose the way you would want to serve up this refreshing dip….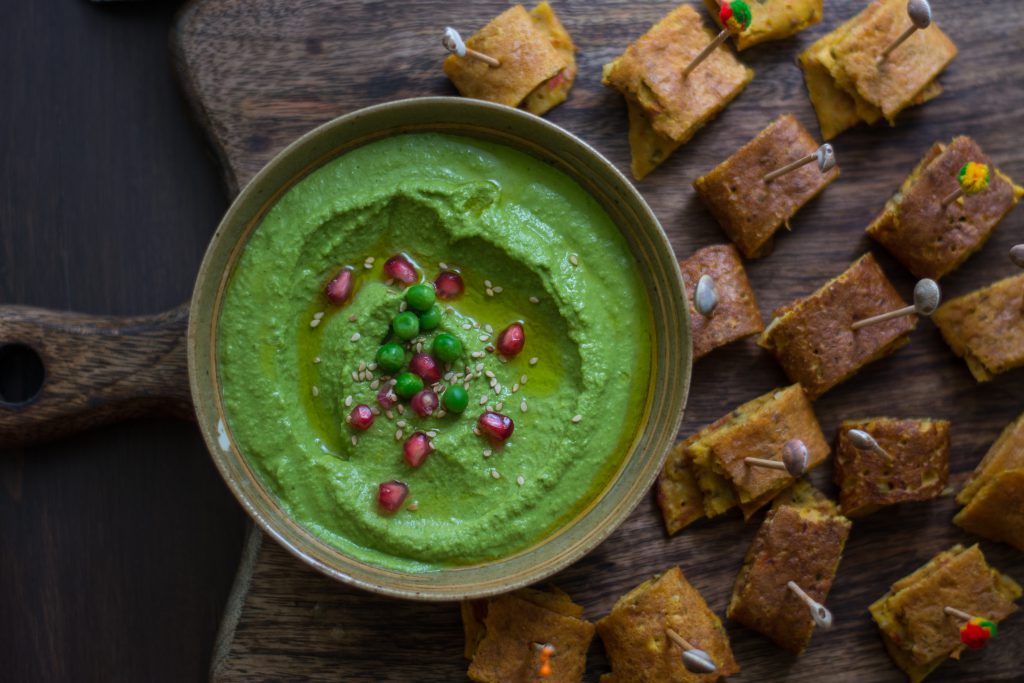 Green Peas Hummus
Ingredients
3/4 cup  tender green peas or frozen baby peas
1/2 cup chopped coriander
2 heaped tablespoons sesame seeds
2-3 small cloves of garlic
1 green chilli
1 -2 tablespoon olive oil, some more for garnish
1 tablespoon yogurt (optional)
a few drops of lemon juice
salt to taste
Method
If using fresh peas blanch and drain well.
If using frozen peas thaw and drain properly.
In a chutney jar/mixer jar grind the sesame seeds, add the garlic and chilli.  Grind well.
To the mix add the peas, coriander and salt. Grind to a smooth paste. You may add a tablespoon of yogurt/oil  to ease the grinding.
Add oil and lemon juice  and grind it for the final time.
Transfer the Green Peas Hummus to a serving bowl,  pour some olive oil and sprinkle some sesame seeds on the top.
Notes
I have used olive oil to ease the grinding and hence the colour has remained refreshingly green. If you choose to use yogurt the colour will pale down a bit.
You may vary the quantity of olive oil used but spreading  oil on the top helps in retaining the colour of this Hummus.