The Ghes Vadi in Yogurt Curry is a  revised version of comfort food. Ghes is a mildly spiced Gujarati style  risotto. It is a food made when our appetite calls for something light yet filling. A piping hot bowl of Ghes with some oil or ghee sure needs to be followed by a nap…The Ghes is made using small grained or broken rice and is always flavored with fresh green chillies and ginger. It is the gujju version of the epic 'curd rice.' The leftover Ghes is then turned in to small dumplings that are sun-dried and stored for later use. This particular preparation is the Jain way of eating nourishing foods during times when their faith prohibits  them to consume vegetables and greens. The feather like Ghes Vadi/dumplings are used as substitute to vegetables. The Jains in fact have an entire spectrum of dried foods that they eat during such times.
The traditional Jain households still make their own Ghes Vadi however, they are readily available in the markets these days. The curry can be made in very little time and requires few ingredients. And each family has its own way of making this curry, some do not add yogurt and chickpea flour but just add the Ghes Vadi to tempered water. Try these different versions to understand what taste suits your palate.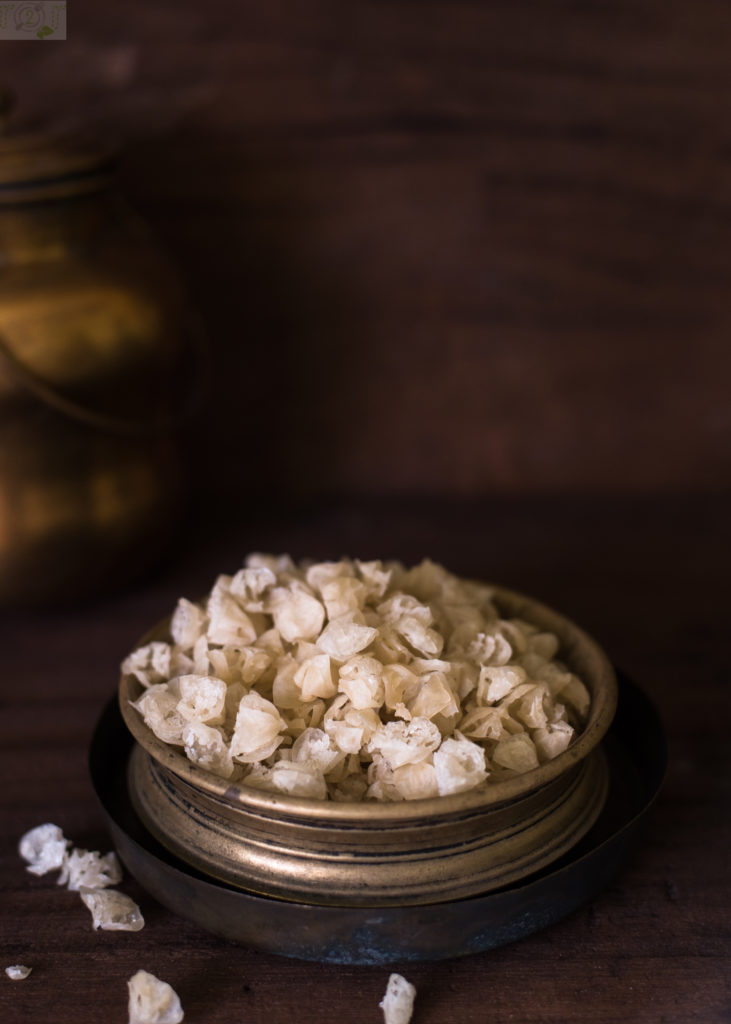 Ingredients
1 cup ghes vadi/sun-dreid rice dumplings

1-1/2 cups water

3 tablespoons yogurt

2 teaspoon besan/chickpea flour

1/2 teaspoon haldi/turmeric powder

1 teaspoon red chili powder

1 teaspoon dhana-jeeru/coriander cumin seed powder

1/2 teaspoon rai/mustard seeds

a pinch of asafetida

1 dry whole red chili (optional)

3 tablespoons oil

salt to taste
Instructions
1
In a small bowl whisk the yogurt and chickpea flour to a smooth mix.
2
Place a kadai on medium flame.
3
Add the oil, once it heats up add the Ghes Vadi to shallow fry on a low flames.
4
Remove the lightly fried Vadis.
5
To the same oil, add mustard seeds, whole red chili, asafetida. Once the mustard begin to splutter add the red chili powder and all the water.
6
Add the turmeric powder, dhana-jeeru powder, salt and the whisked yogurt mix.
7
Keep stirring to reach to a smooth consistency curry sauce.
8
Add the fried Ghes Vadi and bring the curry to a gentle boil.
9
Remove from flame and transfer to a serving bowl.
10
As the Ghes Vadi Curry cools it will thicken a little.