Dukka or Duqqa is an Egyptian  blend of nuts, seeds and spices. Dukkah means to crush or pound in Arabic and this mix is believed  to have originated from streets of Egypt where the simplest blend of Dukkah -dried mint+salt+pepper are given in rolled in paper cones to go along with the Pita . It is basically a coarsely ground or pounded mix that is neither too chunky nor too powdery. Traditionally, the mix drenched in some olive oil  is served along with flat breads like Pita.
Our relationship with Dukkah began at Jones – the Grocer, a restaurant that we frequent for our weekend brunch at the scenic Dempsey Hill in Singapore. It was here that we encountered it in a more conscious manner. There was  this aromatic and grainy Zataar like bled  with  quite a few other bits that always accompanied  the bread basket and mezze meals we ordered. It was called  Dukkah and I found  the textures and combination quite charming. The grainy texture of this mix seemed perfect with  the soft ad creamy tazatziki  and hummus  that were part of the mezze. Later I began buying their  jar of Dukkah mix and it became an integral part of the Mediterranean spreads I regularly make at home. But never did it cross my mind to see if it was possible to  make Dukkah at home until recently [dimag ki batti nahi jali :(…]  however,  I happen to come across Dukkah recipe in Yotam Ottolenghi's Jerusalem and later as I browsed through Google it came as a revelation on how easy it actually is  to make this versatile mix  at home.
Dukkah, like our Garam Masala or any spice blend is unique to each family and recipes might differ from blend to blend. It is about striking a balance of  what you prefer the most. Usually, hazelnuts, almonds, sesame seeds, coriander seeds, cumin seeds are individually roasted and pounded in mortar and pestle. The blend is served in a bowl along with olive oil and bread, the procedure is to dunk the bread in oil and then in the Dukkah and gobble:) Believe me, it is insanely delicious. The mix can be used in a variety of ways, as a rub, sprinkle over dips, flatbreads  or salads or any thing you can imagine.
The Dukkah recipe I share here is partially adapted from Yotam Ottolengi's epic, Jerusalem. I have added herbs and seeds I have found to be part of the Dukkah jar we buy from Jone the Grocer. It has thyme in it and because I read there were peanuts added I have done so. Hope you enjoy this recipe and fall in love with this intriguing yet simple ancient condiment!!!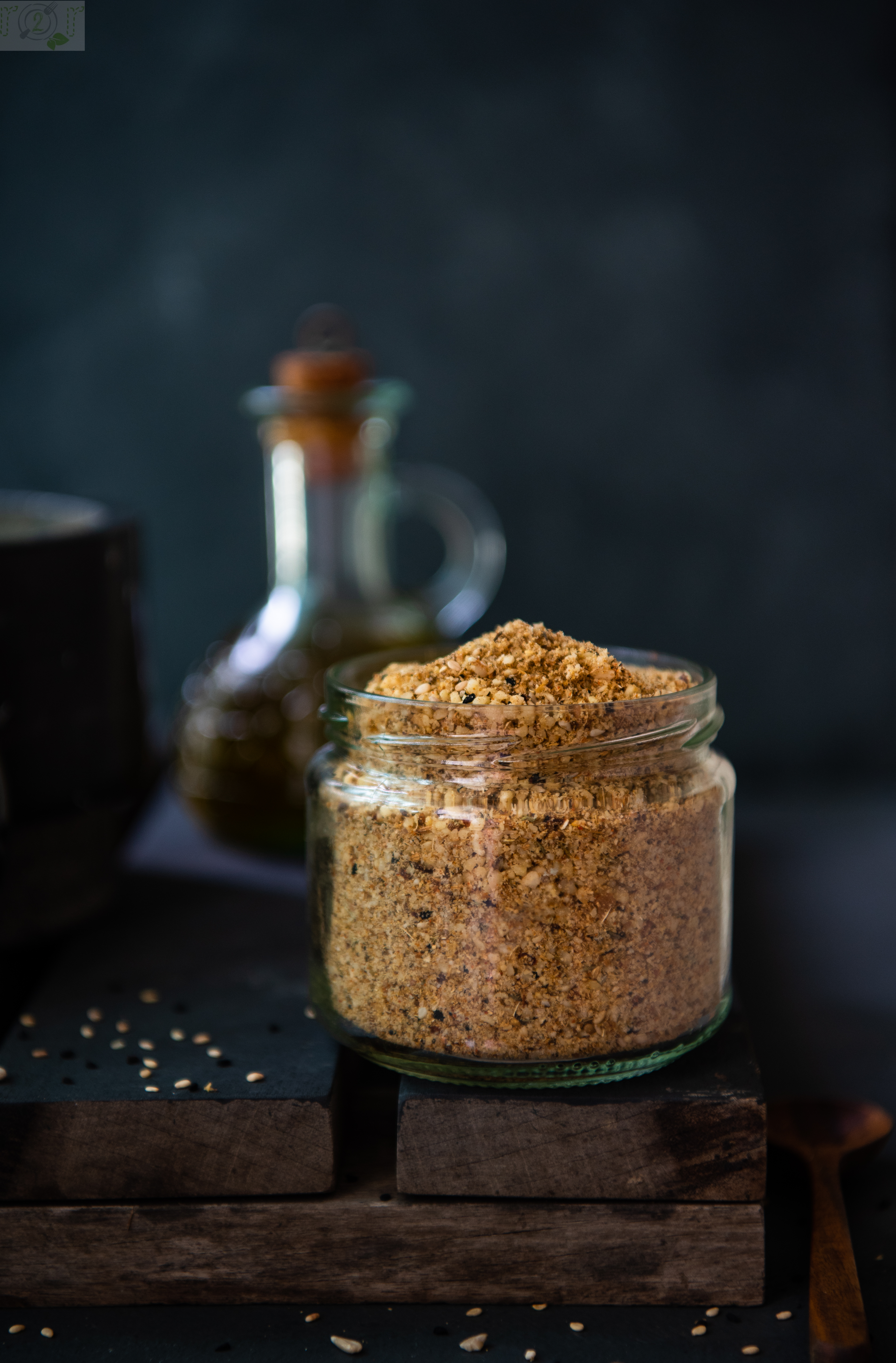 Ingredients
1/3 cup Hazelnuts

2 tablespoons almonds

2 tablespoons peanuts, unsalted

2 tablespoons sunflower seeds

3 tablespoons white sesame seeds

2 tablespoon black sesame seeds

3 tablespoon coriander seeds

1 tablespoon cumin seeds

1 tablespoon thyme, dry

1 teaspoon fennel seeds

1 teaspoon nigella seeds

1 tablespoon peppercorns, black

1 tablespoon paprika

1 teaspoon salt
Instructions
1
Take a thick bottom skillet or kadhai.
2
Roast the hazelnuts and peanuts and remove the skin once they cool down.
4
Similarly roast each of the ingredient (except salt and paprika) till they become warm and fragrant.
5
Allow all the roasted ingredients to come to a room temperature.
6
Take a chopper attachment of hand blender or a food processor and individually crush the nuts to a chunky consistency.
8
Now take thyme, coriander seeds, cumin seeds, fennel seeds, salt, paprika and peppercorns and grind it to a coarse consistency.
9
Remove it to the same bowl.
10
Now to the same chopper attachment add the sunflower seeds, both sesame seeds and nigella seeds and blitz it once or twice. We do not want them to turn into powder.
11
Transfer to the bowl and mix all the crushed ingredients well.
12
The Dukka blend is ready to use.
13
Store in an airtight jar in refrigerator.