The Dried Fruits, Nuts and Seeds energy bars are especially for those who are looking for some healthy options for the mid-afternoon  craving for a snack or something to nibble on.
My dietician (old-school ) has instilled in me a golden habit 'to avoid as much packaged food and snacks as possible.' As a result  most of the times I end up making all my meals from scratch. This effort has paid of well in my weight management journey. The challenge then is to stop my hand reaching to any packed snack, however healthy it claimed to be!!  I am a nibbler by default and this habit  works against me most of the times,  at times I feel like I should stare away from food or tie my hands 😉 As a result I make lot of healthy and fat-free snacks at home which I can reach out for whenever I have my snack-craving. Such snacks are ideal for kids  lunch box, serve as post-game snack and also works well for picnics.
While I was shooting these bars I stacked them so and Satoliyu – the game we played as kids crossed my mind, infact every time I come across pictures of cookies and bars piled on like this,  the immediate thought that crosses my mind is not making those cookies or eating them  but,  of the seven stones of Satoliya..a game that was such an important part of our evenings when cousins and friends would gather in our large backyard for everyday play time  that carried on until dinner time. No TV, no electronic gaming gadgets meant spending all our playtime outdoors under the trees and amidst nature…such divine were those days…..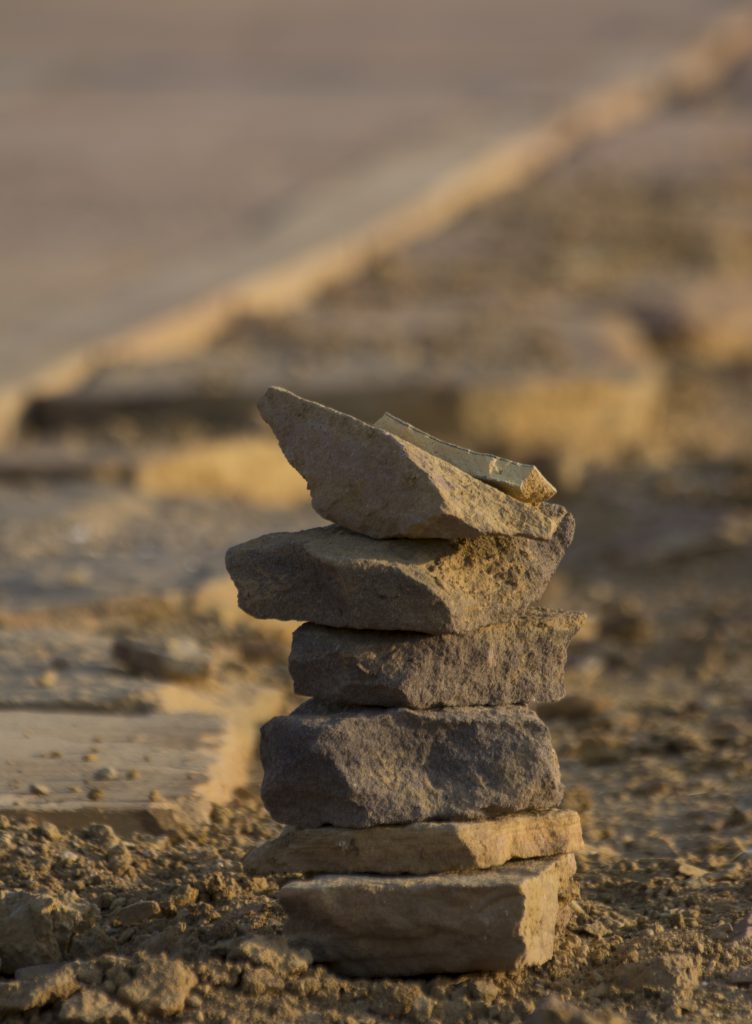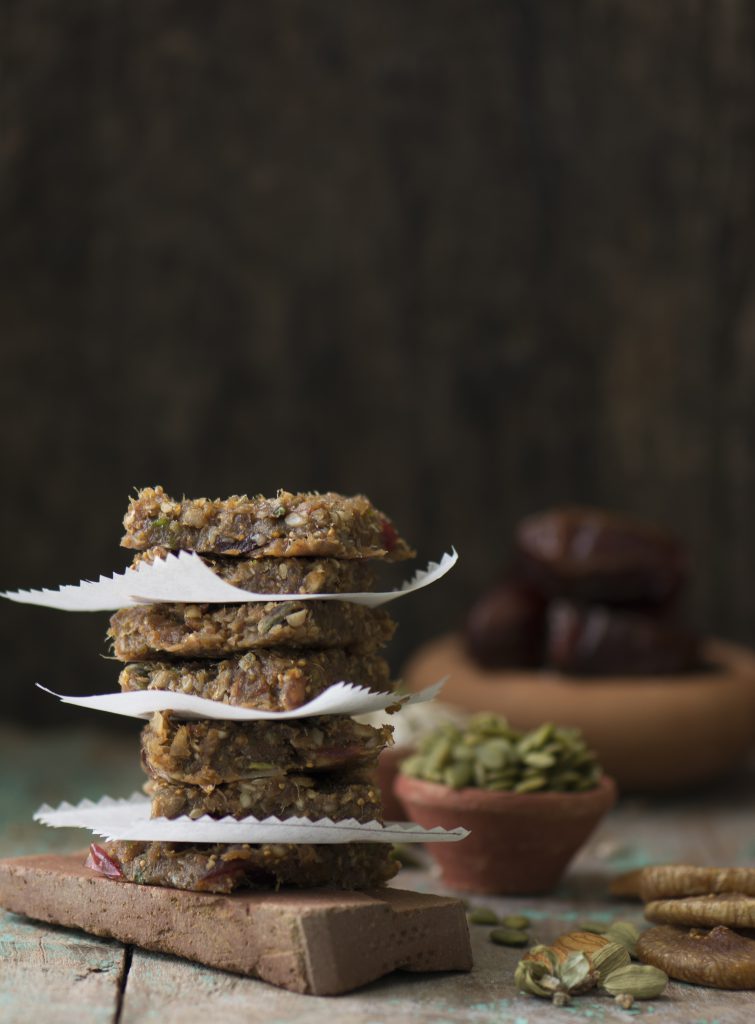 The  Dried Fruits, Nuts and Seeds Energy Bars recipe I share here is extremely versatile  and easy to put together, requiring  no cooking or baking.  I have used a mix of nuts and seeds but you can substitute it with all nuts if  finding seeds is difficult.  Since I prefer the taste of toasted nuts and seeds I have lightly toasted them on a skillet you may choose otherwise if you prefer so. Use good quality moist dates for succulent bars. I like the grittiness of Figs/anjeer but they can be easily replaced by equal amount of dates if one chooses to.
Most importantly they contain no added sugar, thus become guilt free indulgence.
Go ahead and make them…
Enjoy.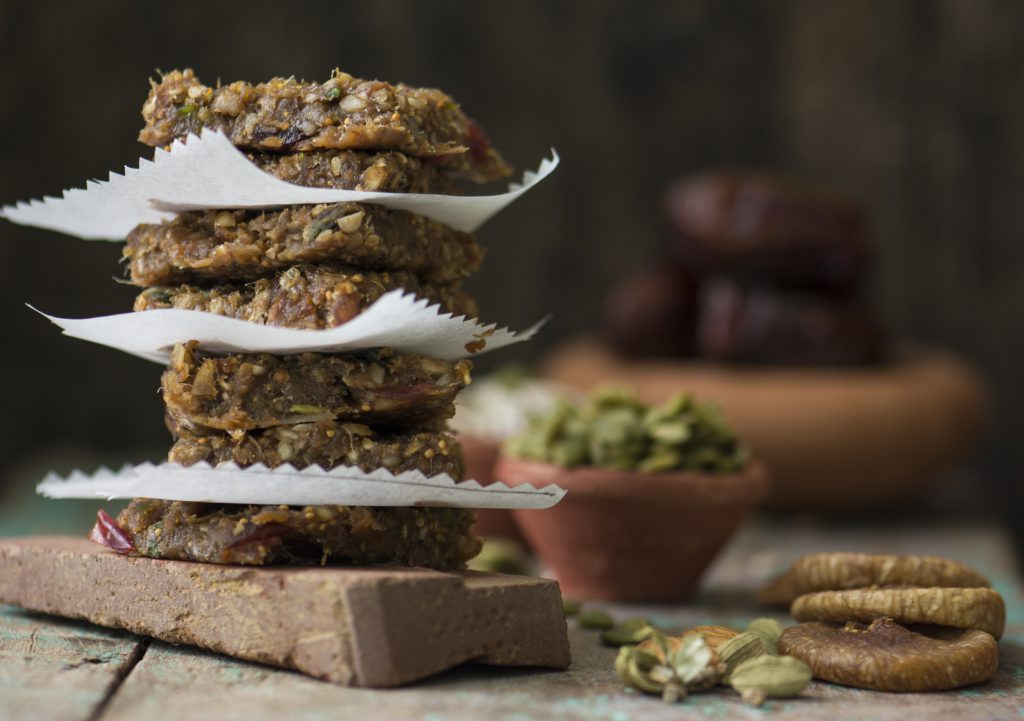 Dried Fruits, Nuts and Seeds Energy Bars
Makes 16 squares
Ingredients 
1 cup moist dates, deseeded
1 cup anjeer/figs
1/2 cup pumpkin seeds, sunflower seeds, sesame seeds, flex seeds (all or any)
1/2 cup almonds, cashews, walnuts, pistachios (any combination)
1/4 teaspoon nutmeg powder
1/4 teaspoon green cardamom powder
2 tablespoon honey (if needed)
Method
Wash and dry the Dates and Figs. Take enough care to dry them thoroughly.
Grease a 8 inch tray or a thali with ghee or oil.
Put a skillet or kadhai on slow flame and lightly toast the seeds and nuts. For 5-6 minutes.
In a food processor, chopper or a large grinder jar coarsely chop the nuts, remove from the jar and chop the figs and dates, nutmeg and cardamom powder and chop to almost a paste.
If using a food processor after chopping the seeds and nuts add the dates and figs, nutmeg and cardamom powder and run it for less then a minute until it forms a ball.
Remove the mixture, if it is dry and does not come together add 1 tablespoon of honey. Using hands spread the mixture on the prepared tray.
Once it firms up a bit cut into squares.
Remove from the pan after they set properly, are abel to hold their shape.