Dhan-Saak Rice, to me is a meal like not other……Rice, Dal and Shaak in one glorious dish that is wholesome, aromatic, bursting with flavors  and extremely soulful. Just like the community it  belongs to, the charming, vivacious, gregarious and extremely loving Parsis.
The technique of extending a relatively expensive ingredient (meat) by combining it with vegetables and/or lentils in the same recipe is widely employed in Persian cooking ("Dhan" is Persian/Urdu for "seed"- referring to grains or legumes; "Sak" (derived from Gujarati "shaak" meaning vegetable greens or cooked vegetables.) The Gujarati element of the recipe is the liberal use of a variety of Indian spices and condiments, in contrast to the more mellow Iranian recipes.
In Parsi homes, dhansak is traditionally made on Sundays, owing to the long preparation time required to cook the lentils and vegetables into a mush, (in the days before pressure cooking was employed).
Dhansak is also always had on the fourth day after the death of a near one. There is no meat consumed for three days after the death of a near one. And dhansak is used to break this abstinence on the fourth day. Dhansak hence, is never prepared on auspicious occasions like festivals and weddings. (source:Wikipedia) 
As a kid, Dhan Saak completed our vacations to our nanihaal/ maternal grand-ma's home. The particular Dhan Saak we grew up eating was made by an ex-royal chef  named Kishanbhai, who was also cooking for the aristocrats of Rajpipla which included lots of Parsi families. The chef also cooked for my Nana-Nani and we so looked forward to enjoying meals made by him. The best being Patra Ni Macchi, Dhan Saak and Caramel Custard which he called pudding. Of course the chicken and mutton curries he cooked  still remain matchless in my opinion.
The Dhan Saak recipe I share here is from the book 'The Pleasures of Vegetarian Cooking' by Tarla Dalal. This was the first ever  cookbook I acquired and was gifted to me by my father in 1984!! Back then,  it was considered to be a book every aspiring cook needed to have in her/his repertoire of cookbooks. A comprehensive book it demystified many term and techniques for Indian and International cooking. I have been using it for almost 35 years and have never had a dish that did not turn up to my expectation. In fact it was after the success of this book that I went on the buy most cookbooks Ms. Dalal wrote and it was this particular book that led to my never ending affair with cooking and sharing food.
Over the years as studies, professional and personal engagements took priority and after the demise of our Grand parents our visits to Rajpipla ebbed gradually. Kishanbhai, the chef who cooked for us had also passed away. My Mamijis had learnt making these speciality dishes from him but we never got to learn from them. Once, when the yearning for Kishanbhai's Dhan Saak grew acute I made Dhan Saak following this recipe which,  much to my utter surprise and sheer joy tasted just like the one I had always enjoyed for so many years. And this recipe has been  with me ever since.
Personally for me this Dhan Saak Rice  that I cook today is as special as the cookbook I am cooking it from and to be able do it at the launch of this unique collective makes this  even more special.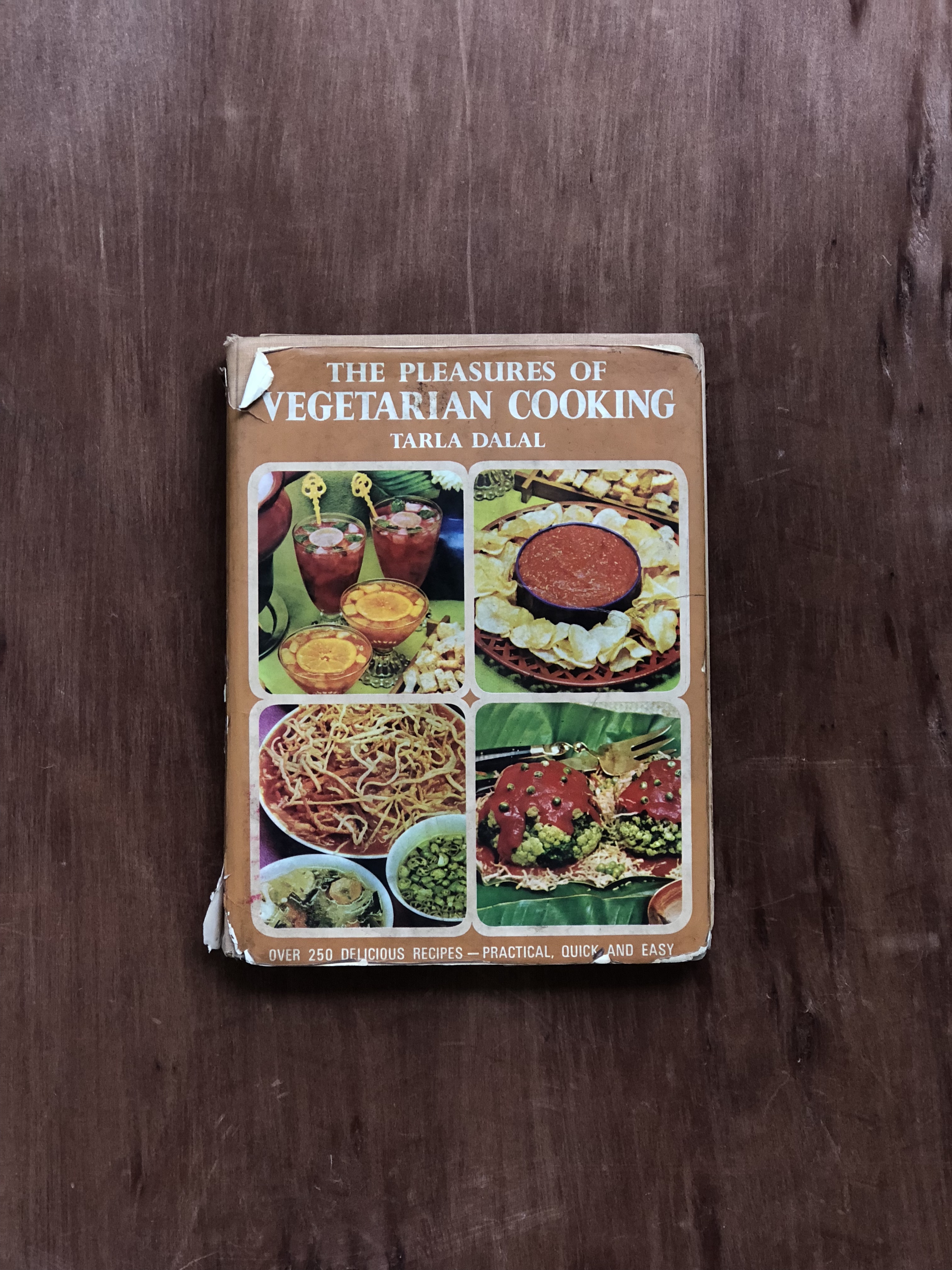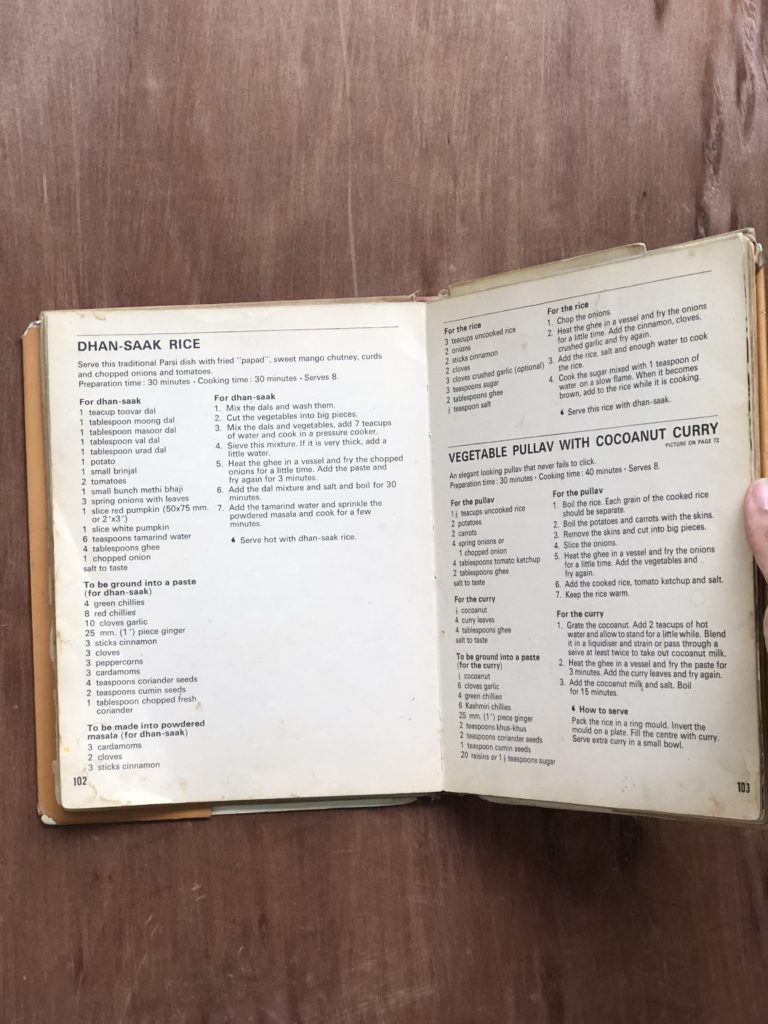 Briefly about 'The CookBook Collective' 
Let's be honest, most of us love to collect (or hoard) cookbooks!!  Cookbooks take us to a magical world of perfect recipes and beautiful pictures And of late, they share stories of food memories, culture, history and heritage as well.
We have come a long way from our grandmothers who never used cookbooks, to mothers who might have had a couple. Today, most of us who cook have a good collection of cookbooks. Yet many of us don't cook from them a lot.
I have quite a few cookbooks and I know I don't cook from them like I should. So a couple of us got together and decided it was time to dust off our cookbooks and cook from them.
Enter the Cookbook Collective, a virtual group of food enthusiasts who will regularly cook recipes from the cookbooks they own. We would love to have you join us.  Let your cookbooks see the light of the day. We will cook a recipe every fortnight based on various themes like seasonal, regional, international (relative) sweet, savory, curry, bread, beverages…..
The group will share the name of the book the recipe is from, why we chose a particular recipe, and our experiences cooking with it. The recipes will be shared on Instagram. They may blogged about and shared across social media as well.
Hashtag to use on Instagram and across social media is #thecookbookcollective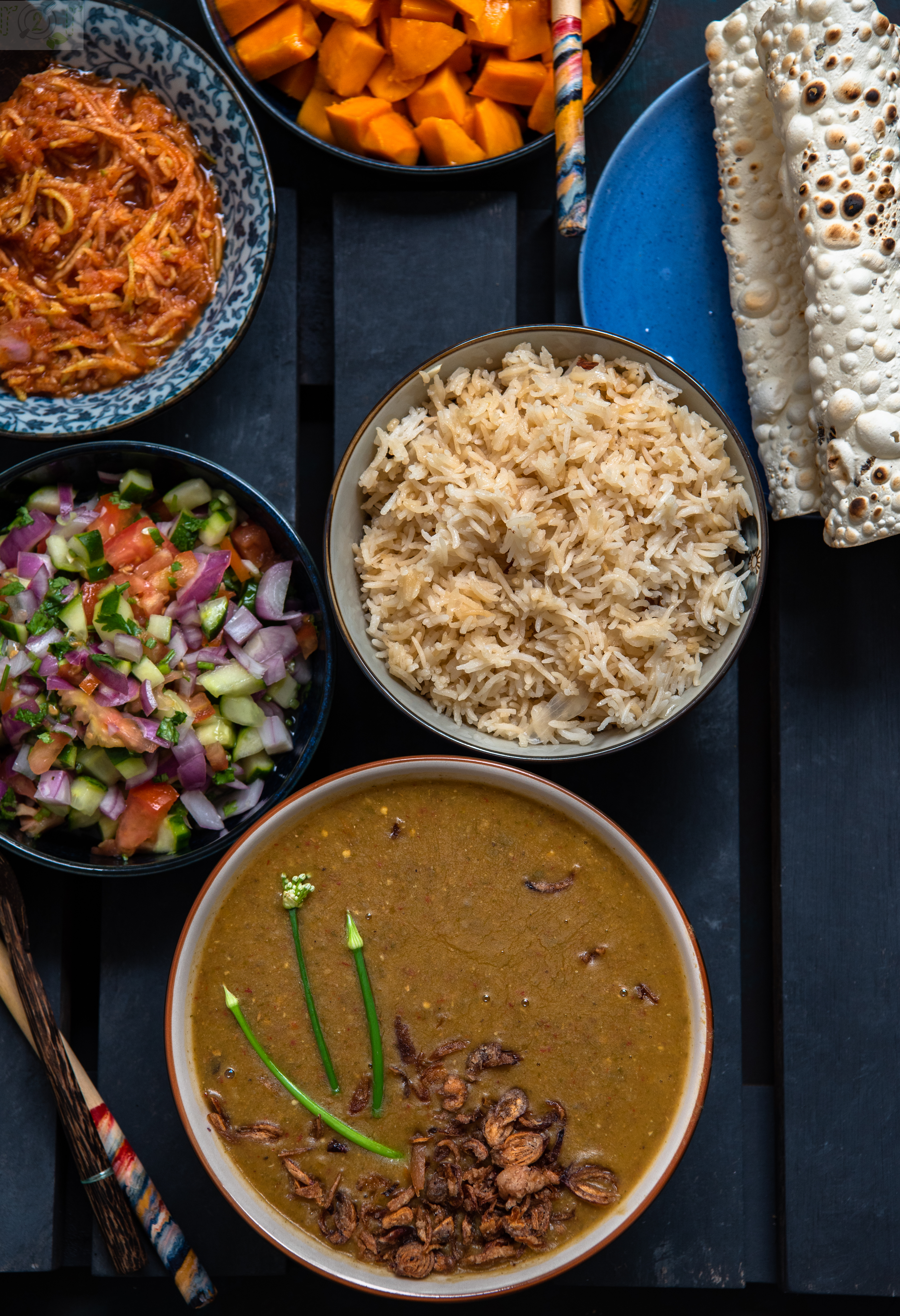 Ingredients
For dhan-saak

1 cup toovar dal/split pigeon pea

4 tablespoons mix dals ( I used moong dal, green moong dal, urad dal, masoor dal)

1 potato

1 small brinjal

2 tomatoes

1 small bunch methi leaves/fenugreek greens

3 spring onions with leaves

1 cup pumpkin, chopped

1 cup doodhi/bottle gourd, chopped

6 teaspoons tamarind water

4 tablespoons ghee/oil

1 onion, chopped

salt to taste

To be ground to paste (for dhan-saak)

3 green chillies ( more or less to suit your palate)

8 red chillies (more or less to suit your tolerance)

10 cloves garlic

1 inch piece of ginger

3 sticks cinnamon

3 cloves

3 peppercorns

3 cardamoms

4 teaspoons coriander seeds

2 teaspoons cumin seeds

1 tablespoon chopped fresh coriander

To be made into powdered masala (for dhan-saak)

3 cardomoms

2 cloves

3 sticks cinnamon

For the brown rice

3 teacups uncooked rice

2 onions, finely chopped

2 sticks cinnamon

2 cloves

3 cloves garlic, minced or chopped(optional), I have added

3 teaspoons sugar

2 tablespoons ghee

salt to taste
Instructions
1
Mix the dals and wash them well.
2
Cut the vegetables (except onion) in big chunks.
3
Mix the dals and vegetables, add 7 cups of water and cook in a pressure cooker.
4
Once cooked, blend it using immersion blender to a fine, homogenous mixture.
5
If it is very thick, add a little water.
6
Place a large saucepan on medium flame. Add ghee and fry the chopped onions until golden, add the paste and fry for 3-4 minutes.
7
Add the dal mixture and salt and boil for 10-15 minutes, add tamarind water and boil for 10 minutes.
8
Add the powdered masala and cook for a few minutes.
9
Serve hot with dhan-saak rice.
11
Take a large kadai or a heavy bottom pan, heat the ghee and fry the onion till they turn pink. Add cinnamon, cloves, garlic and fry again.
12
Add the rice, salt and enough water to cook the rice (almost 4.5 cups).
13
When the rice is cooking, take a small skillet or tempering pan, add sugar and 1 teaspoon water and cook on a slow flame. When the sugar turns dark brown but not burnt add it to the rice that is still cooking. The caramelized sugar will mix well in the cooking rice.
14
Turn off the flame once the rice is cooked.
15
Serve Dhan-Saak, Rice, Papad, Kachumber, Potato chips nu shaak, yogurt as a complete platter.