Documenting this recipe of Damni Dhokla is taking more time then expected. I am trying to dig deeper into the origins of this way of making Dhokla. Traditionally, Dhokla are steamed cakes made with a fermented  mix of rice and lentils. The Khatta Dhokla has rice and chana-dal, Vateli/Dal na Dhokla has soaked and crushed chana dal, the Khaman Dhokla are made using chickpea flour while Idra/White Dhokla can be made using the idli batter. The contemporary avatar of Dhokla include Rava/Sooji Dhokla, Sandwich Dhokla, Green Peas Dhokla, Corn Dhokla and all versions imaginable!! Gujaratis consider Dhokla to be a snack/farsan that is sometimes part of the meal or served with tea or makes a meal on its own.
Re-creating Damni Dhokla in my kitchen had been on the top of my to-do list since  I first  spotted the recipe in a Tarla Dalal book  Non-Fried Snacks 8-9 years back. The catch here was to find Banayan leaves to steam the dhokla!! I. suffer from this  habit of sticking to the recipe and planned to be remain true to this habit for this recipe  too. After I began blogging and exploring more cookbooks in Gujarati the variety of Dhokla recipes I came across has been huge. But not all have Damni Dhokla in it. Ras-sudha, a book by Sudhaben Mushi has it and the recipe varies quite a bit from Tarla Dalal's version. Another compilation of Gujarati recipes by Agashiye also has the recipe and their version is a little forgiving in the sense they recommend steaming Damni Dhokla in a thali if Banayan leaves aren't available. But none of these books talk about the origin of this style of steaming (in Banayan leaves)  Dhokla. Interestingly, the flour mix to Damni Dhokla seems like a congregation of grains, millets and legumes almost like bringing out all that remaining  legumes in the larder. If that wasn't enough there is a portion of millet included in it as well.  The way of steaming these dhokla seems quite medieval  because there leaves being used as moulds here,  from a way of life in times where no special apparatus existed in kitchens. I recently had the opportunity of visiting Jambughoda to learn more about Paniya, a flatbread made between Khakhra leaves (Flame of the Forest tree). This method was adopted to cook flat breads on open fire when griddles were still not part of the kitchens. I assume this could have been the reason for adopting this peculiar method of  steaming Damni Dhokla in leaf moulds. Who knows?? The other mystery to be solved here is does the name Damni Dhokla indicate they origin from Daman, a tiny Union Territory tucked near the coast to the south of Gujarat ?? It is a quest and I will make edits here once I am able to find right answers. One thing I am sure about is that Damni Dhokla are know and popular towards the South of Gujarat and Mumbai they are almost non existent in other parts of Gujarat.
This June I decided to give Damni Dhokla a try, I have adapted the recipe from 3 references I had and taken up bits and pieces from each of them. The flour mix was milled at home, the leaves of Banayan and Badam tree were ferried from Purvi's farm in Matar some 40 kilometers from Ahmedabad and the Dhoklas were steamed in our trusted Dhokaliya which has this plate with holes large enough to hold the cones we made from the Banayan leaves.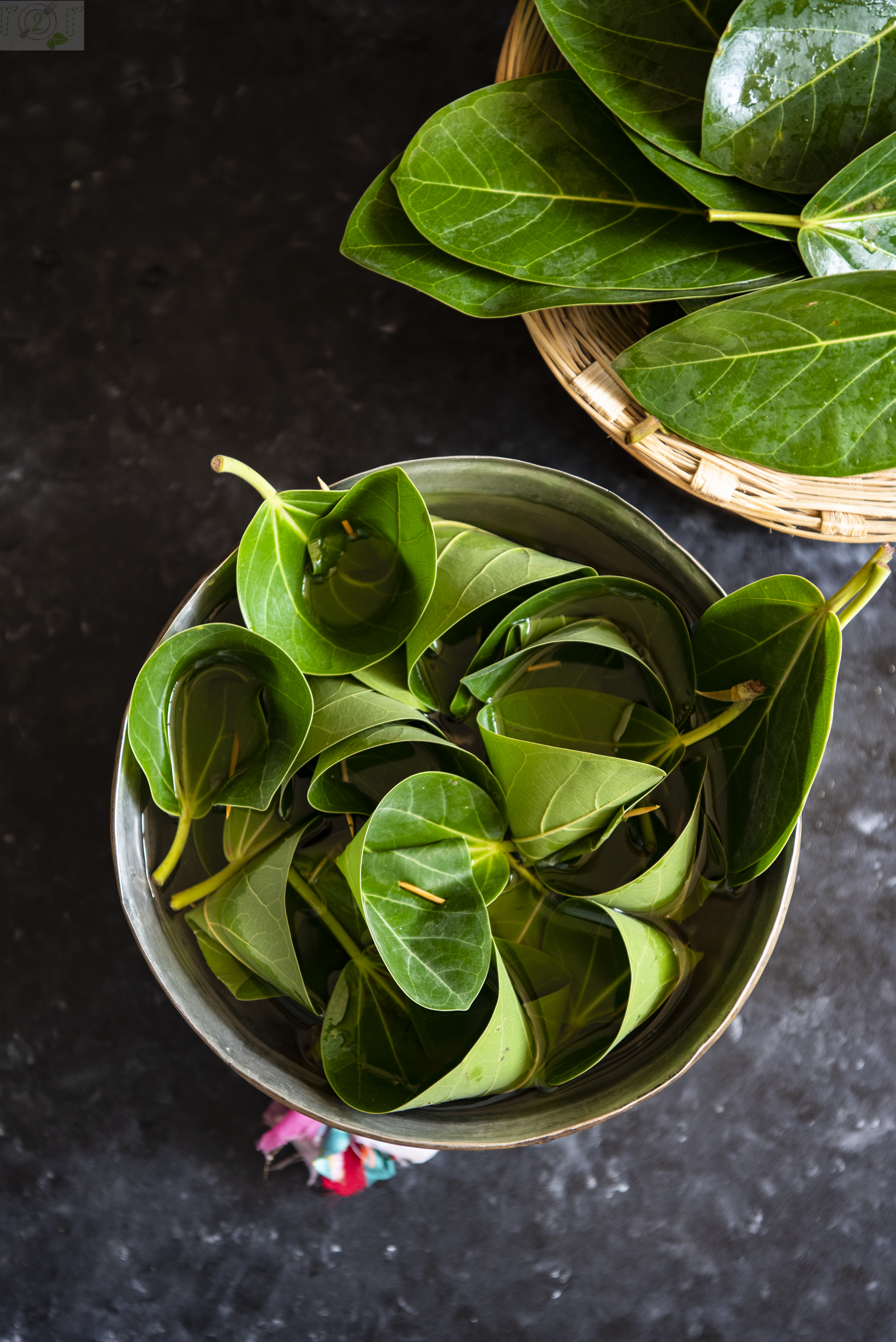 The batter was prepared on the evening before and set to ferment overnight. Interestingly, this Dhokla also calls for desi chana/black chickpeas, the need to be soaked overnight and boiled before adding to the batter. The batter is quite loose and it takes little effort to make these cones stay up but don't worry if they refuse to stay straight whichever way these Dhokla do taste divine. The leaves also absorb moisture so the batter is kept a little runny. The Gujarati achar masala/methiya no masalo makes a huge difference so try to find a good one and add it or add the pickle masala you have at home or some masala from your pickle jar will be  fine too. Temper the Damni Dhokla well and enjoy hot.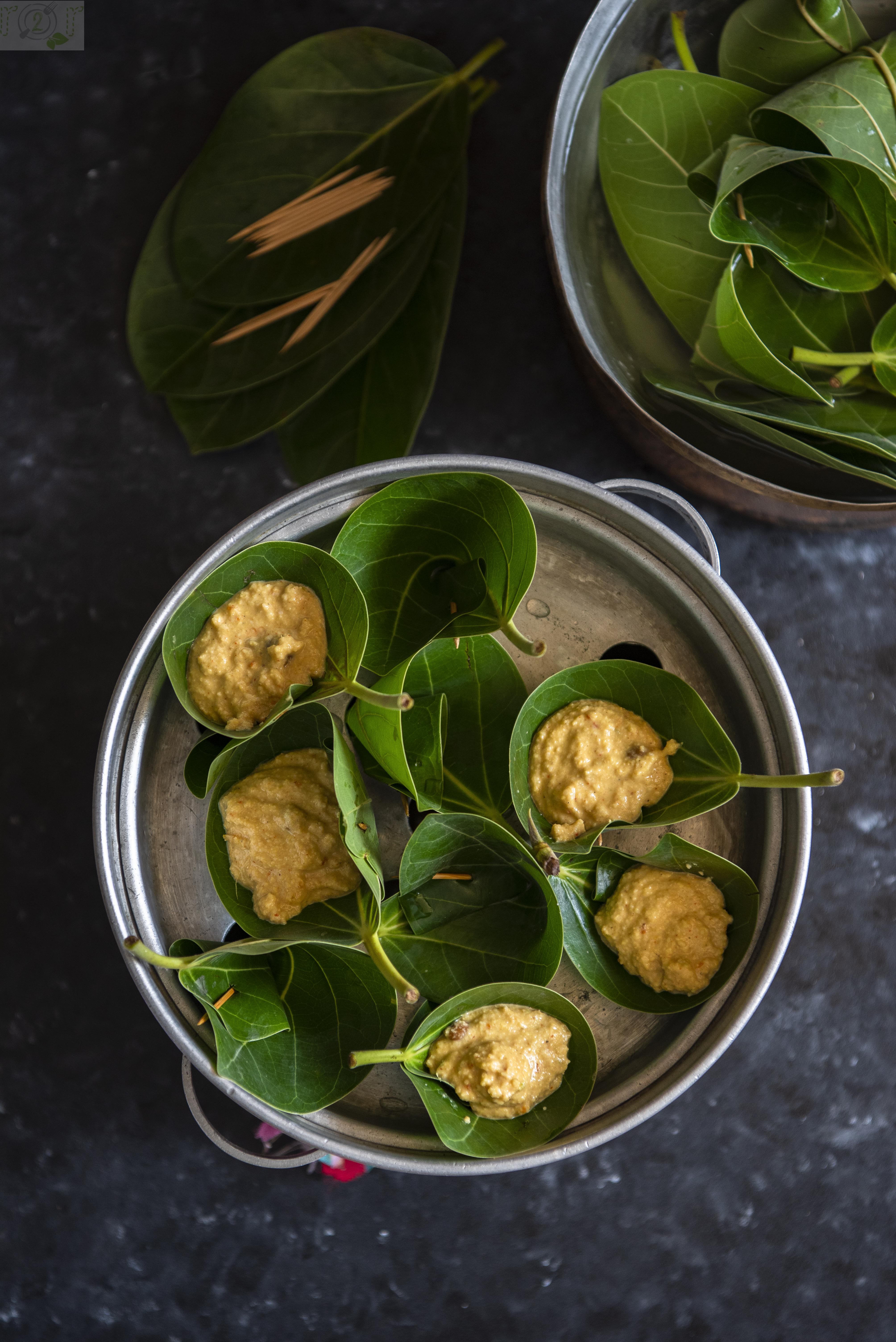 Ingredients
For the Damni Dhokla Flour Mix

1 + 1/4 cup small grained rice/parboiled rice

1/2 cup bajri/pearl millet

1/2 cup tuvar dal

1/2 cup yellow moong dal

1/2 cup chana dal

1/4 cup urad dal

Rest of the ingredients

1/4 cup desi chana/black chickpeas

1 cup yogurt

2 tablespoons oil

1 tablespoon methiya masala

1/4 teaspoon turmeric powder

3 teaspoon ginger+chili paste ( or to your preference)

1/4 cup jaggery

1/4 teaspoon soda-bi-carb

salt to taste

To temper

1 tablespoon oil

1 teaspoon mustard seeds

1 teaspoon sesame seeds

a pinch of asafetida

finely chopped coriander leaves and shredded fresh coconut to garnish

leaves of Banayan or Badam tree to steam the Dhokla, wooden toothpicks to stitch the cones/cups
Instructions
1
Prepare the flour mix by coarsely grinding/milling the rice, pearl millet and all the dals.
2
I have used a little over half of this mix to prepare the dhokla that served 4 to 5 members of our family.
3
In a large bowl add the flour mix, oil, yogurt, soda-bi-carb and mx well. The mixture will rest overnight to ferment.
4
Wash and soak the desi chana overnight.
5
After the chana have soaked pressure cook them in lightly salted water till done. Drain and keep aside
6
Wash and wipe dry the leaves.
7
Next day proceed to add the spices to the fermented mix.
8
Add the methiya masala, turmeric powder, jaggery, salt, ginger- chili paste and mix vigorously.
9
Add the chana. Let the batter rest for 15-20 minutes.
10
Prepare the cups or cones of the cleaned leaves. The dark green side will be inside of the cone.
11
Prepare and put the steamer to heat up.
12
Take a little batter in a bowl, add a pinch of soda-bi-carb, mix well and fill the leaf cones till 3/4th full.
13
Place them carefully on the perforated dish of the steamer.
15
Repeat unlit the mixture is used.
16
Alternatively, you can let the mix stay in refrigerator and steam dhokla when needed. Bring the batter to room temperature and add pinch of soda-bi-carb before you pour them in cups.
17
While the dhokla are steaming, prepare the tempering by heating oil, adding mustard seeds, sesame seeds, hing and turn off the flame as the seeds splutter.
18
Transfer the Damni Dhokla on a platter while they are still in the leaf cups, spread the tempering, chopped coriander and coconut and sprinkle little methiya masala on top.