It has been more than a week since we got back to Singapore from Amdavad  and getting back to the routine here seems like an uphill task.. The heat of Ahmedabad did hit me hard this time but the energy I feel being at a place I call home is hard to hold me back from accomplishing tasks I had decided to finish during the trip. So amidst  all the socializing, shopping and keeping my girls engaged with the activities of their choice, I was meeting people who inspire me and knowledge banks exploring more about the pickles and the tradition of sun-dried foods, trying dishes for the blog, styling, taking pictures if the recipe was approved.. All this in temperatures ranging between 42-45 degrees.  The whirlpool of activities pushed my blogging tasks farther and the posts I had  decided to do while in Amdavad could not happen.
The Cucumber Raita recipe I  share today has been our family's way of enjoying the good old Cucumber raita/kakdi-nu-raitu. Cucumber are a summer special, the gourd we just love to enjoy with sprinkle of salt and red chili powder. A kachumber made with diced cucumbers, tomatoes and onions is omnipresent salad on a gujrati dinning table. Kakdi nu shaak, Kakdi na poodla, kakdi nu athanu and Kakdi nu raitu are some of the standard ways of enjoying this humble gourd. Desi Kakri or the thin variety of cucumber was the only type of cucumber we have enjoyed while growing up. The Khira variety of cucumber was never seen in the markets. This desi kakdi has less seeds and is easy to relish with the thin strip of seeds it has. Hydrating, nourishing, cooling, beautifying a kakdi  is all these and so much more… like  banana, apple  a kakdi a day should also be our mantra.
Raita or Raitu as we call it in Gujarati is a summer staple, when we are try our best to beat the heat by including a large variety of cooling foods in our every day diet. Making yogurt at home is a daily ritual in most of our homes.  The watery summer gourds, mangoes, lemonades and mango beverages, chaash and lassi are the foods we binge on.
What differentiates the Gujarati raita from its North Indian version is the inclusion of rai/mustard seeds,  in fact the name Raita derives from it. My parents always insisted that a Raita has to have a little bit of rai. And the rai seeds need to be crushed so as to release it pungency in the yogurt.The Cucumber Raita  is the easiest raita to put together. The recipe I share here is how my father always makes  the Kakdi Raitu.. instead of a teaspoon of sugar he adds a sliced banana to balance the tartness of the yogurt and the lightly roasted  peanuts are added for the crunch and bite. A chilled bowl of this Cucumber Raita makes a refreshing  snack or a lite meal on a scorching summer afternoon.
Believe me it tastes too good, go make some……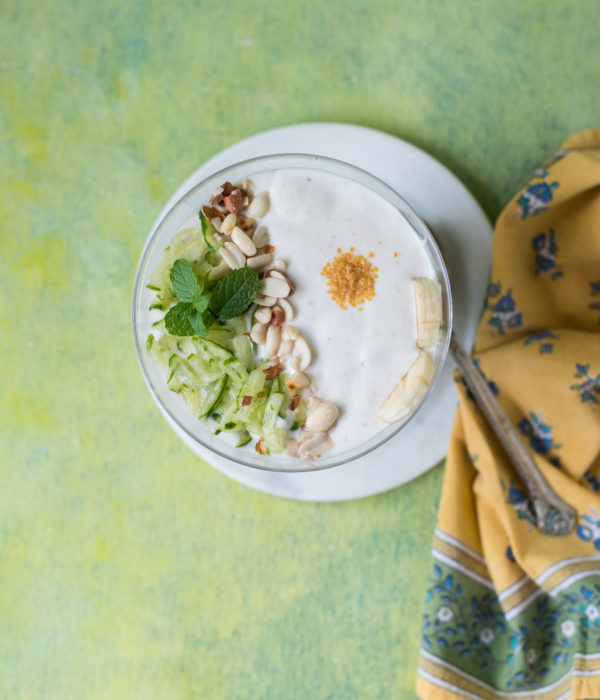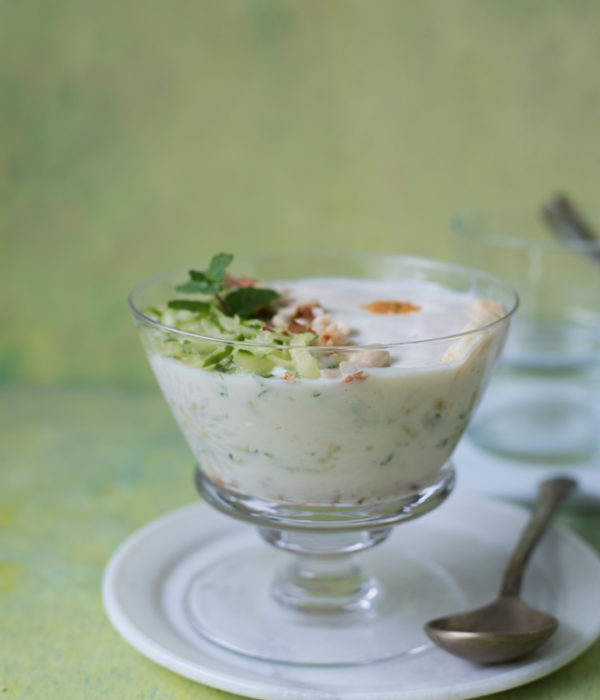 Ingredients
2 cups thick yogurt, chilled (see notes)

1 cup cucumber, grated

1 large banana, thinly sliced

1/2 cup peanuts, roasted

1 green chili, minced

1/2 teaspoon mustard seeds, lightly pounded

1/2 teaspoon roasted cumin powder

a pinch of pepper powder

couple of tablespoons honey (optional)

salt to taste
Instructions
1
Place the yogurt in a large mixing bowl. Whisk it well.
2
Add the grated cucumber, roasted peanuts, minced chili, mustard seeds, roasted cumin powder, pepper powder and salt. Mix well.
3
Add the thinly sliced bananas and gently fold them into the Cucumber raita.
4
If you need to add a little bit of sweetness add the honey.
5
Transfer the Cucumber Raita to the serving bowl.
Notes
The yogurt has to be rich and creamy, we do not do skinny or low-fat in our cuisine. In most households unskimmed fresh milk is used to prepare the yogurt. The prerequisite to a good raita is thick and creamy yogurt, so make sure to drain the whey (not all) and whisk the yogurt to a smooth consistency before proceeding with the recipe (any raita recipe). Also take note that we are not squeezing out the cucumbers so the raita will have some moisture from