I love the ease of rustling up a pot meal like Creamy Corn Au Gratin!! Few ingredients, very little cooking yet,  it has the capacity of becoming a meal. All you need is some well toasted crusty bread for this corn au gratin to sit on. And what is most  remarkable about this bake is that it tastes fabulous both hot or cold.
The struggle of cook something enticing, healthy, easy and quick has been experienced by people who cook too often and for a family with varied tastes and preferences. While my bunch always eats whatever is served there are times I look for shortcuts and easy pot meal that can be eaten through the day. This weekend I chose to do just that. Of course, the Creamy Corn Au Gratin was not one of those seasonal produce dish as Singapore has a steady supply of fresh corn as well as  frozen corn kernels that are  always available. In fact this was a habit I had formed while living in India of freezing corn kernels, peans, pigeon peas, aam ras/mango pulp whenever these foods were in  season. This  habit  has always proved to be a  boon when  I am required to cook up some quick meals. The ritual of cooking most meals at home that too a  variety of cuisines requires me to have a well stocked pantry and work with a variety of home appliances which make the  job pretty swift.  Most of us who have made a choice to cook for our loved ones will relate to this year round rhythm and partial dependance on gadgets and appliances. One of my most loved appliance is the chopper which always  comes to my rescue always when I am required to  chop onions.  You would smile if I confessed that  all these years  I have never managed to decently chop the onions. The younger one has taken up the task of chopping but, when she isn't around I have to retort to my turbo chopper😇. I am sure you also would have an appliance you regularly use to make home cooking easy and fun!!
Coming back to the recipe, Au Gratin (pronounced oh-grah-tan) is dish that is cooked with a topping of bread crumbs and cheese. This topping has to be golden brown when cooked, this is acquired by placing the dish in an oven or under broiler.  Now, the bread crumbs here have to be white so that you get a perfect golden hue. The easy way of making breadcrumbs at home is by removing the crusts of a day old bread, allow it to dry out at room temperature  and become crusty. Once it becomes hard just grind it in a chopper or mixer grinder. That easy. I always stock a container full of bread crumbs in freezer!!
Hope you enjoy making and eating Creamy Corn Au Gratin  as much as I have for its effortless easy and appeal!!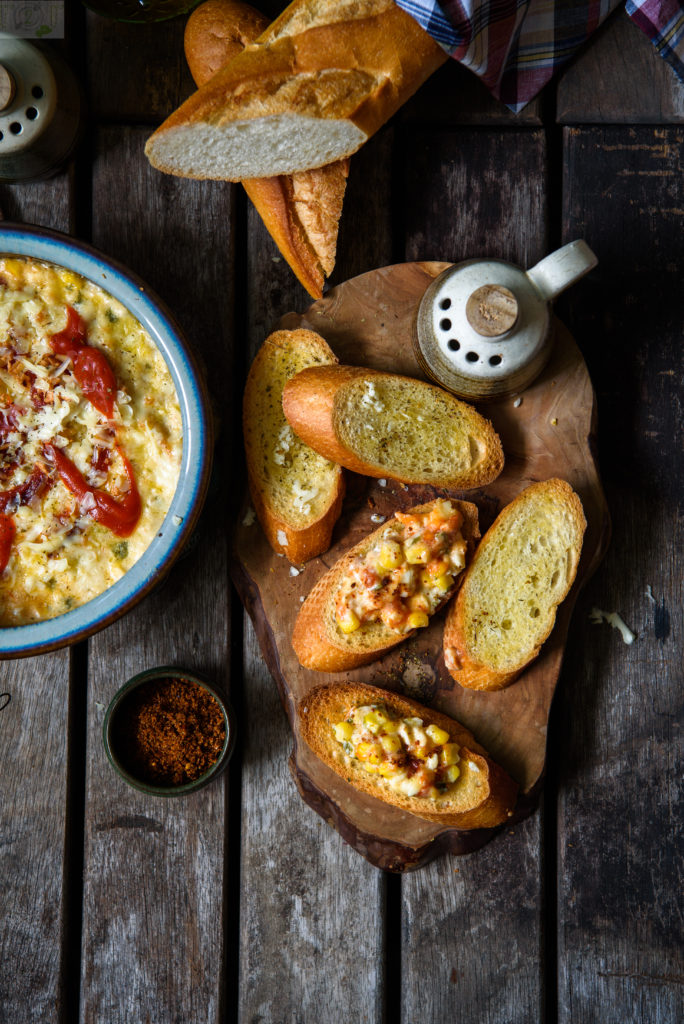 Ingredients
2+1/2 cups corn kernels

1 large onion, finely chopped

2 green chillies, minced

1 tablespoon butter

1 cup milk

1 cup cream ( I used 200 ml tetra pack of Amul cream)

1 tablespoon plain flour

salt and pepper to season

For the topping

1/3 cup bread crumbs

1/3 cup cooking cheese, grated ( I used mix of cheddar and processed Amul Cheese)

Tomato ketchup to top

Crusty Bread to serve
Instructions
1
Place a sauce pan on medium flame.
2
Add butter. Once it heats up add the onion and chilies.
3
Continue to saute for few minutes.
5
When the corn kernels are cooking, in a bowl mix the milk, cream and flour.
6
Add it to the corn mix and cook for few minutes.
7
The flour will help thicken the mixture.
8
Add the salt and pepper and mix well.
9
Turn off the flame. Transfer the mix on a baking dish.
10
Mix the bread crumbs and cheese and spread it over the corn mix.
11
Bake the Creamy Corn Au Gratin at 180 degrees C for 15 minutes or until the top turns golden brown.
12
Slice a french loaf in thick slices, smear it with butter and toast it while the Ai Gratin is baking.
13
Once the gratin is out of oven spread some tomato ketchup and serve.