Buttermilk or Chaash as it is called in Gujarat can be termed as  the most popular beverage after the humble Cha/Chai.  Just as a cup of masala tea ends a fruitful meeting,  a glass of cold chaash aids digestion of hearty and wholesome meal.  Also our  hot, dry and to an extent humid climate requires that we keep ourselves well hydrated by consuming enough liquids and chaash is the most preferred drink by all.
Komal, very intriguing name for a drink, is a coconut flavoured chaash. The drink  must have originated from our costal region because it uses good amount of coconut milk. Coconut is  generously used as garnish for most of the popular farsaans of Gujarat.  It also makes its way in some sweets and wet and dry chutneys. Apart from that the presence of coconut in our food is very limited may be because it wasn't a widely cultivated crop in Gujarat. Inspite of  possessing the longest coastline in India,  Gujarat is considered a non-traditional coconut cultivator with coconut cultivation gradually growing in the state.
The coconut tree is considered to be one of the 'Kalpavruksha' in our culture. Its the Tree of Abundance –  agree that gives all that is necessary for living.
"He who plants a coconut tree plants food and drink, vessels and clothing, a home for himself and a heritage for his children" – South Seas saying. 
The entire  costal cuisine of Gujarat still remains to be explored. The Dhoklas, Handvas, Theplas, Muthia,  Patra have never allowed our attention to stray towards the  foods that are part of  some of the most unexplored regions of our state. And this is what we look forward to doing through 'theroute2roots' bring to you the lesser known Gujarat (in particular).
Glimpses (below) from a road trip we took a couple of years back. The Dwarka coastal highway is an extremely scenic highway, with the road walking along the sea so much that it gives us a feeling that they might meet each other at some point….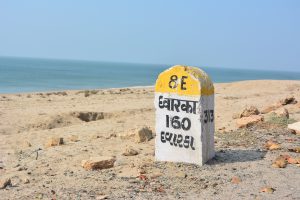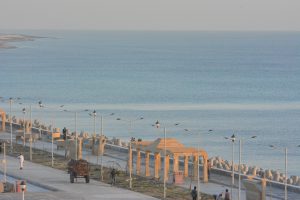 Komal gives you that subtle taste of coconut, the balance of tartness and sweetness, the green chilli spices it a bit and the coriander lends that earthy notes to it. The tempering is absolutely essential as the crackled cumin seeds and curry leaves absolutely enhance the taste of this very flavourful drink. Drink it cold when you are in mood of having something light and refreshing. A glass of Komal will keep you full for a couple of hours.
I have been making this Tarla Dalal recipe for many years now when coconut milk wasn't even readily available in the market and had to be made at home. But these days its very easy to buy good quality coconut milk from the market.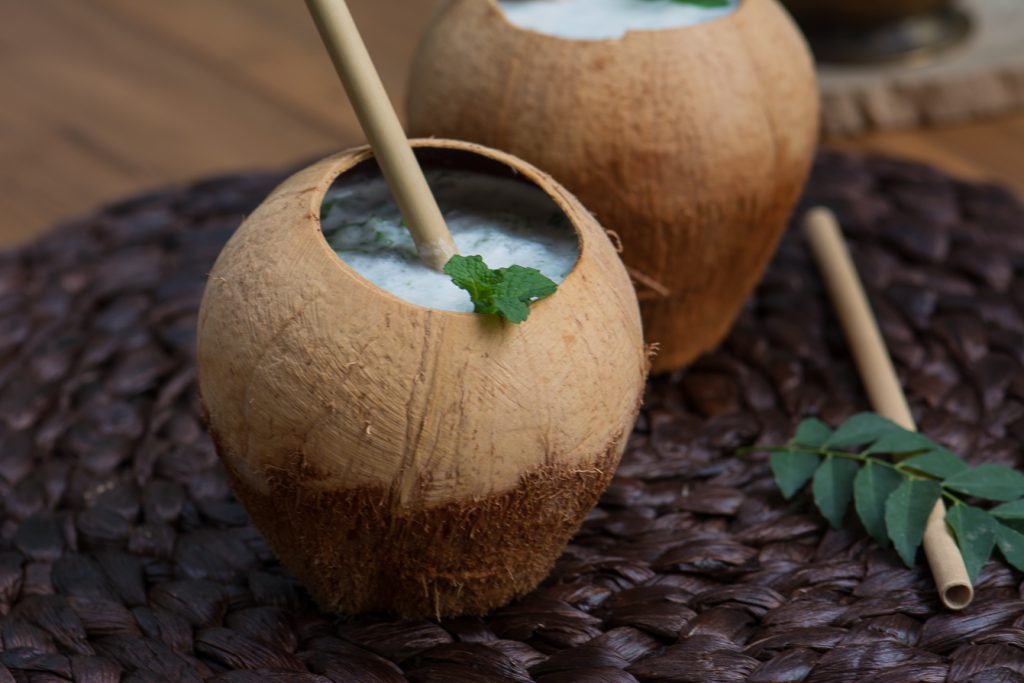 KOMAL – coconut flavoured buttermilk
Preparation time – 5 to 7 minutes
Cooking time 1 minute
Makes – 3-4 glasses
Ingredients
1 cup yoghurt
1 cup coconut milk
1+1/2 cups cold water
1 teaspoon sugar
1 or 2 chopped or crushed green chilli (or to taste)
a small fistful chopped coriander
1 teaspoon oil
1 teaspoon cumin seeds
few curry leaves
salt to taste
Method
In a deep pan mix together yoghurt, coconut milk, water, sugar, salt and give it a good mix. Alternately you can wiz it all up with a hand blender as well.
Add the chilli and finely chopped coriander.
Heat oil, add cumin seeds, once they crackle add curry
leaves. Add the tempering to the prepared yoghurt mix.
Mix well.
Serve chilled garnished with a spring of mint.