Who does not like rich, indulgent, sugar-laden desserts?! I immensely love desserts and mithai,   but the harmful side effects that show up on my weighing machine after indulging with my desserts have made me fear them a lot,  making me practice caution when it comes to enjoying these decadent sweet endings!!! Nonetheless, the urge to create a dessert that can help satiate my sugar cravings made me come up with this Chocolate Yoghurt Dip. It wasn't Chunky when I first made it but the addition of a fresh strawberry preserve that I had made a few days back made it chunky and even more tastier, giving it a new dimension and depth of flavour. I would recommend using a good quality preserve or jam. If you have homemade jam in the pantry (any flavours) go ahead and use it without any hesitation. Make sure that the yoghurt isn't sour or tart or else  you'll end up adding extra honey or fruit preserve.  It is  an easy and hassle free recipe to put together, can be made ahead of time  (a day before) if you are planning to serve it up during a gathering. The dip needs to be chilled well to set properly.
Do give it a try…
Enjoy.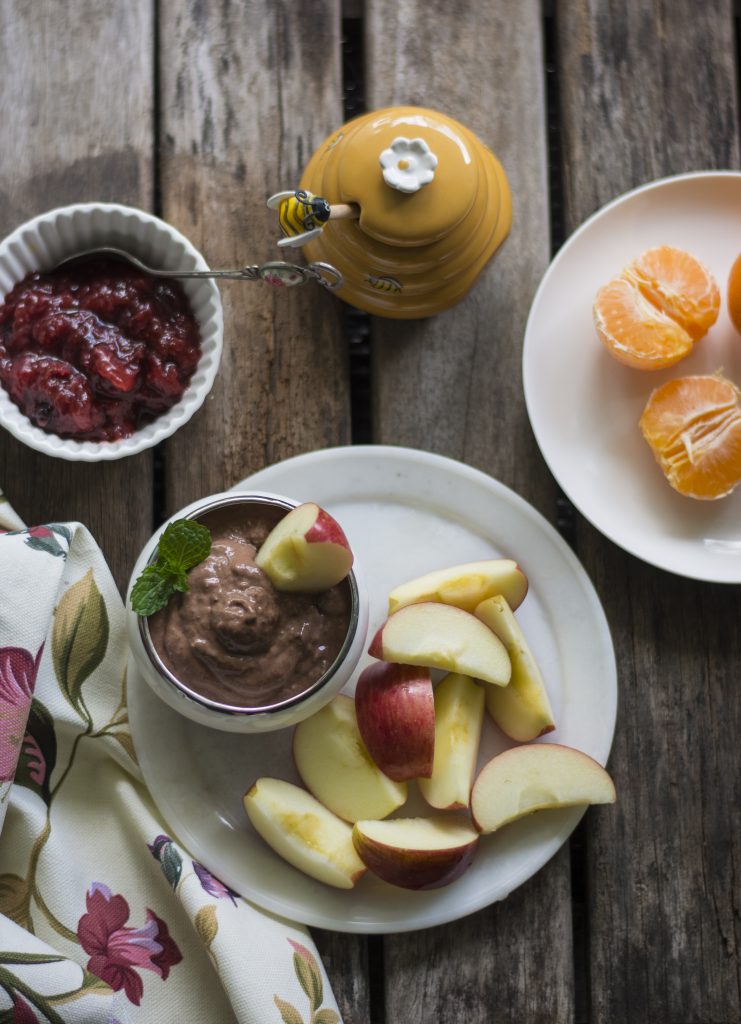 Chunky Chocolate -Yoghurt Dip
Makes – 3/4 cup,  approx
Ingredients
1/2 cup hung curd or greek yoghurt, plain – should not be sour
2 tablespoons cocoa powder
2 tablespoons honey, better if its organic
2 tablespoons any fruit preserve or marmalade, organic preferred (I have used homemade strawberry preserve)
1/4 teaspoon vanilla extract or vanilla bean paste
Method
In a mixing bowl bring together hung curd/greek yoghurt and give it a good whisk to smoothen the consistency of the yoghurt.
Add the cocoa powder and whisk again.
Add honey, fruit preserve and vanilla extract and whisk properly to have a homogenous mixture. The fruit chunks in marmalade or fresh fruit  preserve will give the Yoghurt Dip a chunkier texture.
Transfer the Dip into a serving bowl and refrigerate for a couple of hours before serving.
Serve the Chunky Chocolate Yoghurt Dip with freshly sliced and chopped seasonal fruits.
Note
1 cup of normal yoghurt hung for 7-8 hours will yield 1/2 cup hung curd.