Chorawalu Bataka nu Shaak or Unpeeled Potatoes in Sweet-Sour Curry is considered to be an epitome of a Shaak.  Honestly, who does not love Bataka or Bateta?? A tuber that has literally invaded our kitchens. In a Gujarati kitchen a meal is incomplete without Mr. Potato. We love them so much that we never miss an opportunity to  add them to our everyday shaak  (a generic term used to describe the cooked and raw vegetables). All our shaak have one or two potatoes added to it and the wise homemakers had a reason to do so. First, each and every household has one or two members in the family who despise green veggies and refuse to eat anything but potato. The addition of one or two potatoes helps the over-worked homemaker eliminate the need make a separate potato shaak.  Hence,  these humble tuber is annexed to each and every possible green shaak be it ivy gourd, bitter gourd, pointy gourd, bottle gourd, fenugreek leaves, peas, beans, moong beans… anything!! Secondly, the green veggies are usually quite expensive and addition of   potatoes  supplements to the quantity of the shaak.  Smart, right??
Potatoes were  brought to India by the Dutch and the British and was cultivated in the hilly regions on the terraced and lush fields in the Northern India's. From  there to Gujarat's arid Banaskantha that produces highest amount of Potatoes in India , potato has made a remarkable journey. It pervades both in our agriculture and cuisine. That brings me to the recipe I share in this post. Infact, more than the recipe it is a homage to a potato shaak.
Long before jacket potatoes became famous amoungst the  well informed and  well travelled city dwellers there existed a peculiar way of making potato shaak which was  to cook  it with it's peel on. Was there a particular reason for cooking it so?? No!! It was just that in those days most vegetables were cooked with their  peel on. The potatoes were the heirloom/deshi variety, had fine skin and cooked very well, they possessed  that inherent mithash/tenderness like most heirloom varieties of vegetables had in those days. By those days I mean period when  farming  was not dependent on fertilizers, pesticides or hybrid varieties.  So coming back to the recipe, the Chorawalu Bataka nu shaak was permanent fixture at all gnayti jaman/community feasts, wedding feasts, pre wedding feasts, at regions fest or occasions that mark death. Just like these days when we have at least one Paneer subzi on the menu back then we had a sweet-sour chorawlau bataka nu shaak. Why? Because potatoes were cheap, available all around and all round the year and appealed the fussiest eaters 🙂  These were the times when when Paatharna ( woven durries laid down for sitting) Paatla (wooden plank meant for sitting or placing food plates) Pangat (rows of people at sit down meals) Patrala-Paliya (leaf plates and bowls) and Palathi (sitting cross legged to eat a meal) were integral part of our culinary culture…. and the epic feasts would include  Ladoo-Chorawalu bataka nu shaak, Vaal, Fulvadi, Dal and Bhat. Ladoo made with whole wheat flour, glee and jaggery or sugar eliminated the need for puri or rotli. All of it except the crunchy Fulvadi would be mixed together and slurped down with hands  and was inevitably followed by siesta.   Meals of these kinds were always served on leaf plates in a sit-down meal. The number of people eating at such gatherings was huge and the cooks would never have time to prep the potatoes by peeling them. Infact, they never felt the need to peel the potatoes. My ma-in-law recalls that the variety of potatoes was quite different, the surface was kind of dented and not so smooth, the kind that was difficult to peel. But that wouldn't be the reason to choose not to peel the potatoes. It was simply  to make the task easy and not fussy. The no fuss prep was followed by a simple preparation method that included regular ingredients. The taste was a balance of sweet and sour, sweetness from the jaggery and sourness from tamarind, lots of oil and red chili powder. As the tempered  potatoes slow cook in water they gradually release their starch and thicken the curry. This gradually thickened  curry gives the dish the body and  as it boils the tastes of jaggery and tamarind become more pronounced. Most of us make this shaak at home but the taste and aroma that is to be found in the Chorawalu Bataka nu Shaak at such community  feasts  remains  matchless. It is a taste that is alluring and hard to be capture at home. And if you find a homemaker cook up a perfect Chorawalu Bataka nu  Shaak consider her cooking skills to be at par to a  culinary maestro!!
Infact it is the simplicity of the  Chorawalu Bataka nu Shaak  that is  hard to be achieved and perfected!!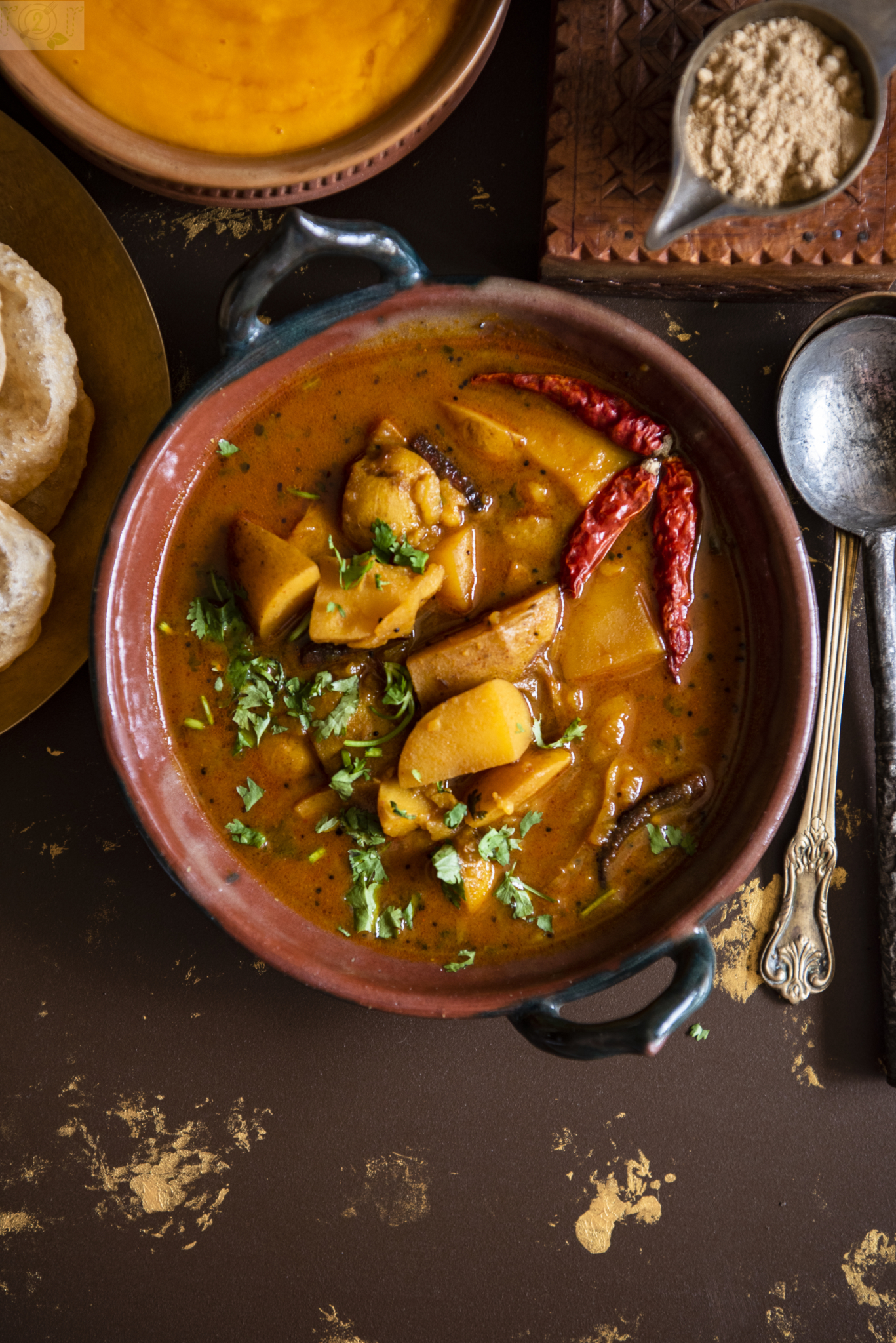 There  recipe is so simple that I do not have much to share. The video is of my ma-in-law making this shaak for our lunch. It was summer and we weren't prepared to spend lot of time in the kitchen hence we opted for pressure cooking it but ideally she would make it in a kadai and allow the potatoes to cook and break slowly.
The method is pretty straightforward, add oil, rai, methi, hind, red chillies, clove, cinnamon stick, once all of these sizzle add potatoes, chili powder, turmeric powder, coriander-cumin seed powder, water and salt. Once the potatoes cook add the jaggery and tamarind water. Allow it to simmer  further for 10-12 minutes till the water you have added resembles thick sauce. For every two cups of cubed potatoes you need two cups of water. More if cooking without pressure cooker.