Chocolate, Khajoor ane Mamra ni Chikki is a foreign return chikki 😝. Our humble and simple Mummra Chikki/Puffed Rice Brittle went on a trip to west and got a makeover done…. In short this is what most rice crispy or puffed rice slices in the west are all about, they all begin with a simple old Mamra Chikki mixture!! The other ingredients like nuts and seeds, fruits and peels are added to deck it up a little.  Nothing fancy or intimidating!!
Chikkis or brittles to me are synonymous with the festival of Uttrayan or the Makar Sankranti. It is the day we Gujaratis spend on the roofs of our houses flying kites and basking under the pleasing  winter sun. When it is a  festival we are celebrating, food cannot lag behind, can it?  And the food tradition for this festival is pretty simple. A prerequisite to sankrant is til/sesame, enjoyed in various forms one of which is chikki.  So the festival calls for a wide  variety of laddoos and  chikkis, fruits like sugarcane, guava and bor (Indian Jujube) and lunching on Undhiyu, Poori and Jalebi. In a nutshell, Uttarayan is celebrating the best of winters. Aren't these age old rituals mind-blowing? Simple yet so wise.
Uttarayan is in fact my favorite festival and there are hundred reasons for it. The topmost is the time  the families enjoy and bond over kite flying and the fact that kites  teach you that it is ok to let go of all that is holding you back ❤️….As kids we have enjoyed a lot on this festival. A lot in fact would be an understatement. The preparations started a few days ahead when our kaka and elder brothers took us shopping for kites in the old city of Ahmedabad, the previous night was spent tying kinya (kite-knots) while the kitchen was bubbling up with chikki and laddoo making. Laddoos with peanuts, sesame, puffed rice, roasted gram were made in loads because our terrace expected lots of friends and family and there had to be food for all !!
I have often noticed that while all chikkis were quick to be finished the mamra chikki found few takers and there were always a few left till the end. This recipe was adapted to make the humble old puffed rice chikki more fun and appealing to kids and at the same time adding some more nutrition to it in form of  khajoor/dates. I had some chocolate ganache that required to be used so I went ahead and poured it over it. Most such slices in the west have a layer of melted chocolate on it. But, melting chocolate is a skill where as Ganache can be forgiving at times. Thus, I advise to play safe and made do with ganache. If you are skilled enough to melt chocolate go ahead and spread a cup full of melted chocolate on the cooling slice.   Any ways, you will end up with a remarkable foreign return Chocolate, Khajoor ane Mamra ni Chikki….🤩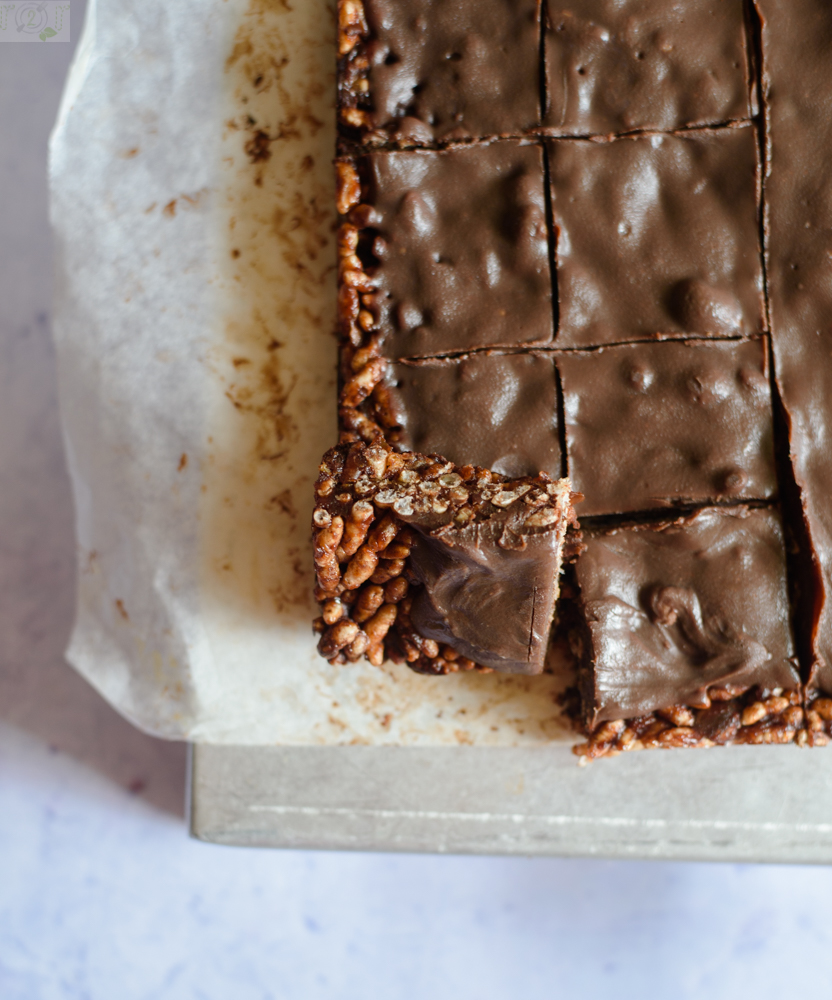 Ingredients
3 cups mamra/puffed rice

1/2 cup ghee/butter

1/2 cup jaggery, chopped

1 cups dates, chopped

1/2 cup chocolate chips, bitter-sweet or semi-sweet

1 cup chocolate ganache
Instructions
1
Place a clean clean saucepan or karahi on medium flame.
2
Add the butter, jaggery and the dates to the pan. Stir an dmix well until the butter has melted.
3
Keep stirring and cooking until sugar dissolves and dates soften to disintegrate into the mixture.
5
Incorporate the butter mixture with the mamra/ puffed rice and chocolate chips.
6
Transfer the mix into a greased and paper lined slice pan. Ensure you have a over hang above the top of the pan (helps to pull up the chikki)
7
Press down to level then refrigerate until firm.
8
Once the chikki has cooled well spread the Ganache.
9
To make the ganache mix 1/4 cup hot cream (Amul) with 3/4 cup chopped chocolate ( Amul's Belgian. The hot cream will melt chocolate. Mix well and pour over the chikki.
10
Place the pan in the refrigerator to help the Ganache firm up.
11
Once the Ganache is set, cut the chikki in to desired pieces.
12
Store in refrigerator until required.
Notes
I hade made and shot this during the dazzling Ahmedabadi summer, the temperatures were around 46 degrees. It was difficult to work with chocolate and ganache. You can expect a better finish on the top in winters.