Nestle had just laughed its Milkmaid condensed milk in India, I don't remember the  exact year, a vague memory says it must have been early 1980s.  Those were the times when internet did not exist. We did not have Google to fall back on. With no knowledge of  how this condensed milk was to be used,  we tried creating recipes that came on the tin's label.  Ah yes,  those were also the times when tin openers and rubble spatulas did not  occupy space along with everyday ladles and tongs. So imagine the effort that went into  accessing  this thick, luscious, caramely and downright delicious condensed milk!  It was a mammoth task, believe me.  It needed time, knife, pestle, spoons and a pair of extra hands to open up the tin. And once its contents were emptied,  the fingers took up the job mopping  off the inner walls of the tin. It was pricy stuff a single drop of which was not to be wasted!! Once these daunting tasks were done we moved on to the other venture, making the recipe we had set out for. One very popular dish was making the Chocolate Walnut Fudge, which required cooking the cocoa-condensed milk mixture to the right consistency (until it could hold its shape when turned into a ball or slice). Believe me, it took really long for the mixture to  reach that stage. Sweating it out in our family kitchen, all I wanted  was the  mixture to come together at the soonest. You see, I had other important things to attend to, the  play ground or the books  awaited my arrival!!   since it was I, the juvenile cook, who had embarked upon this  exercise of feeding hot and gooey fudge to my gang of siblings it was my responsibility to ensure I did made it right!!  Which I did, always!! Once the cooking was done the mix had to be rolled which still very warm.
Honestly, after few occasions I stopped venturing into making chocolate fudge. I found it to be a cumbersome effort. Or until I came across this method of using melted chocolate and condensed milk. It is easy to make  Chocolate Fudge using this method that does not require cooking. Also, we now have access to quality chocolate, do not mild spending on condensed milk, the kitchen drawers are loaded with kitchen tools and tins have inbuilt openers. How cool is that😉!! And we now know hundreds of ways to using condensed milk,  we can Google for trouble shooting. So this particular method is version of the recipe found on tin with few modifications to suit the hot and humid temperatures.   I have not used any walnuts or other nuts in it rather replaced it with one more cup of chocolate as I read here. It is just chocolate and condensed milk with vanilla extract for flavor. The recipe can be made in microwave but I prefer the double boiler method to melt the chocolate. The stage where you need to take care is melting the chocolate. Rest is very easy. The pictures below show the various stages to the recipe. Double boiler is a apparatus we create by placing a bigger bowl on smaller saucepan of simmering water taking care the hot  water does not touch the base of the bowl. Use any bitter-sweet chocolate, add coffee powder for mocha fudge, zest of orange or lemon for that decadent citrus-chocolate fudge. I am sure it will be fun, even for the children if they decide to make it on their own.
Happy Days 😍 Cheers to this easier version of Chocolate Fudge.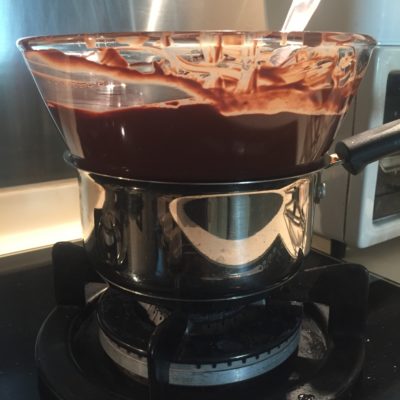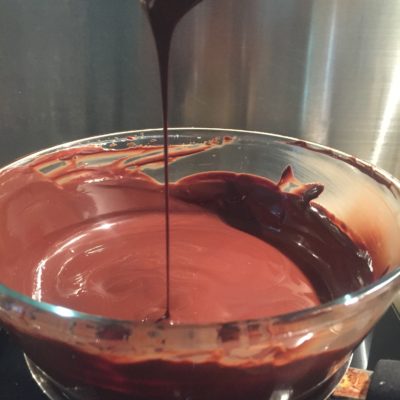 Ingredients
3 cups chopped dark chocolate

2 tablespoons butter

1/2 cup walnuts or almonds, toasted and chopped (optional)

1 tin (397 g) condensed milk

1 teaspoon vanilla extract
Instructions
1
Prepare a 9x9 inch cake tin by lining it with a grease proof paper or aluminum foil in such a way that it has a overhang. The overhang will help you pull out the fudge once it has cooled down.
3
Put the butter and chocolate to the bowl.
4
Keep stirring till the chocolate and butter has turned into a thick sauce that is smooth in texture.
5
Once the chocolate has melted add the condensed milk, chopped nuts (if using) and vanilla extract.
7
Transfer the mix to the prepare tin. Even out the surface by tapping the tin a few times and allow it to set.
8
Cut the fudge into squares of desired size.
9
Store in the refrigerator.
Notes
This fudge does not stay at room temperature in country like ours (India).