Hello all, yes its been quite a while that I have been absent from this place. Ever since I moved to Singapore, Decembers and June are the months I travel back to Ahmedabad, my home town. It is time when the twins have month long vacation which, allows us to have some meaningful long stay in the city we love. June means summer and mangoes while the winters in Decembers turns most cities of India in to food heavens, times when we get to enjoy the best of seasonal produce that  grow aplenty during the pleasant period of winters. December is also the time I make most of my stay, take food and birding trips through Gujarat and India.
This December was no different, we cooked many of our family favourites, ate even more, met up with some more of the elder ladies in my family; learning and listening from them is always a treasure. Ambitious that I always  become when planning the itinerary there was so much to be done and little time on hand. Yet, we did manage to cook and shoot close to 10-12 recipes, met up the women who hand roll Khakhara, visited a Kachariya Ghani and conducted 3 single-day workshops on flatbreads. Now, all of these  needed a to be featured on the blog which required  me to switch to a blog design theme that was more food-blog friendly. After month long 'setting up' work,  here we are with  a new look!! Hope you'll  find the changes easy to navigate through the website,  as we continue to work on certain features.
That brings me to the recipe I  share with you today. It is one of those recipes that was shared to Bhabhi by her elder sister. You know how it is with sisters, when they get talking on phone time just starts slipping by :), a five minute chat ends up in to a long session of  gossip, cribbing and some interesting exchange of recipes and ideas.  I guess it was one of those sessions when this recipe was exchanged and came with a 'must-try' tag. It was said to be that good. But to try the recipe we had to wait for the red-chillies to arrive in the markets, as they are only available during winters. The red chillies also known as Chura na marcha (Chura is a village near Bhavnagar) are used in a variety of  pickles. They  aren't as sharp and hot but do have a slight heat to it. The heat of the chillies had made me a bit apprehensive but as the recommendation was so strong we decided to give it a try. And to our pleasant surprise, it came out to be so good that numerous batches have been made since then.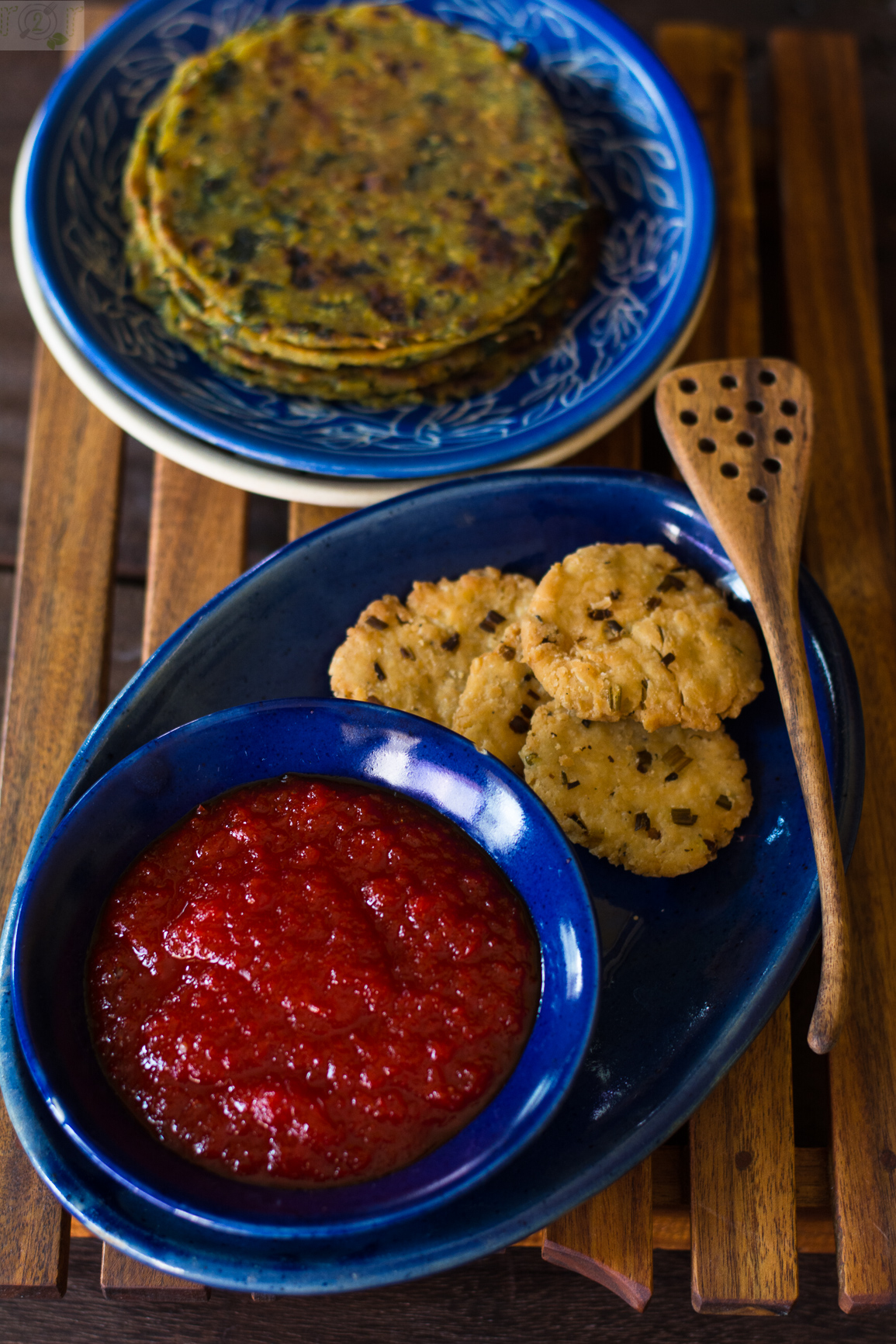 The Chilli Jam or chutney or dip you may choose to call as you like is versatile as the name options I have suggested. It tastes equally good on toast as on methi dhebra or with a mathri. The best part about the preperation is, it takes just 7 -8 minutes to make it.
Ingredients
10 - Red Chillies ( Bhavnagri Marcha)

1/2 cup - sugar, powdered

2 tablespoon lemon juice

a pinch of salt
Instructions
1
Take half a cup of granulated sugar and powder it in a dry grinder.
2
Wash the chillies, stem and deseed them.
3
Cut the deseeded chillies in large cubes and grind them to a paste.
4
Put a heavy bottom saucepan on high flame.
5
Add the chilli puree, powdered sugar, lemon juice and salt.
6
Cook the mixture on a high flame, stirring continuously for about 5-7 minutes.
7
Once the moisture has evaporated and the cooked mixture coats the back of the spoon consider it done.
8
Turn off the flame and allow the Chilli Jam to cool completely before transferring it to a glass jar.
9
Enjoy with bread or any flat breads of choice.
Notes
These recipes are exchanged word of mouth and do not specify the exact amount of ingredients. Hence, feel free to add more sugar if you like. The amount of sugar required might increase if the chillies have more heat. The pinch of salt is essential to bring out the flavours of this Jam.