The vast and varied landscape of Gujarat offers an equally varied array of food preparations. The Kutchh, Saurashtra, Northern and Southern Gujarat, the Dangs, the Charotar, the Little Rann, the Bhal each region of Gujarat possesses its own unique biodiversity and hence has shaped the food habits of its habitants in a particular manner. In fact same could be said  about each  state of India. All our states hold so much diversity within themselves, offering us a wide spectrum of cuisines that are indigenous to  particular regions within each state. Interesting, isn't it??
The Kadhis, the dals, the shaak all these everyday preparations yet each region of Gujarat makes it in a different manner. Same spices, pulses and veggies but adopted uniquely across the regions as a result we have the Kutcchi, Kathiyawari, Surti, Amdavadi and such regional cuisines.
The Chevti dal is the Dal-fry of Gujarat. Chevti dal means mixture of four lentils quite similar to trevti – blend of three dals and Panchmel Dal where in 5 different lentils are combined together. The Chevti Dal originates from south-Gujarat and is usually savored  with Sorghum flatbreads. This dal gets its distinct flavor from garlic and occasional use of onion.  The usual dal i.e. the Kahtti-methi dal never uses garlic or onion hence, Chevti Dal is quick to win over the hearts of people who like garlic in their food. There is not much of  tam-jham involved in making this simple dal, using just few ingredients,  the is a dal that can be prepared in a jiffy. The dal continues to remain a personal favorite, I look forward to having Chevti Dal with a bowl of ghee fried jeera rice and  top it  with a dollop of some more ghee.
Bliss..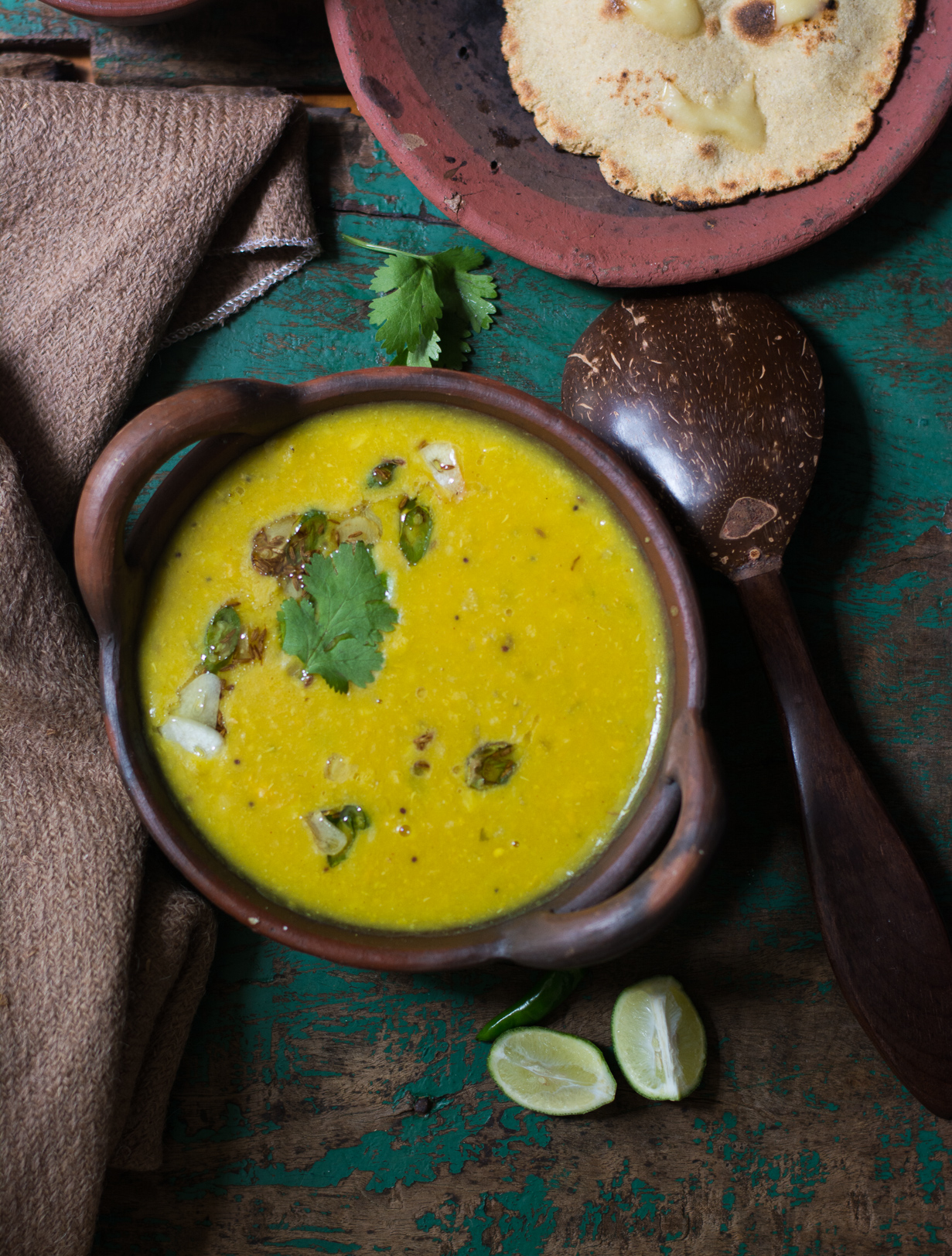 Ingredients
1/4 cup tuvar dal/ split pigeon peas

1/4 cup chana dal/ split bengal gram

2 tablespoons moong dal/ mung lentils, skinned

2 tablespoons urad dal/ black lentils, skinned

1 medium onion, finely chopped

3-4 cloves garlic, minced

1 green chili, minced (can be increased to your taste)

1 inch piece of ginger, minced

1/2 teaspoon turmeric powder

1/2 teaspoon mustard seeds

1/2 teaspoon cumin seeds

a pinch of asafetida

juice of one lemon

2 tablespoons oil

Salt to taste

3 cups of water

Coriander, chopped for garnish
Instructions
1
Begin with cleaning and washing all the dals. Mix the dals in once bowl, give them a good wash.
2
Soak the dals for 30 minutes.
3
In a pressure cooker add the soaked dals and 2 cups of water. Cook till the dals have become completely mushy.
4
Once the pressure subsides open the cooker and give the dals a good whisk. We are not looking for a smooth-homogenous mix. Let this be a rough mix.
5
Place a decent sized kadai or pan on medium flame. Add the oil.
6
Once the oil heats up, add the mustard and cumin seeds. Add the asafetida.
7
After the mustard seeds have spluttered, add the minced chili, garlic and ginger. Sauté for a minute and add the chopped onion.
8
Once the onion turns light brown add the dal. Stir.
9
Add the salt, turmeric powder, lemon juice and one cup water.
10
Allow the Chevti Dal to simmer for 5-7 minutes.
12
Garnish with chopped coriander and serve hot with millets flat brad of your choice.
13
Usually it is had with Jowar Rotla.
Notes
Tuver and Chana Dals are a must in Chevti Dal, other dals may keep varying, making use of whatever that is available in the pantry.