Zehra Chhapiwala writes about the Chana Bateta and Dawoodi Bohra presence in Gujarat.
The most exciting part of a Sunday besides it being a holiday has always been a tangy bowl of chana bateta. The spoon licking bowl of goodness packed with proteins and carbs filled and fuelled us for a fun day ahead. A picnic essential, a travel buddy, a kitty party must-have, the humble bowl of chickpeas and potatoes swirling in tamarind sauce is a universal favourite among the Dawoodi Bohras.
Dawoodi Bohras are essentially a Shia Muslim community of traders from Gujarat. Centuries ago, their spiritual leader escaped from Yemen to Gujarat seeking refuge. Much like the Parsis, they adopted the local language and to some extent the local ingredients creating recipes that were reflective of the influences the community adapted and ingrained along the years. Due to this similarity, Parsis and Bohras are often called as 'Mama-Fui na' or cousins.
Oral legends say that Tarmal and Bharmal, ministers in the court of the Solanki King Siddharaj Jaisingh accepted Islam and converted by will after witnessing a miracle performed by a Bohra saint. As Sidhpur was the capital of the Solankis, it also became the place where Bohras settled and flourished. The Vohrawads of Sidhpur with its majestic havelis and opulent interiors are a silent remnant of those glorious days when Bohra merchants set sail from ports of Gujarat to Africa mostly Aden and bought back goods from Asia and Europe to decorate their houses. Touted as a piece of Europe in Gujarat, Sidhpur is now a ghost town with only a few havelis open and living populated mostly with elders spending their last days, widows and those few who have managed to find livelihood. But for the Bohras, native or otherwise, the main attraction of Sidhpur is not its wonderfully stuccoed havelis with trellised and latticed jharokhas but the cart of Makla selling chana bateta. Every morning people religiously swarm the cart for a scrumptious bowl of chana bateta. Instead of the regular tamarind sauce, here chana bateta is topped with mysterious red chutney and a kadhi like sauce whose ingredients are one among Sidhpur's best kept secrets. They say those who have not tasted this chana bateta have not visited Sidhpur!
Not just in Sidhpur but chana bateta is a popular street food wherever Bohras live in majority, Mumbai being one such place. Amble along the alleys of crawford market or bhendi bazaar and it will be difficult to miss chana bateta being served by the bowls. I still vividly remember wolfing down the green sukha chana bateta served in a leaf bowl and to be had with a dried leaf spoon below Lehri Manzil on Mohammed Ali Road. It was the only reason to look forward to meeting relatives staying there. Today, that spot where he once stood dishing out this unique variety of chana bateta has been taken up by others.
Chana bateta is not just a snack, it is the bowl on which families bond and friendships are forged. It is our happy soul food that floods our mouth with a riot of flavours and warms the very cockles of our hearts with gooey memories of many a Sunday spend savouring it in the company of family and friends amidst laughter.
Before nostalgia gets the better of me, lets see how chana bateta is made. As is evident from the name, the staple ingredients of this dish are chickpeas and potatoes. Except that there is nothing standard and just like any other traditional recipe, there are many variations with families having their own version.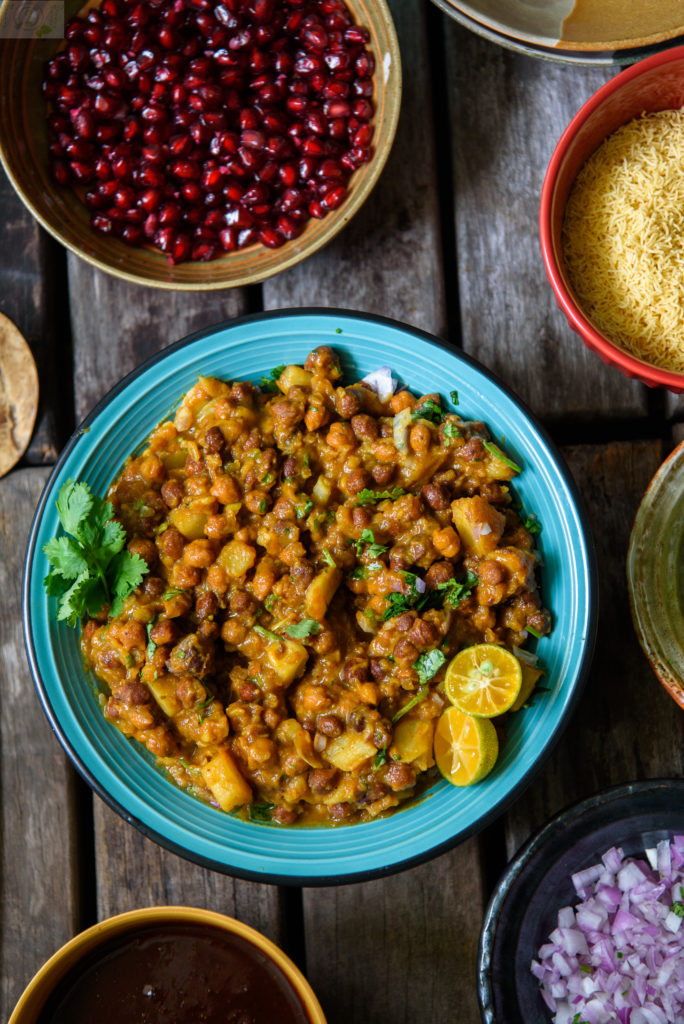 Here, am giving the recipe that my mom uses which is simple, quick and easy to make. Perfect for a lazy Sunday.
Ingredients
Tamarind Sauce

1/4 cup tamarind

1/3 cup jaggery

1 teaspoon chilli powder

1/2 teaspoon roasted cumin powder

1 tablespoon besan/ chickpea flour

1 teaspoon oil

salt to taste

Chana Bateta

1+1/2 cups kala chana/black chickpeas, washed and soaked overnight

1 cup diced potatoes

1 onion, finely chopped (optional)

1 tomato, finely chopped (optional)

2 cloves garlic, minced (optional)

1 teaspoon chilli powder

2 teaspoons hawaj

lemon juice

1 tablespoon oil

salt to taste

To serve

Sev

Tamarind sauce

Chopped onion
Instructions
1
Tamarind Sauce (It can be made a day before and stored in an air tight container)
2
Soak tamarind in water for a few hours till its pulp is soft.
3
Strain the pulp and keep aside.
4
In a pan, heat oil and add red chilli powder, roasted cumin powder and besan and stir.
5
To this add the tamarind pulp and jaggery. 
6
Let it simmer till all the ingredients blend well and the sauce has a thick consistency.
8
Soak black chana in water overnight.
9
Boil the chana in the morning along with potatoes.
10
Add salt in the water when boiling.
11
Peel  and cut potatoes into cube sizes pieces and  keep aside.
12
Heat oil in a pan and add salt, red chilli powder, hawaj (a mix of coriander powder, cumin powder and garam masala).
13
Add a ladle of water to prevent the masala from burning.
14
To this, add the boiled chana and potatoes and mix well.
15
Remove it from stove and squeeze lime in it and mix.
17
In a bowl, take chana bateta and top it with tamarind sauce.
18
Serve hot or at room temperature garnished with coriander leaves.
19
Alternatively one could also garnish it with chopped onions and jhini sev. In summers, add beaten curd laced with chaat masala and black salt for a cool yet tangy flavour.
20
This hearty snack can be served as a side dish during lunch or can be had as dinner
Notes
Zehra stays in India and I (Sheetal) am based in Singapore. Zehra walked me through the recipe and I recreated Chana Bateta in my Singaporean kitchen. In the picture here I have made thick gravy by sautéing onion, garlic and tomato in oil before adding the spices and boiled chana and bateta to it. I mixed the tamarind sauce in the bowl before taking pictures of the dish. The measures of ingredients are to our taste you may make changes according to your palate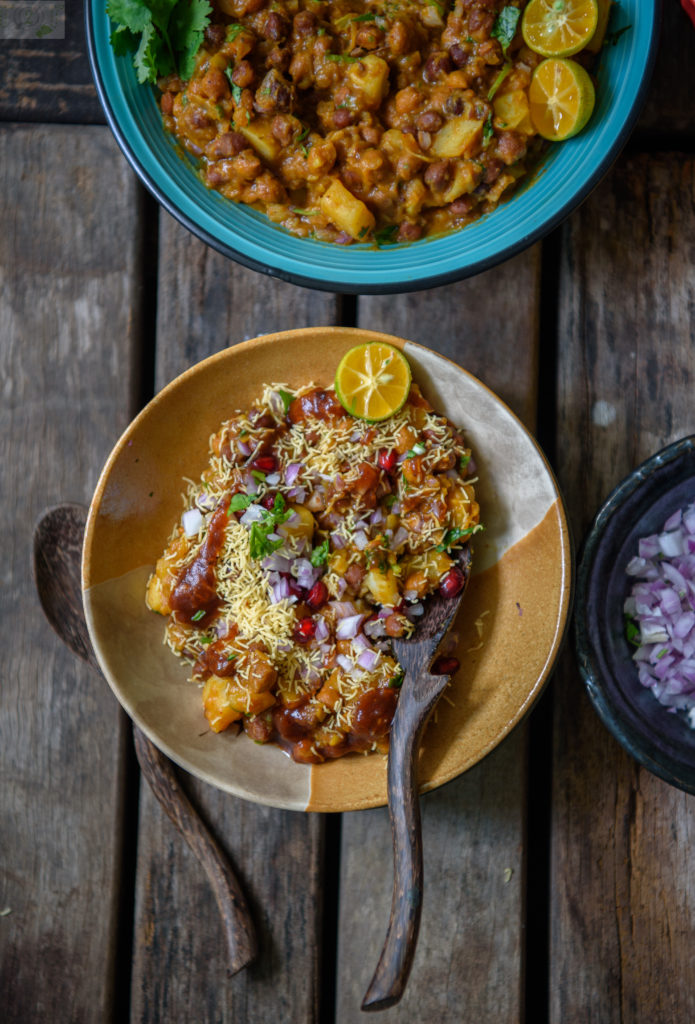 About Zehra Chhapiwala
After earning her credentials in Economics and Environment Education, Zehra realised her passion for history, heritage, culture and travel. When not reading, you will find her editing and curating content of Virasat-e-Hind Foundation where she works as Social Media Coordinator.