At the first instance,  Burfi Churmu sounds very familiar. The name brings together two very popular traditional sweets. Burfi is a square or fudge like slice of a mithai and churmu would be finely ground whole wheat flour dough balls. The Churmu is mixed with ghee,  jaggery or powdered sugar and some aromatic spices like cardamom and nutmeg and is served along with some more ghee. But if you choose to shape it as a ball it becomes a Churma Ladoo, a much adored sweet. Everyone loves a good ladoo, it is a sweet that is part of our  folklore and festivities.  The Burfi Churmu,  on the other hand is an option home makers resort to  when they do not have time to shape individual ladoo or want the sweet to last for a while  mainly  to accompany on travels.
The need to do a blog post on this popular sweet was felt because it is not made as frequently and is not even heard of in other regions. I too had heard of it only a couple of times and had never tasted it ever. Maybe because I am averse to sweets made with sugar syrup. But, it was an often made delicacy when my father was a child and acceding to him my Ba made excellent Burfi Churmu!! It is a delicacy that is native to Bhavnagar region. Our very dear family friend, Chetna Bhabhi has shared her recipe to Burfi Churmu and since I am chashni challenged (can never get it right😔) she even came over to make it for me so that we could measure the ingredients and I could comprehend the method better. The Burfi Churmu is traditionally made during the festival of Chatth-Satam. Shitla Satam is the day when families eat food made a day earlier. Burfi Charmu, because of its characteristic to stay fresh on the next day and the ease with which it is made is the preferred sweet for the festival. The sugar is cooked to a string consistency syrup and hence does not cause cough etc. This surely is a go-to sweet if you like sugar-ladoo or are fond of burfi.
Thank you so much, Chetnabhabhi for sharing and making this recipe for me to document.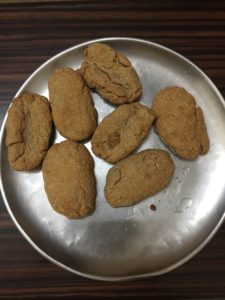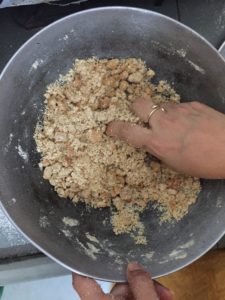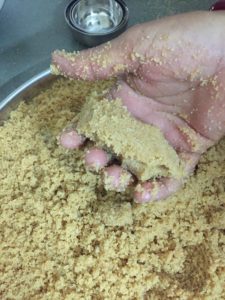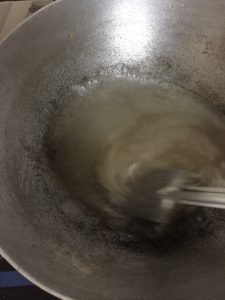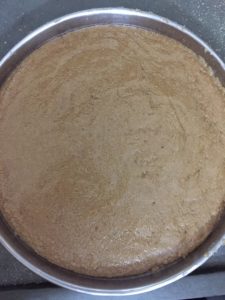 Ingredients
For making Churmu

2 +3/4 cup whole wheat flour, coarse ground

1 +2 tablespoon ghee

200 ml water ( as required)

ghee for deep frying

For sugar syrup

1+3/4 cup sugar

100 ml water

1/2 teaspoon elaichi powder

a pinch of nutmeg powder

1 tablespoon poppy seeds

1 tablespoon desiccated coconut

chopped cashew nuts

slivered almonds

slivered pistachios
Instructions
1
We begin with kneading the dough.Take a large flat pan/parat or a mixing bowl.
2
To it add all the whole wheat flour and 2 tablespoon ghee.
3
Mix and rub the ghee and the flour together.
4
Adding little water at a time knead a very tight dough. You might not require all the water. I could bind the dough together in 150 ml water.
5
Divide and shape the dough in 7 cylinders/muthia.
6
While you are shaping the dough, place a wok/kadai on medium flame and add ghee to deep fry the muthia.
7
On a very gentle flame, fry the muthia till they are nice light brown in color.
8
Allow them to cool and grind them finely.
9
Transfer the ground muthia to the mixing bowl and add 1 teacup melted ghee.
10
Mix it well, you will see the mix holding shape when held tightly in fist.
11
Simultaneously, begin preparing the sugar syrup.
12
Add the sugar and water in the kadai and cook till the syrup reaches 1 string consistency.
13
Keep an eye on the syrup, if the consistency changes it would result in a tight burfi.
14
Once the sugar syrup is done, add the ground muthia mix to the syrup and mix well.
15
Keep stirring continuously and cook for a couple of minutes.
16
Add the elaichi and nutmeg powder.
17
Transfer the mix to a greased plate or large thali.
18
Spread the mix well, garnish with poppy seeds, desiccated coconut, chopped cashews and almonds and pistachio slivers.
19
Once the Burfi Churmu has cooled a bit, cut in cubes or diamonds.
20
Let it cool completely before removing the Burfi Churmu slices.
21
Arrange the cubes on a serving platter.