Bajari na Vada  are the winter pets. Vada are a type of  fritters that are usually  flat in shape, like a small disc/cookie  Gujarati cuisine has an entire range of Vada  recipes, each made to suit various occasions and celebrations. One must not confuse between the genres and the ideal timings  of making each of these Vadas 😝 . We love to enjoy the Dal (moong lentil) Vadas piping hot to mark the arrival onset of monsoon  the Dahi (urad lentils) Vada are enjoyed chilled when its sizzling hot outside, the Bataka (potato) Vada on the other hand are always on wedding or celebration menu and the Bajri na Vada, Jowar na Vada and the Makai na Vadas (not necessarily eaten hot) taste good at room temperature dunked in a cup of masala chai during winters when it is considered good to include millets in diet!! Bajri (pearl millet) is believed to be  the grain for winters and is consumed extensively during the season. Millet  flat breads called Rotla  and Methi Dhebra are often made during the  winters. Millets have always been part of our diet, even before others (read west) began preaching the goodness of millets, we have never moved away from it. All we need to do is remain loyal to this humble grain and continue enjoying it as we have always done. The millet Vada are particularly popular because they taste good even at room temperature and stay well for couple of days. Perhaps, this is the reason why millet vada are always made during the festival of Sitla Satam, the day we all give our kitchen fire some rest and eat food cooked a day earlier.
As it always is there isn't a special or particular way of making these Vadas as each family  has its own special way to the recipe. To make  the Bajri na Vada my family uses little bit of whole wheat flour and allows the dough to rest for couple of hours after kneading it well. That way we can ensure a soft crumb. If the dough has rested well each the Vadas will ballon up when deep fried. The dough is brought together using just yogurt and no water is used to assist its binding. Yes it has to have that signature Gujarati sweet-sour element to it. And yes lots of sesame seeds and little bit of ajwain seeds are a must 😊. We also love to add fresh fenugreek leaves to this Vada batter during winters.
Bajri na Vada never found a fan in me when I was a  kid  and still defy eating them  hence, was surprised when my girls began liking them with ease.😳….
Go give it a try… see if you find these Vada interesting and charming enough to make them again and again…..❤️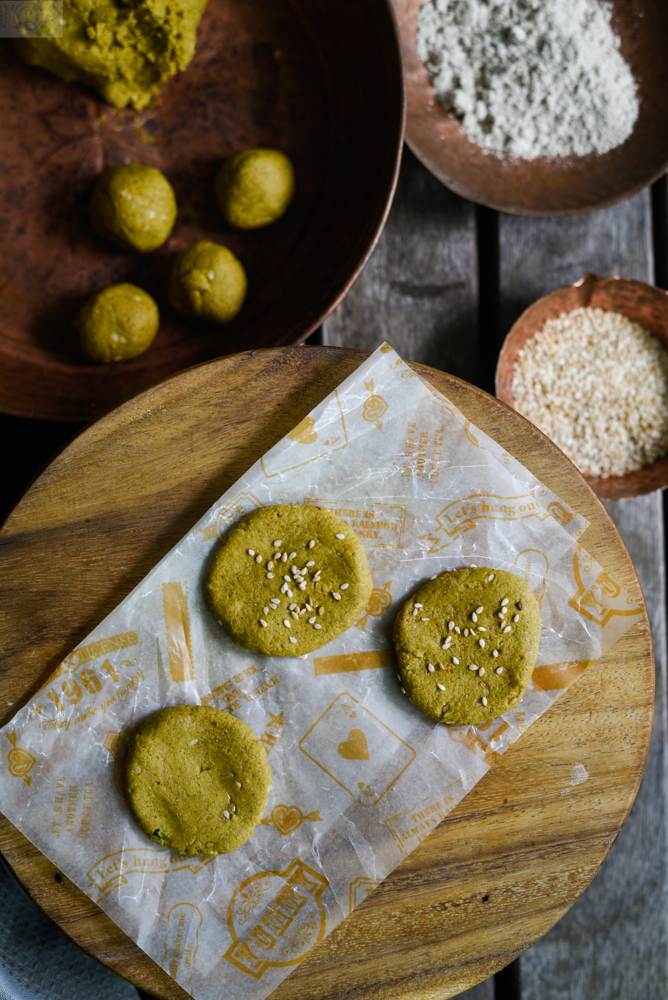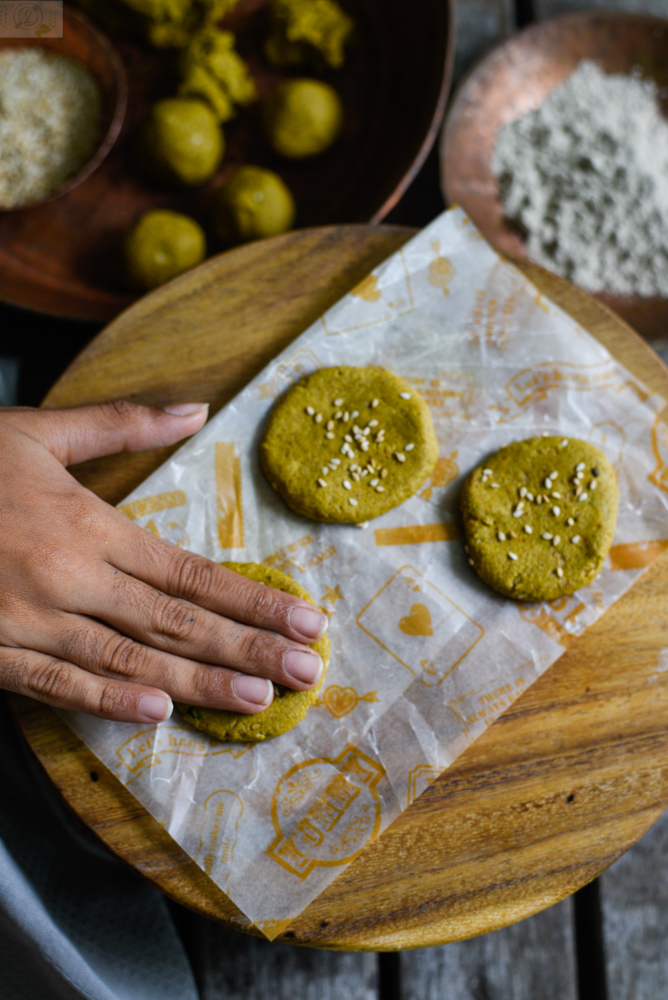 Ingredients
1 + 1/2 cups Bajra/pearl millet flour

1/4 cup atta/ whole wheat flour

1.5 tablespoons jaggery, chopped/grated

1/4 cup yogurt (plus more if needed)

1 teaspoon haldi/turmeric powder

1 teaspoon mirchi/chili powder

2 teaspoons dhana-jeera powder/coriander cumin powder

2 tablespoons minced chili +ginger

1 tablespoon minced garlic

1/4 teaspoon ajwain seeds

1 tablespoon sesame seeds plus some more to top the Vada.

a pinch of hing

salt to taste

1 tablespoon ghee

Oil for deep frying
Instructions
1
In a mixing bowl, mix the bajri and wheat flours and add the ghee. Rub the three well. Now add all the spices, salt, seeds, jaggery, minced ginger+chili+garlic. Mix well.
2
Add the yogurt, little at a time and begin to knead the dough.
3
Knead the mix to a semi stiff dough. Something like roti dough.
5
Cover and allow it to rest for 2-3 hours.
6
After the dough has rested enough, knead it once again.
7
Divide it in 24 equal parts. We are looking for small lime sized dough balls.
8
Take a plastic or a grease proof paper, place a dough ball on it, sprinkle some sesame seeds and flatten the ball to a 2 inch disc. (like shown in the picture)
9
Repeat with rest of the dough balls.
10
Simultaneously, pour oil in a kadai to deep fry these vadas.
11
Keep the flame to moderate.
12
Once the oil has heated up begin frying 3 - 4 vada at a time.
13
Fry the Vada in gently simmering oil till they are golden brown outside.
14
Remove from oil and drain on kitchen paper.
15
Repeat till you have deep fried all the Vada.
16
Serve Bajri na Vada with a hot cup of Chai...
Notes
Ghee is believed to neutralize some hot properties of Bajri hence, have used ghee as moyan you may use oil if you want to.. Do not add water, increase or decrease the all quantity of yogurt to knead a semi stiff dough.