The ferocious summer of the Indian sub-continent is back,  thanks to us  it is expected to be long and intense. The meals of summer are quite different in my part of India. They are lighter and less spicy. The number of items of the dish are relatively less. The two primary reasons are loss of appetite during summer and the intense heat make working in kitchen a very unpleasant experience. The meals are cooked early in the day. With temperatures rising to almost 45-46 degrees, kitchens become a furness. The Gujarati cuisine naturally increases the intake of liquid in diet. lemon juice, buttermilk, various sherbets made using the fresh stoned fruits that show up in summer,  baflo, aam panna are consumed more often to beat the heat. We also use increased amounts of yogurt during the summers with raita and shrikhand becoming a regular part of the thali. 
If you are a regular follower of this space, you would be much aware of  my love for yogurt. I am always looking at including it in our diet in one form or the other. The twins are conditioned to eat bowl full of yogurt with every meal. Yogurt is such a staple to the India diet that most of us are taught to make yogurt at home are for it is no rocket science. Buying yogurt from market is looked down upon and we cannot bring ourselves to buy it ready made 🙂
Akeel is a yogurt dip from Yemen. I happen to find it in one of my favourite cook books Flatbreads and Flavours by Naomi Duguid, a food write I have grown to adore so much. Akeel requires no special list of ingredients and is quite easy to bring together. Moru dahi meaning neutral tasting yogurt is the key. The yogurt does not have to be sweet or sour. This allows the flavours of the pomegranates  and greens to shine through without the addition of any other spice or seasoning.
Give Akeel a try this summer….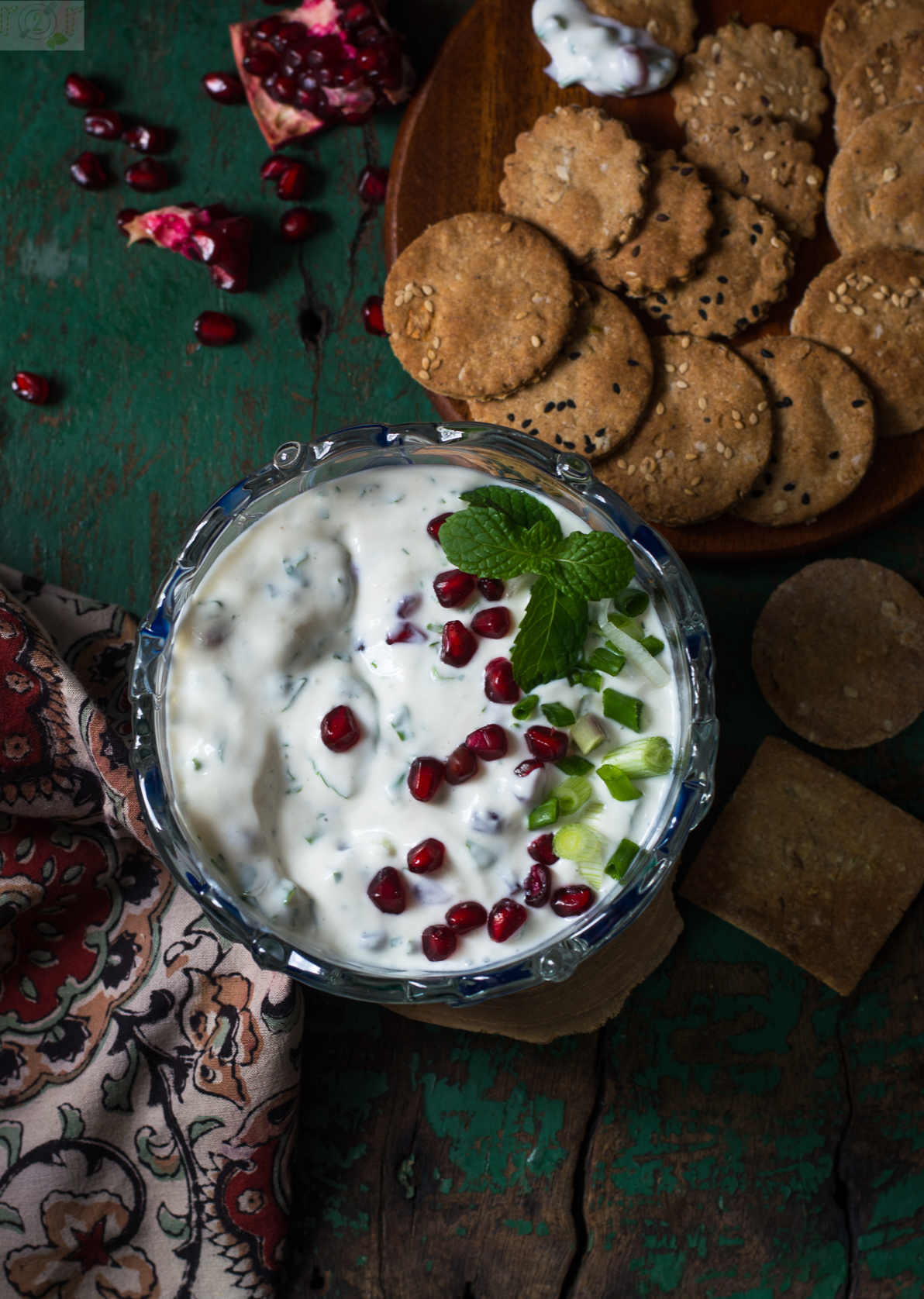 Ingredients
2 cups hung yogurt

1 cup pomogranate arils

1/2 cup spring onions, finely chopped with the bulbs

1/2 cup coriander, finely chopped

10-12 mint leaves

a pinch of salt
Instructions
1
In a large mixing bowl, whisk the hung yogurt and pinch of salt using a ballon whisk.
2
Never use electric blender to whisk yogurt it will loose its tightness and become runny.
3
After you have given the yogurt a good whisk add the spring onions, coriander, mint and pomegranate arils.
4
Very gently, fold the greens and the fruit in the yogurt. Be careful not to make the arils mushy in the mix.
5
Transfer in to a glas servion bowl.
7
Akeel is ready to be served.
8
Serve it with the chips of your choice or use it as a raita to accompany any meal.
Notes
The dip requires hung yogurt that is neutral in taste and not sour.